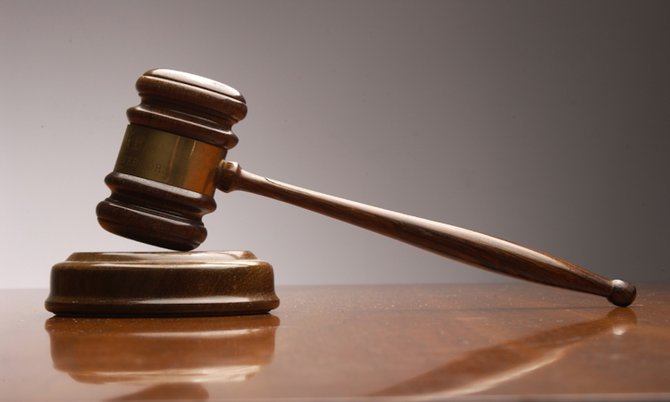 By NICO SCAVELLA
Tribune Staff Reporter
nscavella@tribunemedia.net
CLINTON Evans, who was sentenced to life for murdering Detective Constable Jimmy Ambrose and trying to kill another officer almost 20 years ago along with Stephen "Die" Stubbs and Andrew "Yogi" Davis, was acquitted by majority decision yesterday by the Court of Appeal.
Stubbs and Davis, meanwhile, had their life sentences quashed and a 45-year sentence imposed on them both by the appellate court, which was further reduced to 35 and 34 years respectively from yesterday's date to reflect the 10 and 11 years they have already served for the March 29, 1999 crime.
Stubbs' mother, Nathalie Stubbs, as well as his girlfriend Jacqueline Miller, both indicated to The Tribune after yesterday's hearing that they plan to instruct their attorneys to appeal the Court of Appeal's decision to the London-based Privy Council.
Ian Cargill, Davis' attorney, also confirmed that he plans to take the same course of action concerning his client.
As for Evans, who was represented by Ramona Farquharson-Seymour on appeal, Sir Michael Barnett and Justice Milton Evans said in the absence of a ballistics report that stated that the gun Evans allegedly had matched bullet casings found at the scene of the incident, they were not satisfied that the identification evidence "was such that a jury properly instructed" could convict him.
The appellate judges further stated that admitting the report by Inspector Terence Higgs—which was essential to the Crown's case against him as it linked the gun Evans allegedly had to the shooting—into evidence without calling the officer to give evidence and be cross-examined, deprived Evans of a fair trial.
Further, the appellate judges noted that the only other evidence against Evans came from eye-witness John Campbell, who misidentified Evans as Stubbs during the identification parade on April 20, 1999, despite claiming to have known Stubbs for almost a decade up to that point.
The appellate judges also noted that the officer who conducted the identification parade, Inspector McKenzie, said Campbell did not in fact identify Evans at all. Additionally, the appellate judges said Inspector McKenzie agreed in cross-examination that three potential eyewitnesses besides Campbell had attended the ID parade, and none of them picked out Evans.
Furthermore, the ruling noted that Campbell admitted to having cataracts all his life, having undergone surgery months before the incident in 1999—though he insisted he had no eyesight problems at the time of the shooting—and another one in November 1999 while in prison. And at the time he gave evidence in a third trial in 2013, he said he still had cataracts.
That "conflict of evidence", Sir Michael said, caused him and Justice Evans to have a "lurking doubt" about the safety of Evans' verdict on the murder and attempted murder charges, thus rendering the jury's verdict unsafe.
The appellate judges consequently quashed his conviction and sentence, and did not order a retrial because it would not be in the "interest of justice" to have him undergo a trial "for the fourth time some 20 years later."
Dissent
Appellate President Sir Hartman Longley dissented from his colleagues on their decision that a retrial should not be ordered for Evans, however, asserting that Sir Michael and Justice Evans "have engaged in acts of fantasy" to reach that conclusion.
Sir Hartman further suggested that Sir Michael's and Justice Evans' decision was grounded on the basis that "the event happened so long ago it is time to bring it to an end." To that end, Sir Hartman said that in his view, there is no "statutory limitation" for murder offences, and that the appellate court should not "arbitrarily impose a judicial limitation unless compelled to do so."
"The interests of justice to be served are the interests of the Bahamian people, the interests of the Bahamas," Sir Hartman said. "The primary interest of justice for Bahamians is that those guilty of serious crimes should not go free.
"So how does it serve the interest of justice of Bahamians that a man who killed a police officer and attempted to kill another as part of a concerted effort should be set free?
"…By any yardstick, the killing and murder of a police officer is a matter that most Bahamians would think should carry the most condign penalty, the death penalty, and attract the highest penalty and condemnation."
Concerning Stubbs' appeal, the appellate judges said the eyewitness testimonies of Campbell and Marcian Scott was "sufficiently cogent" to justify his murder conviction. Davis' appeal was also fully rejected.
However, Sir Michael and Justice Evans agreed that Stubbs' and Davis' sentences "should have been for a specified period of time," noting that the sentencing judge, although determining that the death penalty was not appropriate, did not set out any factors that "brought him to the conclusion that the life sentence was appropriate."
According to the Court of Appeal ruling, Stubbs has already spent 10 years in prison (1999-2001; 2002-2004 on remand and 2013-2019 post-conviction) while Davis has spent 11 years (1999-2004 on remand and 2013-2019 post-conviction).
However, both Ms Stubbs and Ms Miller, in an interview with The Tribune after yesterday's hearing, lamented the Court of Appeal's decision concerning Stubbs, maintaining his innocence.
"They wasn't supposed to do nothing (yesterday) because he was never there," Ms Stubbs said in her son's defence. "That ain't no justice. You go to any place in the world; if I wasn't there how you could charge me, and no one picked me out (on an ID parade)? How does that look?
"Even the people (around) saying that ain't no justice. My son was never picked out, he wasn't there. How could you sentence me and I ain't never get picked out?"
"And the person who saying they saw him, they had cataracts on their eye," Ms Miller chimed in, referring to eye-witness John Campbell. "And they don't even know him. They saying they know him but they don't know him. They picked somebody else up for him."
Ms Miller added: "Clinton Evans, they locked him up with a gun, but he's free, when Stephen Stubbs and Andrew Davis didn't have anything. They didn't catch them with nothing. And they have 34 to 35 years? This system just nasty. That's why I thank God we have the Privy Council."
Shooting
According to a summary of the facts, D/C Ambrose, an officer in plainclothes, was shot and killed outside the night club after a fight between two rival groups of men broke out around 1am on the date in question.
The fight had resulted in a young man running out of the club and approaching D/C Ambrose and Scott. A short time later, four men came to the club's entrance and words were exchanged between them and the young man.
D/C Ambrose told the young man to go to the police station and tried to stop him from further engaging the men at the entrance. However, the four men started shooting in the direction of the young man and the two officers.
Scott hid behind a car and eventually made his way to the door of the club. He claimed he looked back and saw both Stubbs and Davis shoot Constable Ambrose. Evans, meanwhile, was said to have pointed his weapon at two other police officers as he ran from the West Bay Street nightclub.
The three men were first convicted in May 2002, but their convictions were overturned on appeal. The second trial before Supreme Court Justice Jon Isaacs was aborted on the first day of the summation of the case.
In a second retrial in July 2013, the three men were convicted of murder and attempted murder, while Evans was further convicted of two counts of possession of a firearm with intent to put another in fear. A week before sentencing, Crown prosecutors gave notice of their intent to seek the death penalty.
However, then-Supreme Court Justice Roy Jones, who also now sits as an appellate judge, ruled that the case did not meet the "worst of the worst" requirements for the death penalty, and even if it had, the Crown had failed to follow sentencing guidelines by giving notice of their intention in the specified time. The men were ultimately sentenced to life imprisonment.
Following the verdicts in the second retrial, the three men appealed successfully against their convictions and, with the exception of Stubbs, their sentences.
Prior to the substantive hearing of the matter before Justice Isaacs and since departed Justices Abdulai Conteh and Neville Adderley, Stubbs' attorney Murrio Ducille requested that Justice Isaacs recuse himself on the basis that the judge had presided over the second aborted trial.
However, the Court of Appeal refused Mr Ducille's application for recusal. At the time, Justice Isaacs ruled that in his view, him participating in the appeal would not give rise to a reasonable apprehension of bias, citing the length of time that had passed since the second trial.
Justice Isaacs also noted that the court should not be too quick to grant recusal applications because of the unnecessary delays it would cause in the administration of justice.
However, the Privy Council, in a subsequent written ruling, said it was of the "clear view" that the complaint made by the appellants was well founded.