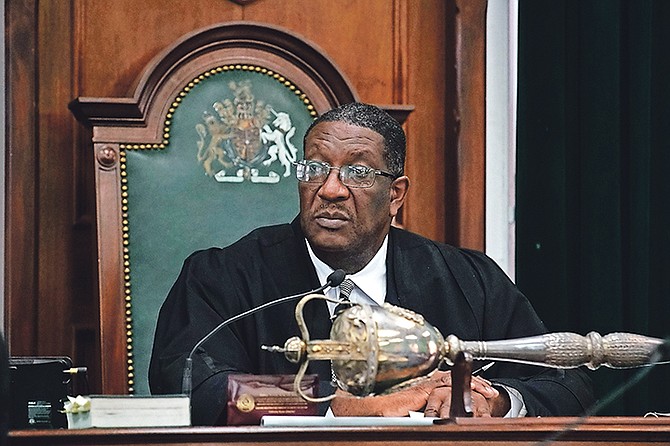 By AVA TURNQUEST
Tribune Chief Reporter
aturnquest@tribunemedia.net
HOUSE Speaker Halson Moultrie yesterday warned to Members of Parliament to file their public disclosures as the March 1 deadline is imminent.
Mr Moultrie likened his advisory to that of a meteorologist, telling parliamentarians they had 48 hours to file their statements in accordance with the Public Disclosure Act.
"I am reminded of the statement that comes over the broadcast when you're traveling," he said, "that if you're beginning to have difficulty breathing, oxygen masks will be lowered and you are advised to put that oxygen mask on and breathe normally.
"If you have intention to assist anyone put your mask on first. And so I have put my mask on and made my declaration before giving you notice now.
"We are also at another critical stage at this time… when hurricane approach you have an alert, then you have hurricane watch, and a hurricane warning. We are at the warning stage now, so you have approximately 48 hours to complete the declaration.
"Honourable Members be guided accordingly."
Yesterday, several MPs told The Tribune they were making progress and intended to meet the deadline.
Opposition shadow minister for finance and Exuma MP, Chester Cooper said he had not yet submitted his declaration, but expressed confidence he and his parliamentary colleagues will meet the deadline.
Delinquent disclosures have been a sore spot for parliamentarians in recent years with greater political scrutiny placed on the deadline; however, there has been no reported penalties for MPs, senators and other public officials who fail to disclose.
In 2014, while in opposition, Prime Minister Dr Hubert Minnis said parliamentarians who failed to make their financial disclosures should be arrested.
After he won the May 2017 general election, Dr Minnis also set July 3, 2017 as a deadline by which all delinquent disclosures were to be sent, failing which information would be sent to the Office of the Attorney General.
That deadline passed without him taking any action.
Last year, the deadline was extended to the end of March but three people, two senators and a parliamentarian, still failed to make their disclosures.
The Public Disclosure Act empowers only two people to act on delinquent MPs: the prime minister and the leader of the opposition. Either of them can publish the information through a communication in the House of Assembly or cause for it to be laid in the Senate. Either can authorise that the information be presented to the attorney general or commissioner of police so those who failed to disclose could face a penalty.
The penalty for not disclosing is a $10,000 fine and/or up to two years in prison.