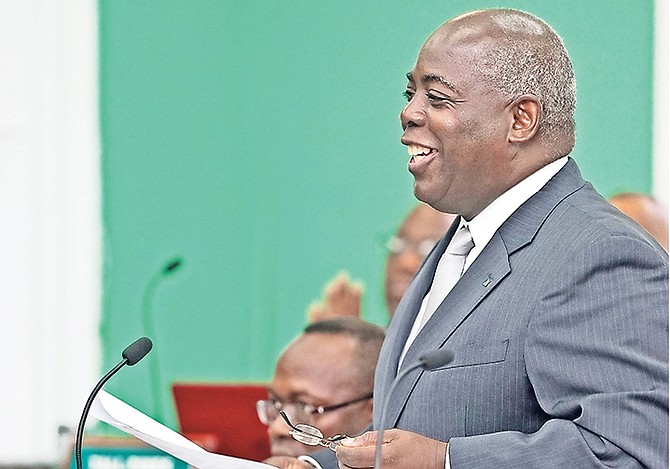 By AVA TURNQUEST
Tribune Chief Reporter
aturnquest@tribunemedia.net
OPPOSITION Leader Philip Davis yesterday questioned whether the Minnis administration had anything to hide as his side pressed forward with demands for debate over the mid-year budget presentation.
Renward Wells, leader of government business in the House of Assembly, who is out of country, reportedly advised South Andros MP Picewell Forbes there would be no debate on the mid-year budget as there was no corresponding resolution. Mr Forbes is leader of opposition business in the House.
This was echoed by Finance Minister K Peter Turnquest, who told reporters in the gallery yesterday there was nothing to debate as there had been no borrowing, adding they would likely need to table a "bogus resolution" to allow for a debate.
At a later press conference, Mr Davis called the explanation proffered by the governing side a "fallacy", and insisted there was a legal obligation to hold the debate.
"Peter's response seems to have been consistent with what the leader of our opposition business received, that they didn't intend to because there were no resolutions, well that's a fallacy. You don't need a resolution, in fact I am concerned that we see no resolutions with respects to borrowings because the government's own documents and statements suggest that there have in fact been borrowings over the last six months. No resolution from Parliament has authorised such borrowings so the question is, is there something they don't want us to know yet?
"What is it they're attempting to hide? They are the government who speaks about transparency and accountability, well we want to have an account. We need to discuss this half-time statement because there are a lot of issues attendant to our finances that we need to have an explanation for and about."
A row broke out in the House of Assembly after it was indicated by acting leader of government business, St Anne's MP Brent Symonette that Parliament would be debating an investments bill next week.
Mr Davis rose to his feet to inquire about the mid-year budget debate, and the matter escalated into a shouting match after House Speaker Halson Moultrie suggested the opposition could not be informed due to their two-week boycott.
Mr Moultrie later expunged Mr Davis' comments from the House record.
The Cat Island MP spoke during a press conference on the mid-year budget presentation held in the House Minority Room.
"Under the Financial Administration Act, it requires them to report to Parliament on any changes to the current budget," Mr Davis said.
"It requires them to seek an amendment to any of the appropriations that we may have approved, and we know for a fact that there are a number of expenditures and revenue projections that would have impacted the budget. For example the acquisition of Grand Lucayan hotel of $65m, that was not budgeted for and all the associated costs attendant to that acquisition and maintaining the hotel to date.
"We need to be talk."