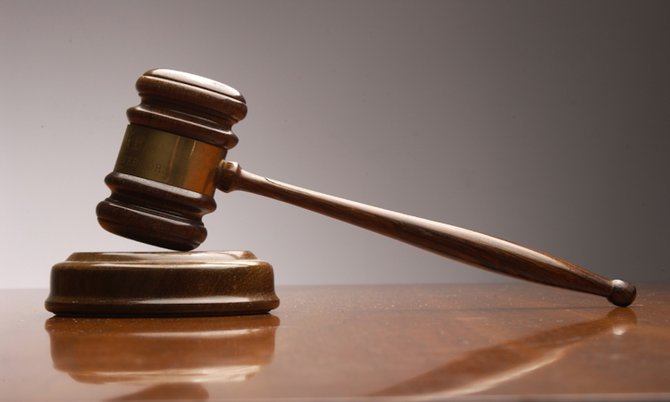 By NICO SCAVELLA

Tribune Staff Reporter


nscavella@tribunemedia.net
THE Court of Appeal has shaved two years off of a former realtor's prison sentence for swindling 21 people out of over $144,000 between 2007 and 2008 as part of a property scam.
Daisymae Johnson will now serve four years as opposed to six for stealing $144,000 worth of cash deposits for real estate she never delivered between December 2007 and December 2008.
The new sentence is to run from January 27, 2017, when she was initially imprisoned over the entire affair.
Johnson, who operated a real estate company without a licence, stole $144,785.34 from 21 people who made deposits to her on homes and lots that she never delivered between December 2007 and December 2008.
The Crown said at the time that Gibraltar Real Estate and Land Development Company Limited, which was located at Logwood Road in Grand Bahama, commenced operation sometime in 2008.
Johnson, who was operating the company, applied to the Grand Bahama Development Company to develop 22 lots in the Heritage West Subdivision, but her request was denied.
Despite not having a licence, Johnson went ahead with the company and offered house and lot packages, ranging from $109,000 to $179,000, to the public.
People making deposits to Johnson on the homes were given receipts and promised the homes would be constructed in three months.
However, the police received 21 complaints of theft by Johnson between March 23, 2009 and November 13, 2009.
Prosecutor Darrell Taylor said at the time that during the course of police investigations, it was discovered Gibraltar did not own the properties and was not authorised to sell them.
Ms Taylor also said it was further discovered that six of the properties Johnson showed clients and had offered for sale were owned by Coral KFL Contractors.
And although the company never gave Gibraltar Real Estate company authorisation to sell the six properties or conduct business on their behalf, Ms Taylor said Johnson went ahead anyway.
On March 13, 2012, Johnson was arraigned before Sir Hartman Longley, then a senior Supreme Court judge, on 21 counts of stealing by reason of service. She pleaded not guilty to the charges.
However, some six months later, on September 20, Johnson entered into a plea agreement whereby it was agreed that in exchange for her pleading guilty to the 21 charges, the Crown would make a recommendation that she repay the sum of $144,785.34 over within 22 months.
It was further recommended in the plea agreement that if she defaulted on three consecutive monthly payments, the Crown would not oppose a request by her that six years would be an appropriate sentence for the disposition of the case.
On January 30, 2013, Johnson and the Crown entered into an amended plea agreement in which all of the aforementioned terms were again agreed to; however, an agreed payment schedule outlining the monthly payments were to be disbursed to the 21 complainants.
Johnson paid roughly half of the $144,785.34 before becoming delinquent in making the payments. On July 13, 2016, the court gave her 90 days within which to pay the balance of $72,635.84.
After Johnson failed to pay that sum within 90 days, on January 27, 2017, she appeared before Justice Estelle Gray-Evans pursuant to a summons and an affidavit filed by the Crown, which requested the agreement be rescinded and a six-year sentence imposed.
Justice Gray-Evans ultimately acceded to the Crown's application and sentenced her to six years in prison.
However, Johnson, via her attorney Christina Galanos, appealed Justice Gray-Evans' decision to accede to the Crown's request on the basis she erred in her interpretation of the plea agreement during the sentencing exercise, and that the sentence passed was thus unduly severe.
During the hearing of the substantive appeal, Ms Galanos submitted the agreement mandated that her client was only liable to be sentenced after missing three consecutive monthly payments, and that in the event she requested a six-year sentence, the prosecutor would not oppose that request.
Furthermore, Ms Galanos asserted that the agreement not to oppose a request by her that six years is an appropriate sentence for the disposition of the case implied that whenever Johnson would have breached the agreement, there would be a "discussion" to determine what would be an appropriate sentence.
Ms Galanos further submitted that notwithstanding that the maximum penalty for the offences in question is 10 years imprisonment, her client had no previous convictions; pled guilty so as to not waste the court's time and repaid roughly half of the stolen funds. Thus, she said a sentence towards the higher end of the spectrum was unwarranted.
Ms Galanos further asserted that when the plea agreement was first struck, and before Johnson made any payments pursuant to the agreement, it was "clear" that both parties were "somewhat comfortable" with a six-year sentence.
However, she said once Johnson defaulted on her monthly payments, the circumstances had "clearly changed" as she had paid roughly half of what was owed. Thus, Ms Galanos said Justice Gray-Evans ought to have taken that fact into consideration, reduced the sentence mentioned by one-half and thereby sentenced Johnson to three years imprisonment.
The appellate court, particularly Justice Isaacs, concurred with Ms Galanos' submissions, and in a written ruling, said he was satisfied that Justice Gray-Evans "failed to take into consideration those matters which she ought to have taken into consideration and took into consideration matter which he or she ought not to have taken into consideration."