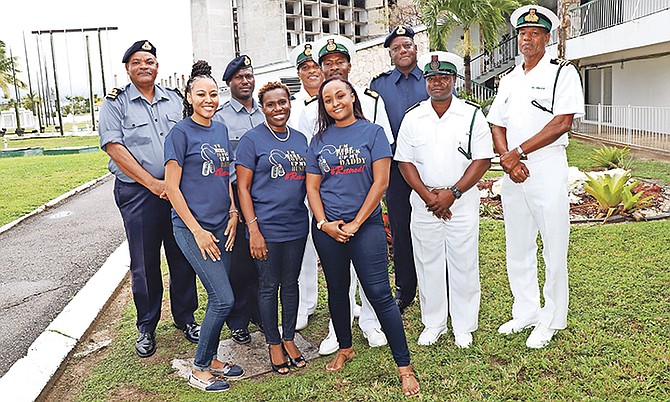 The Royal Bahamas Defence Force bid farewell to Chief Petty Officers (CPO) Nelson Strachan and Brian Miller, who both retired after serving a combined 62 years of active service.
A 32-year veteran, CPO Strachan gave his final farewell on Parade immediately following the morning flag raising ceremony held every morning at Coral Harbour Base. He officially retired on February 6.
CPO Nelson Strachan was a member of New Entry 18, enlisting as a Marine Recruit on June 23, 1986.
Departments in which he has served over the course of his career have included Military Operations Platoon, Squadron Department aboard HMBS NASSAU, the Supply Department, and his final assignment in the Military Police and Force Protection (MPFP) Unit. He was also a participant in the peacekeeping mission to Haiti in 1995 as a member of the RBDF CARICOM contingent.
With his wife and church members in attendance, he encouraged those in attendance to remain vigilant and always maintain their integrity. Lieutenant Byron McClain, Executive Officer of MPFP commended Chief Petty Officer Strachan for his hard work and dedication over the years, and wished him success in his transition.
CPO Brian Miller enlisted as a Marine Recruit on January 9, 1989 as a member of New Entry 23. He officially retired on February 14, 2019. Attached to the Engineering Department, he has served onboard several classes vessels, which included HMBS David Tucker, HMBS Bahamas, HMBS Leon L. Smith, the Dauntless Class vessels, Harbour Patrol Unit and Technical Training section. His final assignment was with the Transport Workshop.
With his wife and children in attendance, CPO Miller thanked Commander Defence Force Commodore Tellis Bethel and the Royal Bahamas Defence Force for allowing him to have a successful career on the Defence Force. As he mentioned the numerous places he has traveled during his 30-year career, he admonished those in attendance to always put God first in everything they do.