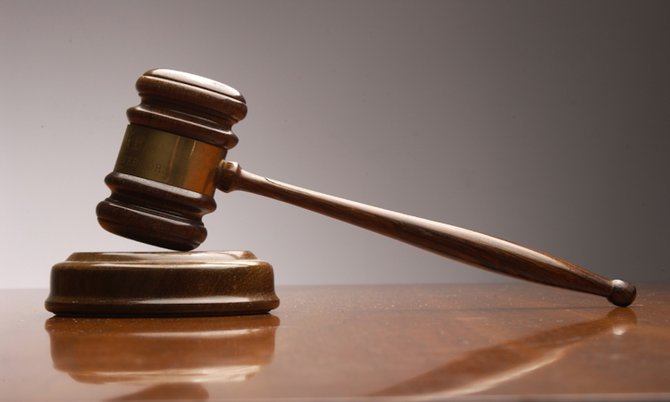 By RASHAD ROLLE
Tribune Staff Reporter
rrolle@tribunemedia.net
THE Royal Bahamas Police Force is being sued for allegedly torturing three innocent people in a bid to secure confessions from them.
Two men and a woman in Eleuthera, who were questioned at the Governor's Harbour Police Station in January, 2018, say they were bound, beaten and fish-bagged before being released without charge. One claimed police poured hot sauce into his eyes.
The trio made formal complaints at the Complaints and Corruption branch of the Force but, after hearing nothing for more than a year, they are pursuing their case in court.
The Tribune is reporting their story for the first time after an in-depth investigation.
On January 18, 2018, armed men robbed the C and AA Service Station at Palmetto Point, Eleuthera, shooting Joel Stubbs, an employee of the station, before escaping with a large sum of cash. The Eleutheran newspaper reported that according to police, three men were taken into custody in connection with the incident, with a team of Central Detective Unit officers from New Providence assisting on the island. On January 26, 2018 the newspaper provided an update: according to police, the men were released from custody without being charged along with two other people who had been arrested, a woman and a man. Among them were Chavette Strachan, 29, Dale Gibson Jr, 29, and Kenton Fines, 27, who have since taken legal action against the RBPF.
On February 8, 2018, police arrested and charged different people with attempted murder and armed robbery: Lamar Wilchombe, 18, from Eleuthera and a 17-year- old boy from Rock Sound. They were accused of stealing $1,800 and four cartons of Backwood cigars from the gas station and of stealing Mr Stubbs' I-Phone 8, valued at $954. The men were allegedly part of a ring responsible for a spree of robberies between July 2017 and January 2018.
"Torture"
A neighbour of the three told The Tribune she saw when police arrested the two men and took them from their homes around 3am on January 19, 2018. Speaking anonymously for fear of retaliation, she recalled her encounter with Ms Strachan when the trio were released from custody on January 23, 2018.
"When (Chavette) got out she came over to show me the marks on her skin," she said. "She lifted up her shirt to show bruise marks. I said 'Chavette, you are a lady, those officers are male, they weren't even supposed to be touching you.' She told me how they poured hot sauce in Kenton's eye and it got to the point where his eye started to get pussy. She was really hurt about all of it. She was crying."
According to Ms Strachan, she was arrested about 12 hours after the two men and was initially placed in a cell adjacent to one of the cells holding Mr Fines.
She said officers removed her from the cell, put her in a room and questioned her.
"One officer said we'll play hang man," she said. "He said depending on how I answer the question I'll be hanging myself. At that point I was completely calm, answering intelligently. That seemed to (unnerve) them because they said why I so calm? Next thing I know, they yucked me up, put handcuffs on me and escorted me to a backroom. Two or three officers were standing by the doors. I stood in the middle of the floor and an officer told me lay down, pointing to the ground. I went to my knees and the next thing I knew he kicked me on the ground and started asking me what I did. I felt I was in a mob movie."
Ms Strachan said the officer had a fish-kit bag.
"He got on my back and put the bag over my heard," she said. "He would hold it until I couldn't breathe. This man was playing with my life in his hand. At one point when he took the bag off, I was like 'sir, if this is the day you choose to kill me, at least let me talk to my mummy.' He continued doing it. He would stop, take the bag off and question me."
Ms Strachan said the officer asked her the location of a gun used during the armed robbery.
"They would put me back in the cell," she said. "They would come for the guys one by one, doing it more with them than with me. I could hear those guys screaming. I could feel their pain from my cell."
When the trio were in custody, their families reached out to lawyers for help. At least two lawyers, Barry Sawyer and Lennox Colbey, confirmed to The Tribune a connection to the incident.
Mr Colbey said he was retained to help a fourth man who was with the trio, but who ultimately did not pursue legal action against the RBPF.
"I saw and was retained to represent one but I realized if I represented him properly all the others should be ready to come out because they had nothing to do with the incident," Mr Colbey said on Friday. "It was impossible for that crew to have anything to do with the robbery.
"(My client)," he added, "said it was an experience he went through in there that he would never want to experience. He made allegations of being brutalized and there was evidence that he was because he is a yellow fella. But he was just happy to get out and didn't pursue it any further."
Speaking of his experience, Mr Fines said he was traumatized.

"They poured hot sauce in my eyes and I am still having problems with my eye, like blurred vision, sometimes burning," he said. "At a certain time of the day I can't be outside without sunglasses, I don't leave home without shades."
According to a Writ of Summons filed by Mr Fines' lawyer, Allan Emmanuel, $80,000 is being sought from the government for the man's injuries.
The summons said: "…On 25th of January, 2018, the plaintiff attended Dr KJ Rodgers Clinic at Harbour Bay Shopping Centre, Nassau, the Bahamas for the injuries he received from police."
Mr Fines said: "They poured enough hot sauce that when I closed my eyes I could feel the liquid on my eye lashes. One of the officers said eventually I had to open my eyes so they poured some of the sauce in the bag and then they put the bag over my head. Automatically when I gasped for breath I opened my eyes. They suspected us as suspects in the armed robbery and they wanted answers like who had the weapon. When they put me in the office, they let me sit straight on the floor. There was a point I was flat, my body unresponsive. I tried to tell myself move and I couldn't move. At some point it got the point where I had to fight back, thinking they either gon' kill me or they gon' let me go. As a result I ended up kicking a hole in the door and breaking the desk in the office. They dragged me from there, put me in the bathroom and they started waterboarding me. They took a pants, wrapped it around my head, stuck my head under the shower which you know basically simulates drowning."
Mr Fines filed a complaint with the RBPF on February 3, 2018, he said. Ms Strachan said she and Mr Gibson told officers from the corruption and complaints branch what happened on February 14, 2018. Months later, they were brought to Nassau and were shown photos and were asked to identify the people responsible. "I can't get the man's face out my head," Ms Strachan said. Mr Emmanuel, the lawyer of Mr Fines, said he sent two letters to Police Commissioner Anthony Ferguson on June 18, 2018 and December 11, 2018 concerning the incident, but has not received a response.
For his part, Mr Gibson said he was held at the Rock Sound station for two days before he was taken to Governor's Harbour police station.
"They fish-bagged me until I blacked out three times," he said. "When they yucked the bag off, I was kicking, trying to get out. I had to go to the clinic to get X-ray check of my head."
Mr Gibson said the officers who "abused" them wore no uniform and came from Nassau.
"All the officers in the station heard us hollering and didn't do anything," he said. "They knew what was happening."
Commissioner Anthony Ferguson declined to comment when contacted yesterday because he said the matter is before the courts.
Nevertheless, on Saturday, Ms Strachan said she received a summons dated February 18, 2019 to appear before the Police Disciplinary Tribunal in Eleuthera to give evidence against an officer involved in the alleged incident.
"Ongoing Problem"
The torture claims came as no surprise to defense lawyers interviewed by this newspaper, all of whom said top law enforcement and political figures have historically made little effort to address what is a grave human rights problem.
The story comes days after Shavar Bain, Sr, a man whose child was kidnapped, alleged that he was beaten while in custody to get him to confess to a role in kidnapping his own son.
Claims of brutality in police custody, including reports of plastic bags and waterboarding, are not rare. Often, the people making the claims are charged before the courts. At least seven defence lawyers, most speaking anonymously to The Tribune in the past week, said torture for confessions is an historical problem.
Mr Emmanuel, the lawyer for Mr Fines, said: "Top officials are aware of what's going on. They don't take part in it, but they are aware of it."
Noting some people lie about being beaten in custody, Mr Colbey, a lawyer for the man who did not pursue legal action, said: "My concern, and I'm depressed about it, is fellas are appearing before court with allegations against police and for many years they've been talking about this plastic bag and this body bag in CDU. Have you seen the courts do anything? They just dismiss what these fellas are saying and it can't be that all of them are lying. It calls for some kind of investigation because in this day and time, there is no need to beat a man for a confession."
Attorney Fred Smith said: "Beating and torturing confessions out of suspects has been a terrible affliction which the Bahamas has suffered for decades. It has sometimes, unfortunately, been the preferred and easiest way of extracting a confession and I know that for many, many of the cases I used to do when I was in the criminal law practice, accusations of police beating were the norm rather than the exception. I urge the commissioner to up the quality of forensic investigations rather than rely on confessions. I urge the judiciary, particularly in the magistrate courts, to refuse to admit confessions which have any taint of oppression. I also urge the government to establish a statutory, independent police, immigration and defense force complaint commission which would have representatives from police, civil society, the Bench and Bar."