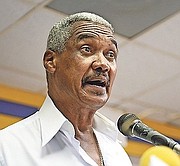 By NATARIO McKENZIE
Tribune Business Reporter
nmckenzie@tribunemedia.net
A former Bahamas Electricity Corporation (BEC) chairman yesterday slammed plans for a mass disconnection of delinquent Family Island customers, and urged: "Have a heart".
Leslie Miller, the outspoken former MP and Cabinet minister, hit out against Bahamas Power & Light's (BPL) strategy to begin cutting off non-payers in remote islands by mid-March, and called on the state-owned utility to "have some compassion".
Challenging how BPL is being run, Mr Miller queried why BPL's fuel charge did not reflect the recent significant drop in global oil prices along with the length of time to investigate last summer's fire at Clifton Pier.
He argued that BPL's Family Island disconnection would produce little financial benefit for the energy provider because many Family Island residents "simply don't have the money".
"In dealing with the Family Islanders, one of the things we did, for instance, was we looked at the elderly customers and put them in a special category. You have to appreciate that on many of the Family Islands so few people have gainful employment," said Mr Miller.
"They need to show some conscience with this proposed disconnection exercise. I see that Water & Sewerage is doing the same thing. They need to have heart. I mean, how much money could they collect on the islands?
"You're going to do something like this just because you have the power at the expense of depriving people of a basic necessity. You have people in Nassau who are working and struggling to pay their light bill. It's really rough out there."
BPL customers in the Family Islands could be left in darkness for failing to adequately pay their bills from March 15. BPL chairman, Dr Donovan Moxey, confirmed the disconnections will start in a little under a month for accounts 60 days in arrears and owing $300 or more.
The company has undertaken a full-scale media campaign to advise customers that mass disconnections are coming. Some of the constituencies to be targeted include Exuma and Ragged Island and MICAL.
"We don't want to use the term mass disconnection exercise," Dr Moxey said. "Where we are right now is this: At BPL, from a policy standpoint, everybody has been informed that any account that's 60 days or more past due with a balance of $300 or more is subject to disconnection.
"Now one of the issues that we face as BPL is sometimes we have situations where customers have been allowed to continue on for months and months and months without making payment. That's detrimental to BPL as well as to the customer.
Mr Miller yesterday questioned why BPL's fuel charge has not reflected the decline in global oil prices, saying "I don't understand why the fuel charge is so high. Oil is cheaper right now than it has been over the last seven years.
"What kind of contract did they sign? Why are they not trying to hedge a fuel contract below $40 per barrel. To say that we have to deal with this cost for the foreseeable future is unacceptable. It's really unacceptable that the Bahamian people will have to shoulder this type of burden."
Dr Moxey explained earlier this week that the fuel charge has remained at a capped rate of 19.15 cents per kilowatt hour, but said the true cost is 22 cents. Consumers do not pay the latter rate right now due to a decision to finance the difference in cost, cushioning the blow.
However, Dr Moxey said the Utilities Regulation and Competition Authority (URCA) has said all costs have to be absorbed by the consumer. He added that BPL was working on putting together a process where, as the cost of electricity goes down, those costs that were financed by BPL will be passed on to the customer.
Mr Miller also questioned why the investigation into fires which occurred at BPL's Clifton power station last September was taking so long. "Why is that taking so long, it's ridiculous? The insurance is investigating forever, it seems, because no one wants to pay.," he added.