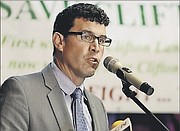 By NEIL HARTNELL
Tribune Business Editor
nhartnell@tribunemedia.net
Governance reformers yesterday warned Bahamians that their tolerance of low-level graft creates a breeding ground for multi-million dollar corruption which ultimately hurts them.
Matt Aubry, the Organisation for Responsible Governance's (ORG) executive director, told Tribune Business that corruption and its related costs "hits the poorest" in Bahamian society hardest "in a variety of ways" - whether it be through increased taxes or low-quality public services.
Speaking as ORG prepares to partner with government, non-profit and other civil society groups on the launch of its National Integrity Campaign "in the next couple of weeks", Mr Aubry said it was vital that The Bahamas stop "repeating the same mistakes" in trying to fight corruption.
ORG last week renewed its calls for the government to bring both the Integrity Commission and Ombudsman Bills to Parliament in the wake of the controversy surrounding the handling of recent politically-related corruption cases - one of which had resulted in former Public Hospitals Authority chairman, Frank Smith, being completely cleared of all accusations and having "no case" to answer.
Mr Aubry, though, said the passage of such legislation was only "the first step", adding that it was vital for the Bahamian people to push for their enforcement otherwise essential changes in culture and behaviour will not happen.
"It's really to raise the level of discussion around the issue of integrity," he told Tribune Business of the ORG-led campaign, "and our culture of corruption, and realise we can do something as individuals to address this issue and reduce the incidences and cost of corruption by choosing to incorporate these ideas into our efforts and every day lives."
Mr Aubry said simple, everyday practices that have almost become culturally ingrained - and are largely tolerated by many Bahamians - end up rebounding on citizens in the form of higher costs and inefficient services, ultimately hitting them in their wallets and bank accounts.
Citing several examples, he pointed to the hiring of public officials based solely on their name (nepotism) or political leanings, rather than ability; "not paying Customs duty at the airport by shoving items to the bottom of the bag"; and paying a civil servant - who they either know or are related to - to "jump the queue" at the Road Traffic Department or another government agency.
"This contributes to an environment that supports high-level corruption," Mr Aubry told Tribune Business. "If we don't tolerate low-level corruption it helps us to fight high-level corruption.
"Everybody who isn't paying VAT, isn't paying real property tax, isn't paying Customs duty is contributing to an inefficient and ineffective system. When people are hired for their name and political leanings, you're paying for their salary and pensions.
"When the business is forced to pay more to get items through, they're causing that cost to increase for the consumer. Corruption, and the cost of corruption, hits those with the least amount of money in a variety of ways."
Many Bahamians, especially politicians, often hit back at claims of corruption by arguing that there is no widespread evidence of it occurring. While it is true that there have been relatively few prosecutions, many observers believe this is due to fear of witness retribution and victimisation, combined with a cultural acceptance of such practices and that fact multiple persons benefit.
Transparency International's Global Corruption Barometer survey of The Bahamas last year asserted that corruption is "rooted in the fabric of Bahamian society", revealing that zero action was taken over the 6 per cent of bribery demands reported to authorities.
It found that despite "one in 10 Bahamians" disclosing they had paid a bribe within the past year to obtain public services, few reported this corruption to law enforcement.
The findings, based on a survey of 1,000 Bahamians conducted in October 2017 by the Public Domain research firm, found that almost half were too scared of the consequences - such as potential retaliation and victimisation - to report allegations of 'rent seeking' by public officials.
This was despite 52 per cent of respondents deeming it "socially acceptable" to report corruption to the authorities, with the findings suggesting 'fear' is a major obstacle to stamping out a problem that the Prime Minister, Dr Hubert Minnis, previously estimated costs the Bahamian economy some $200 million per year.
The results showed that one in eight Bahamians, some 13 per cent, who had contact with the police in the year prior to October 2017 "had paid a bribe in order to get the services they need".
While 'rent seeking' was most prevalent in the public's dealings with the police, the Transparency International report found that illicit payments to agencies such as Immigration (work permits, residency permits), the Road Traffic Department (driver's licences) and Passport Office, plus publicly-owned utilities, were not far behind.
The findings indicated how corruption was seemingly undermining the 'rule of law' and public safety, plus the Bahamas' ability to police its borders and determine who can reside in the country.
Mr Aubry indicated that the Bahamas Bar Association, Citizens for a Better Bahamas, the Ministry of National Security, Bahamas Press Club and National Art Gallery of The Bahamas were among the organisations either partnering with ORG, or supporting it, in its National Integrity Campaign.
He said the initiative will carry an anti-corruption message about "the importance of doing the right thing even when no one is watching", adding that the fight against graft went beyond merely passing laws.
"If we think about enacting laws like the Ombudsman Bill and Integrity Commission Bill, that is the first step," Mr Aubry told Tribune Business. "But we need to ensure there's a public will there to call for enforcement of these laws and the use of technology to mitigate the opportunity for corruption.
"Things like e-procurement laws and regulations are important, but if the public doesn't have find the will - and doesn't feel it's worthwhile to advocate for them - then these changes won't happen."
Acknowledging fears of "political retribution" if persons spoke out, Mr Aubry added: "What we need to do is stop repeating the same mistakes, and put in place the laws, the technology, that stops us making these same mistakes, and focus on more efficient and accountable government."