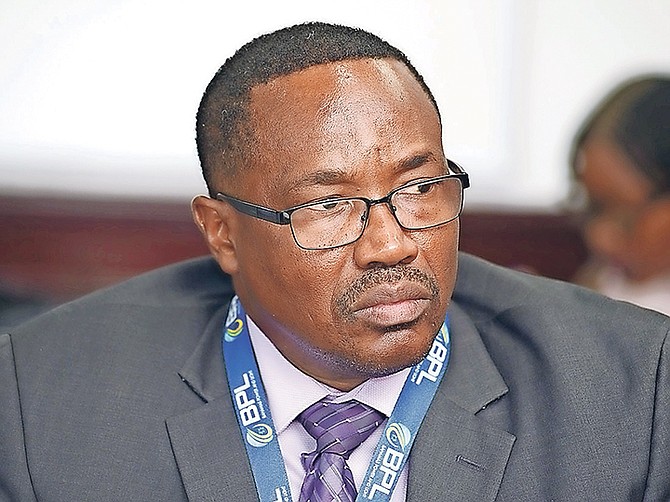 By KHRISNA RUSSELL
Deputy Chief Reporter
krussell@tribunemedia.net
BAHAMAS Power and Light chairman Donovan Moxey says there should be no issues in the coming summer months when consumers will use more electricity.
Mr Moxey said BPL was working on a solution for the summer, but, as yet there was not enough information available to make it public at this time.
But as he was expressing high hopes for the summer yesterday, New Providence experienced load shedding after one of BPL's generators tripped off.
"We're working on a solution for the summer and once we have enough information we'll make that available for you," Mr Moxey said yesterday in an interview with reporters following a presentation to the Rotary Club of Nassau at Luciano's of Chicago.
"From our perspective given the assets that we have and provided there are no significant impacts on those assets in terms of their ability to operate, we should have no issues in the summer time with the plans that we have now to shore up some generation at Clifton. So we are pretty hopeful that things will be in place between now and the summer time to cover all of our needs."
Mr Moxey was also asked when Bahamians could expect lower electricity costs. He explained that the fuel surcharge has remained at a capped rate of 19.15cents, but said the true cost is 22 cents.
Consumers do not pay the latter rate right now due to a decision to finance the difference in cost, cushioning the blow.
However, Mr Moxey said the Utilities Regulation and Competition Authority has said all costs have to be absorbed by the consumer.
He said BPL is working on putting together a process where overtime as the cost of electricity goes down, passing those costs that were financed by BPL on to the customer. Still he insisted this didn't mean electricity costs would again return to elevated levels, pointing to the capped 19.15cent fuel surcharge.
"What affects persons' bills is the fuel surcharge. That's where the fluctuation comes in with the price of oil and so given the fact that the price of oil right now is around $60 to $70 a barrel given the fact that because of the assets we are using now, we are using the most expensive diesel oil that impacts cost. So as I indicted earlier what we are trying to do is put in solutions in place that essentially has us using the least expensive oil which is HFO and also eventually as quickly as we possibly can transitioning off with the rental units, which use the more expensive fuel oil as well.
"The thing that impacts cost to customers is really the fuel surcharge and to be quite honest with you, usage. So one of the things we talked about today was embarking on an energy conservation awareness programme where we can tell folks: 'summer is coming make sure that you have your homes with the proper insulation, that you get high efficiency low cost light bulbs (and) put your water heater on a timer. All of those are things that actually reduces your electricity consumption and we are going to try our best to get our customers ready for the summer time so that they can use less electricity," he said.