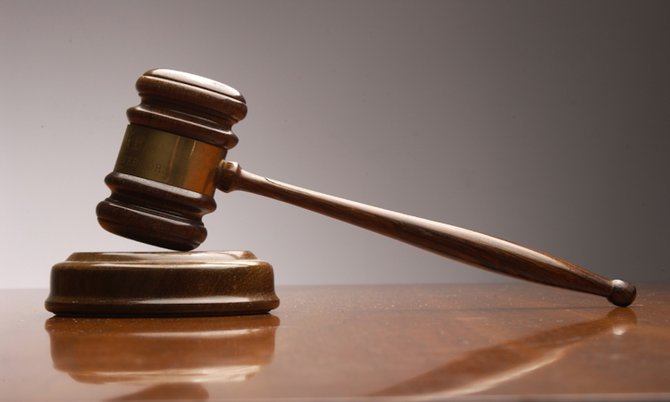 By RICARDO WELLS 
Tribune Staff Reporter
rwells@tribunemedia.net
TWO days after 22 of their countrymen were laid to rest, the 18 survivors of the Haitian sloop shipwrecked near Abaco earlier this month were yesterday charged with illegal landing.
All 18 migrants pleaded guilty to the offence of illegal landing and were convicted by Magistrate Kara Deveaux-Turnquest.
The group, ranging from 18 to 51, was turned over to the Department of Immigration for deportation.
Yesterday, one of the migrants addressed the court. Through an interpreter, he apologised for the offence, telling the court that many of them were in search of better lives to provide for their families back in Haiti.
"I'm sorry for coming illegally," he said. "I have a family and children to take care of."
According to court dockets, the 17 men and one woman were apprehended after the vessel they were on sunk off Abaco on Saturday, February 2.
According to earlier reports, the ship was carrying approximately 83 people – 76 men and seven women – all of Haitian descent.
After local residents discovered four bodies in the water near Man-O-War Cay, police, fire and rescue services, along with immigration and Royal Bahamas Defence Force (RBDF) personnel stationed in Abaco conducted a search near Fowl Cay and Man-O-War Cay.
Officials were later joined in the search by a RBDF patrol vessel already in the area, Her Majesty's Bahamian Ship (HMBS) Durward Knowles and a United States Coast Guard helicopter.
An initial search of the cay resulted in the recovery of 15 Haitian nationals.
They were taken aboard HMBS Durward Knowles under the command of Lieutenant Commander Omarv Saunders.
Three others were later recovered in subsequent searches.
A submerged vessel was later spotted by the USCG helicopter on Saturday afternoon.
A dive operation by RBDF divers and a local diver found an additional 12 bodies in the vessel on the seabed in reef-filled waters near Fowl Cay.
Several other bodies associated with the wreckage have washed up in the days since the incident, bringing the total number confirmed dead to 31 so far but as many as 35 remain missing. 
In addition to the 18 survivors, three other Haitian nationals were arraigned on charges of illegal landing in two separate matters yesterday.
In the first case, Alex Aguste, 22, and Evens Joseph, 33, pleaded guilty to one charge each of illegal landing.
The two men were found in Harbour Island, Eleuthera on Friday, February 8, without leave from the Department of Immigration.
At the time of arrest, Joseph produced a receipt for a work permit application dated December 28, 2017.
Prosecutors said the application was rejected shortly after its submission on the grounds that it was submitted by a person residing in the Bahamas illegally.
Conversely, Aguste at the time of arrest admitted to illegally landing in the Bahamas and travelling to Eleuthera via a mailboat.
Additionally, he said he never attempted to seek legal status.
Both men in addresses to the court apologised for their actions, insisting they were also in search of better lives.
"I am sorry. My mother is dead and my father is deceased. I have six brothers and one sister that I came to look for a life for," Joseph told the court.
Both men were convicted and turned over to the Department of Immigration for deportation.
In the final matter, Blandine Dorval, 29, pleaded guilty to a lone charge of illegal landing.
Dorval was discovered in Marsh Harbour, Abaco on February 4, without leave of the Department of Immigration.
She was convicted of the charge and subsequently turned over to the Department of Immigration for deportation.