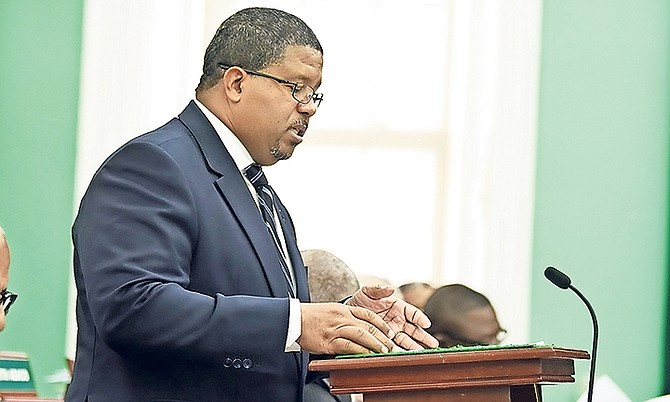 By KHRISNA RUSSELL
Deputy Chief Reporter
krussell@tribunemedia.net
FINANCE Minister K Peter Turnquest insisted yesterday the government has no intention to increase value added tax as speculation persists that a hike maybe featured in the impending 2019-2020 budget presentation. He called the claim an unfortunate rumour.
Mr Turnquest refuted the VAT hike after Exuma and Ragged Island MP Chester Cooper projected the increase in the House of Assembly yesterday as MPs debated the 2018 Fiscal Strategy Report.
Mr Turnquest also revealed that the Ministry of Finance slightly reduced the rate of real economic growth in 2018 and 2019 by 0.2 percent and 0.1 percent respectively.
"This is needless to say. (It is) an unfortunate, recurrent and I got to call it rumour that is being put out and obviously as the member for Exuma and Ragged Island is saying it, it must be from the opposite side," Mr Turnquest said. 
"It's unfortunate and it has the ability to cause panic, not just locally internationally.
"So I just want to caution the member to be circumspect. But the fact of the matter is the government is not in discussions about raising any VAT. There is no intention on the part of this government to increase the value added tax. There is no such discussion preliminary or otherwise."
Mr Cooper had argued that his interpretation of the government's budget projections showed the Minnis administration was not on track to meet forecasts regarding revenue or deficits.
He also accused the government of being too "bullish" in its projections.
He said: "One of my most alarming predictions upon reading the report is that this government will come for an increase in the rate of VAT or other taxes at the mid-term budget or come to borrow even more that's my prediction and I hope I'm wrong, but that's my prediction, my opinion and I hope I'm wrong. I predict this not just by examining the revenue shortfalls inclusive of December's collections, but also the expenditure patterns and the borrowing report. Customs, as a barometer of consumption, is down in all major categories."
The government developed and introduced the Fiscal Responsibility Act, which came into effect on October 1, 2018. The move was made to secure fiscal gains and provides a non-political institutional framework for fiscal policy to ensure no future government can "ever again engage in flagrantly irresponsible" fiscal policies, Mr Turnquest said.
"We have taken responsive and targeted initiatives to identify, report on, and clear arrears, and implemented steps to strengthen expenditure controls so as to avoid an accumulation of new arrears," Mr Turnquest told Parliament yesterday.
"This fiscal year, we have begun monthly agency budget meetings, to assess developments with respect to budgeted spending. We have implemented better control and recording of payment commitments, as well as more effective cash management and forecasting.
"We will shortly be introducing the requirement for monthly spending plans by agencies. In combination, these measures are intended to ensure that the government remains on top of what is happening and they support confidence in our fiscal policy stance. Going forward, when we make these kinds of forecasts during the budget debates when the fiscal year would have been more than three quarters complete, all can be assured that – barring the truly unforeseen – the forecasts will prove much more accurate."
 He also said the macroeconomic forecast has been updated to take into account the October 2018 release of the IMF World Economic Outlook, which remained unchanged in the most recent IMF update released just last week.
"Of note, the rate of real economic growth has now been shaded down only slightly in both 2018 and 2019, by 0.2 percent and 0.1 percent, respectively," he said. 
"Real growth in 2018 is forecast at 2.3 percent and, in 2019, at 2.1 percent. This largely reflects somewhat softer projected growth in the US. However, forecasted inflation this year and next is now somewhat higher than previously projected. As a result, the growth of nominal GDP is now expected to be higher in both 2018 and 2019 than had been projected in the May budget," Mr Turnquest said.