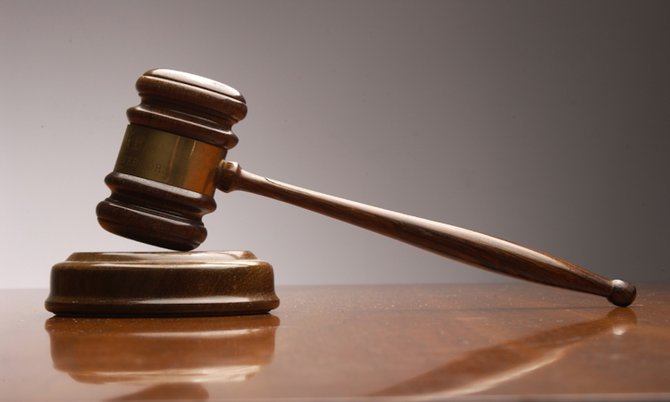 By DENISE MAYCOCK
Tribune Freeport Reporter
dmaycock@tribunemedia.net
A MAN accused of unlawful sex with a 14-year-old boy in Grand Bahama took the stand yesterday, where at times he appeared agitated or flustered as questions were put to him by the prosecution concerning his arrest.

Fred Williams, 45, of West End, Grand Bahama, was called to testify by his attorney Carlson Shurland, who also became argumentative with his client, advising the accused to speak up, slow down and to look at the jurors while giving evidence from the witness box.
At one point, the defendant's cellular phone was confiscated by the court clerk when it rang and interrupted the proceedings during cross-examination.
The defendant is accused of three counts of unlawful sexual intercourse with a minor of the same sex from October 2016 to November 2016 through February 2017 to November 2017. He was arrested and charged on December 10, 2017.
When asked by his attorney if he had forced the teen to perform sexual acts on him, Williams said that it never happened.
"In February 2017, did you take the complainant by BORCO at the fuel pipeline (in Pinder's Point) and have him (perform oral sex)?" Mr Shurland asked. "No, never," Williams replied.
He also denied taking the teen to his house, rubbing baby oil on his body and forcing him to perform oral sex.
Williams told the court that he was "a law abiding citizen" who had changed his life for the better some 25 years ago after running in with the law in 1994. At that time, he was arrested and charged with possession of an unlicensed firearm and ammunition, to which he pleaded guilty and was ordered to pay a fine. He told his lawyer he had not been in trouble since.
He told the court he was a painter and carpenter, and that he was employed at the A & V Convenient Store and Laundromat in West End. He said that he is the father of an adult child.
Williams denied knowing or having any contact with the teen in October 2016. During that time, he said he was called in to help batten up the store in preparation for Hurricane Matthew. He also stated that he did not know the complainant either during November 2016 as the storm destroyed the store.
The defendant said that in December 2016 he came to know the teen. While doing some painting to a building in West End, he claimed that the boy walked over to him and asked him if he was going up and if he could get a ride.
Williams said he obliged. The teen, he said, told him he needed a job because he wanted a phone.
"He started asking me a bunch of questions like where I lived, and what was my name, and if I lived in West End," recalled the defendant.
Williams said that he dropped the teen off at a house and left. He stated that he met the boy again in August 2017. After leaving a Junkanoo event, he went to check up on the boy's older brother, because he did not see him at at the event. He pulled up to the house and blew his car horn, and the teen came out and told him that his brother, who the accused knew, was not at home. He said the complainant then asked if he was the man from A & V Convenient Store.
The defendant said that on December 1, 2017, he met police officers at his workplace who told him that officers at CDU wanted to see him. He said he was taken to West End Police Station.
When asked why he was at the police station, he was told for an unnatural sex matter. "I asked what is that?" Williams said.
The defendant said that when he asked the police officers what unnatural sex was, they could not explain what it meant. He was kept overnight in a cell and the next morning picked up by officers who took him to CDU in Freeport, where he was in custody for three days. During that time, he said he was not questioned, or charged with anything. He was released but was told that police wanted to see him again in another couple of days.
Williams was arrested again on December 10, 2017. He was taken to Central Police Station and later taken on inquiries with Detective Inspector Jamique Campbell and other officers to his house at Bahama Beach in West End where police searched and took photographs.
He claimed that officers did not tell him anything while he was in custody on Sunday. That Monday, he was handcuffed and taken to the Eight Mile Rock Magistrate's Court.
When asked by Mr Shurland if he recalled the video recording of the record of interview conducted by Inspector Campbell, Williams said that another officer was also present when he was questioned.
"At the end of the video, did you say something?" asked Mr Shurland. "I said, 'excuse me, officer, I have something to tell you,' but they said it was a wrap," he recalled.
Mr Shurland asked the defendant: "Did you confess to having sex with the complainant?"
"No, sir," Williams responded.
When asked if police had conducted a sit-down or confrontation between him and the complainant, Mr Williams said, "no."
During cross-examination, prosecutor Erica Kemp asked the defendant about the first time he was arrested at the A&V Convenient Store by officers on December 1, 2017.
She added: "You said that when the officers came to arrest you, you were not told what you were being arrested for? The officer who went on the stand and said he arrested you and told you, you were being arrested for unlawful sexual intercourse and cautioned you, lied?"
Williams said that the officer who gave testimony about arresting him was not the officer who had arrested him. He claimed that a stout or fat officer with a big bump in the back of his head had arrested him.
When Mrs Kemp asked the defendant why he didn't tell his attorney and have Mr Shurland ask Officer Linford Sands whether he was the arresting officer as he gave his evidence that day on the stand, Williams became visibly agitated.
He said that many officers were there and could not recall whether Officer Sands was present. "I don't recall; I heard him say on the stand that he arrested me and the reason for the arrest; it was not him," he insisted.
"I put it to you that he did say that. You had a chance to put it to the officer on the stand, but you did not do that," Mrs Kemp replied. "You were arrested two times, and nobody told you the reason for your arrest?"
Williams said that he was only told that CDU wanted to see him. The trial continues today before Senior Justice Estelle Gray Evans.