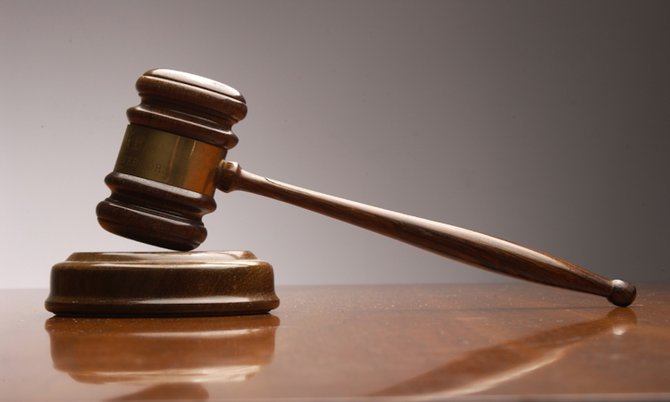 By NICO SCAVELLA
Tribune Staff Reporter
nscavella@tribunemedia.net
THE cousin of one of three men accused of executing a murder plot in the summer of 2016 yesterday denied assertions that his relative killed the deceased for cash, then used some of the blood money to buy a car.
Carlderon Brown denied that he told police some two years ago that Jahmaro Edgecombe killed Kenyari Lightbourne at Daran Neely's behest for some $5,000, then used $3,000 of that sum to buy a Nissan Primera.
Brown also denied telling police that after Neely found out he gave a statement incriminating them, Neely, while in prison, subsequently initiated a series of events to have Brown withdraw himself as a witness in the matter.
Brown also denied assertions that he told police that he understood Lightbourne to be a member of the Mad A gang at the time he was murdered, and further denied telling police that he knew Neely and another individual as having a gang in the Pinewood area.
The revelations were made during Edgecombe's, Neely's, and a third individual, Sean Brown's trial concerning Lightbourne's death near Woods Alley.
On the date in question, Lightbourne was shot multiple times while walking through his Woods Alley neighbourhood off Market Street. He died at the scene.
Neely and Edgecombe aka "Bingy", the alleged gunman, were arraigned within months of each other in 2016 in connection with Lightbourne's death. Sean Brown aka "Fire", is charged with accessory after the fact.
During trial proceedings yesterday, lead Crown prosecutor Racquel Whymms read off the particulars of Brown's July 8, 2016 statement he gave to police, which Brown denied as untrue because he did not give that information to officers.
According to the statement, Brown claimed that sometime in June 2016 he was sitting in the back of a yard under a mango tree smoking with Edgecombe when Neely and Rashad Laroda aka "Rat" stopped in front of his yard in a Honda Pilot vehicle.
Brown said when he saw them, he hailed them and Neely subsequently called him out to the road. Edgecombe, he said, walked out to the road with him. Brown said both Neely and Larodo knew Edgecombe from him various visits.
Brown said Neely then asked Edgecombe if he knew where "Eyes," "Spider" and another man named "Yari" were.
After Brown said Edgecombe said he knew where they were, he claimed Neely said he had $6,000 on Eyes' head and that he would pay $5,000 for each of them to be killed.
Brown said he heard when his cousin said "yeah, that straight, that straight", before Neely and Laroda pulled off. Brown said he was shocked, but said he didn't ask his cousin about it because he hoped he was joking.
About two or three days later, Brown said Edgecombe asked him to be let out of the house because he wanted to go by his girlfriend.
Brown said Edgecombe left early that morning and didn't return until around 1pm. Brown said when Edgecombe returned, sat down with him and told him he had just bought a silver Nissan Primera for $3,000, which was at the car wash just around the corner on Soursop Street.
Brown said he knew that Soursop Street is the next street over from where he had lived on Spice Street for some six years, but then said he did not know where Avocado Street was, despite that street being the next street over from Soursop Street.
Nonetheless, Brown said when he asked his cousin where he got the money to buy a car, Edgecombe called Neely's name. Brown said Edgecombe then pulled a large amount of cash, full of $100 bills out of his pants pocket, then told him it was about $2,000 he had left.
Brown said his cousin told him, "Bey, I had to do what I had to do, I kill that bey Kenyari." Brown said when he asked Edgecombe why he did it, he replied: "Bey, I broke and I need the money (sic)."
Brown said Edgecombe explained how he hid and waited through a short cut off Woods Alley, and when he saw Lightbourne walking towards the shortcut, he ran up to him and shot him in the head and the chest with his black and chrome .40 pistol, before running off and catching a bus out of the area.
However, Brown denied assertions that while at the Central Detective Unit (CDU) on October 17, 2016 he was shown a picture of a 12-man lineup by a police officer, from which he positively identified Neely as position number 10. Instead, he claimed police officers brought a piece of paper to him, showed him Neely's picture, and told him to sign it.
Then, in a December 20, 2016 statement, Brown claimed that on December 13 of that year, he was at home when he received a phone call from Edgecombe whom he knew was in jail. He said Edgecombe asked him what he had told the police, because he wasn't sure what his cousin knew, he said he told Edgecombe he didn't tell the police anything.
The following day, Brown said he was at home when he received another phone call, this time from Neely whom he knew was also incarcerated. Brown said Neely told him "bey come to court Friday, Naldo ga come for you." Brown said he didn't reply, and neither did he have a chance to, because Neely hung up the phone.
Brown said later that afternoon, he got a third call on his cellphone from someone he knew as Renaldo Adderley from Spice Street, whom he said has a close relationship with Neely. Brown said Adderley told him he was coming for him the following day, and to be ready.
Brown said he was very scared and didn't know what to do, so he agreed and told Adderley to pick him up by the graveyard off Cowpen Road. After being picked up the following day, Brown said Adderley took him to a justice of the peace and to the Office of the Attorney General in a bid to get Brown to change the statement he gave to police.
Brown denied giving that statement to police, but agreed that he went to the AG's Office. However, he said he went there with his neighbour and another woman. He told the court that while there, he met and spoke with a woman named Ms Christie—whose name was mentioned in the statement.
Brown further admitted that after they went upstairs to her office, he told Ms Christie that he didn't want to be a witness in the matter. She told him that he would have to go to court to have that issue resolved.
The case continues today.
Neely is represented by Wayne Munroe, QC, and Jomo Campbell, David Cash represents Edgecombe, and Nathan Smith represents Sean Brown.
Al-Leecia Delancy assists Ms Whymms in representing the Crown.