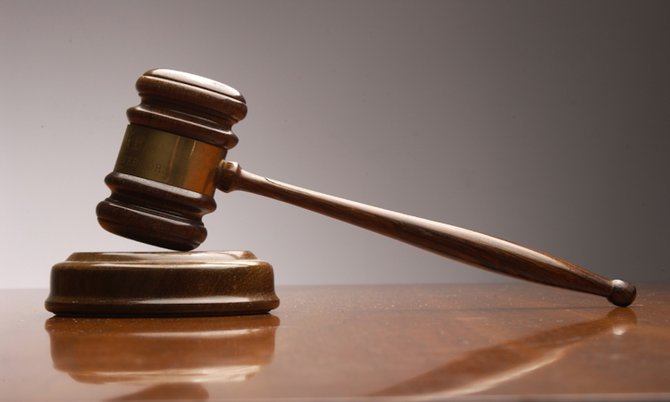 By NICO SCAVELLA
Tribune Staff Reporter
nscavella@tribunemedia.net
TWO landlords were each fined upwards of $2,000 yesterday for the "unhygienic" practice of renting their dwelling spaces without a proper water supply, which ultimately led to the tenants defecating in buckets, discarding the waste on the property and then burning the fecal matter because they couldn't flush it away.
Hugh Cox and Jody Farrington were both charged $2,345 and $3,380 respectively for renting their Montell Heights buildings without the city's water supply installed, causing their various tenants to improvise and resort to 'slopping' with buckets, and incinerating their excrement to alleviate their daily sanitation woes.
Farrington was further ordered by Chief Magistrate Joyann Ferguson-Pratt to inform her tenants to vacate her building immediately and to subsequently install a proper water supply on her premises. If not, the chief magistrate asserted that she needed to "close it down" as she cannot rent out "substandard" living facilities.
Cox paid $1,800 towards his fine yesterday, leaving a balance of $545. Farrington, meanwhile, paid $2,600 towards her fine, which left a balance of $780. Both Cox and Farrington both have until March 5 to satisfy their balances, or face three months and four months in prison respectively.
The sentences came after the two, who own buildings very close in proximity to one another, pleaded guilty to on one count each of unsanitary conditions, inadequate water supply, and unsanitary premises.
Cox and Farrington, the owners/operators of #27 and #29 Bowes Avenue respectively, were both accused of failing to comply with public health orders in allowing the emission of liquid waste to exist on their premises; in keeping their premises in unsanitary conditions by allowing waste to accumulate, which in turn is "conducive" to the breeding or harbouring of rodents, insects, pests, termites, or other vermin that are likely to endanger the public health.
They were both also accused of failing to make for the provision of an adequate water supply for flushing purposes at all times.
According to the evidence, both of their rented spaces featured outside toilets, and Farrington, who said she lives elsewhere in Pinewood, admitted that her tenants have to walk to a nearby pump with buckets to retrieve water for their basic hygienic needs.
However, defecating and urinating in the outside toilets without any plumbing meant that the waste would accumulate and create quite a stink, and so the tenants opted to 'slopping' in buckets, discarding it in the open on the property, and burning it to get rid of it.
And that fecal matter and the burning thereof was visible to Health Inspector Dahl Bethel when he visited the area in question in October 2018, according to the prosecution. At the time, Mr Bethel also observed the outside toilets, garbage accumulation, debris, and no sanitary facilities available for proper use.
In Farrington's case, a public health order was served on her property on October 18, which expired on November 8 last year. But when the health inspector returned to the property on November 10, he noted that the accumulated trash was still there, and that the other infractions were still taking place. And according to the prosecutor, Maria Zancolla-Willie, the infractions were still taking place as recently as January 17, making for some 91 days Farrington would have been in breach of the public health order.
Conversely, public health officials said Cox had started to remediate the various infractions on his property by removing the garbage and cleaning the yard when Mr Bethel returned on November 10, 2018. Thus, Cox was only in breach of the public health orders for some 22 days.
Farrington was fined $1,000 each for the offences of owning and/or operating an unsanitary premises and unsanitary conditions. She was further fined $1,380 for having an inadequate water supply—she was fined $30 for the day of the initial infraction, and $15 for each day afterwards.
Cox was similarly fined $1,000 for the offences of owning and/or operating an unsanitary premises and unsanitary conditions, and $345 for having an inadequate water supply using the same formula.
Cox and Farrington were two of some 10 people arraigned over various environmental/public health infractions, which came during the "environmental court's" first sitting in several years.
Another man, Claude Monstitat, the owner of residence at #49 Fritz Lane, was charged with owning unsanitary premises, in that he allowed derelict vehicles and overgrown vegetation to dominate the property in question.
He pleaded not guilty to the charge and the matter was adjourned to April 1 for trial.
Another nine matters are expected to heard today, according to officials.