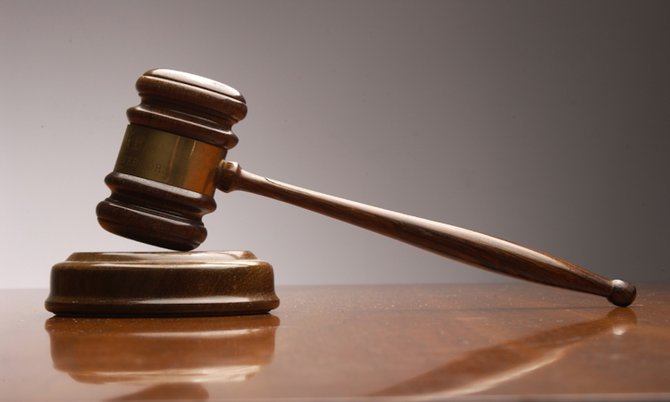 By NICO SCAVELLA
Tribune Staff Reporter
nscavella@tribunemedia.net
GRAND Bahama businessman Edward Barrett will remain behind bars for smuggling three guns and numerous rounds of ammunition through his import company three years ago, the Court of Appeal ruled yesterday.
Appellate Justices Jon Isaacs, Roy Jones, and acting appellate Justice Milton Evans "unhesitatingly" affirmed Barrett's four year sentence after finding no merit in any of his grounds of appeal.
According to the appellate ruling, Barrett, the owner of an import company called Sapona Import, called Dennis Walters, a pilot, on February 11, 2016 to transport cargo from Fort Lauderdale to Grand Bahama for him.
Mr Walters subsequently collected a few packages from Tropic Air Cargo for Barrett, one of which was a television box and the other a blue plastic bin containing grocery items. Both items were in the name of Mary Jane Smith.
The third item was a box in the name of Stuart Garner.
Mr Walters flew the packages to Freeport, Grand Bahama as requested. After Bahamas customs officials cleared the plane, the freight was taken to the air freight section where Barrett separated his three items from the rest of the freight.
Jay Williams, customs officer stationed at the Grand Bahama airport, subsequently inspected the packages. When he opened the television box, and lifted the Styrofoam casing, the front and back of the television fell apart.
When he looked inside, he saw a firearm and ammunition. He consequently called Chief Customs Officer Brenda Ferguson and Barrett and pointed out what he saw.
He then inspected the blue bin, which contained a Tide detergent box. On lifting the Tide box out of the blue bin, it felt abnormal. Officer Williams said he saw a clear tape at the bottom of the box. On pouring out the contents of the Tide box, Officer Williams discovered another firearm.
In total, three firearms, one magazine clip, and multiple types of ammunition were found among the packages.
Barrett indicated to the customs officers that the items were for Mary Jane Smith, a first time client of his. The C18 import form noted the receiver of the items as Sapona Import. Barrett said he was only the agent in the transaction, however, he did not fill out the C44 form that authorises the importation of items as an agent.
Detective Corporal Devon Gibson said he removed the guns and ammunition and handed them over to Sergeant Duane Ferguson. The items handed over were one Drago 7.62 rifle; one high-point model 9995 9mm rifle; one Taurus revolver; a magazine clip containing 7.62 rounds of ammunition; a plastic bag containing 40 rounds of 7.62 ammunition; three boxes containing 20 rounds of .223 ammunition; a plastic bag containing 61 rounds of 9mm ammunition; four 410mm rounds of ammunition; 16 rounds of .45 ammunition; two 9mm magazine clip and one extended 9mm clip.
Barrett was consequently charged with and convicted of multiple firearm related offences, including possession of a firearm and ammunition with intent to supply; possession and importation of ammunition, and importation of a firearm.
During trial before Magistrate Samuel McKinney, Barrett testified that on the date in question, he asked Walters to retrieve packages at Tropic Air in Florida in his company's and Mary Jane Smith's name with a telephone number on them.
He said he did not know how the items got to Tropic Air nor did he know where they were purchased. He further testified that when the items arrived in the Bahamas, they were never released to him, nor did he have any knowledge of what was contained in them.
Barrett further claimed he did not know Mary Jane Smith and said the police officers told him to make an invoice after the fact of the items being found in the containers.
Nonetheless, he was ultimately sentenced to four years and a fine of $15,000 or an extra year in prison.
Barrett filed some nine grounds of appeal, however, the appellate judges, in a written ruling delivered yesterday, said his grounds of appeal failed because there was no merit in any of them.
Wayne Munroe, QC, Alex Morley and Ryszard Humes represented Barrett. Anishka Missick and Randolph Dames represented the Crown.