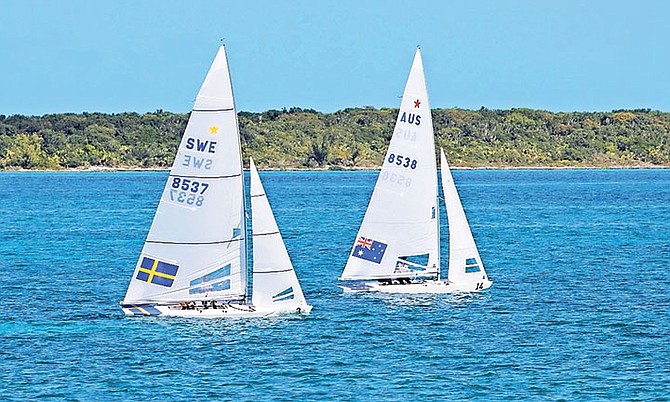 TEAMS have arrived in Nassau for the Star Sailors League Finals as the best in the sport once again decide the season's top honours in the Bahamas.
Racing takes place December 3-7 in Montagu Bay. This year's event features several teams that are previous winners of the event or have been contenders at previous editions.
This year, more than others in the past, there are many teams for whom this is the first SSL Finals, like Henrique Haddad from Brazil, freshly crowned Snipe World Champion, the Uruguayan team with skipper Ricardo Fabini, also with a Snipe successful background, or the Korean Laser sailors Jeemin Ha.
They are all being very humble and modest about their expectations, even five-time Star World Champion crew, and titleholder, Bruno Prada, but they are highly competitive and skilled sailors who will give their best to make that top 10 cut and take their chances at the knock out series on Saturday.
An elite gathering of 23 star-studded teams will be in competition, including a number of wildcards drawn from many parts of the world of high-level sailing.
Three nations will be attending the Star Sailors League Finals for the first time, with Volvo Ocean Race winner Chuny Bermudez representing Spain with his crew Miguel Fernandez Vasco, Ricardo Fabini and Federico Calegari for Uruguay, and Korea's Jeemin Ha crewed by one of the most experienced Star crews, Mark Strube of the USA.
After four days of qualification rounds for all 23 crews, the competition goes into the knockout stages on Saturday, December 7.
Single races decide who survives and who is heading for the dock.
The last four teams will contest a thrilling final race, the first to finish will be the winner of the 2019 SSL Finals and take home the lion's share of the $200,000 prize purse.
"You can join all the action live and free streaming on the Internet with expert commentary from special studio guests. On the water, the latest in hi-tech camera technology helped by virtual support will provide thrilling viewing. "Follow the Star Sailors League on the official website, Facebook, Instagram and Twitter to be updated on the SSL Finalists, social events and more of the Star Sailors League major event of the year," said a press release.