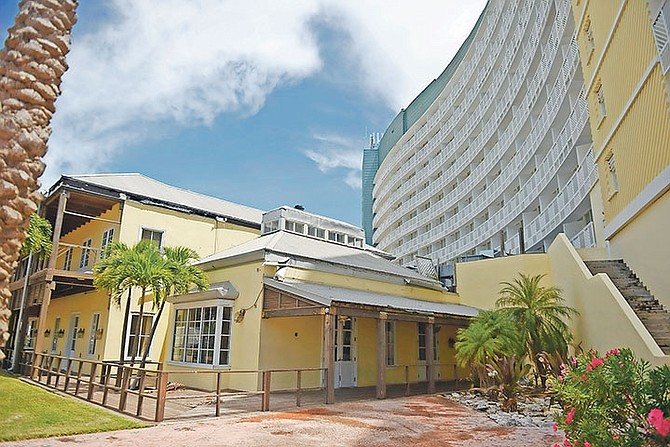 By NEIL HARTNELL
Tribune Business Editor
nhartnell@tribunemedia.net
The Grand Lucayan's managers should "very shortly" receive a new voluntary payout offer following "a productive meeting" last Friday with the minister of tourism.
Obie Ferguson, the Bahamas Hotel Managerial Association's (BHMA) president and chief negotiator, last night told Tribune Business he was awaiting several items discussed with Dionisio D'Aguilar prior to making another trip to Freeport for a membership.
Confirming that Mr D'Aguilar had delivered on his promise to produce a "modified version" of the managers' voluntary separation package (VSEP) prior to Friday's meeting, Mr Ferguson declined to discuss specifics although he indicated the differences between the two parties had narrowed.
"It was a productive meeting and we are progressing," he told Tribune Business. "I intend to go to Grand Bahama once everything is completed and present the position to the members.
"I suspect that will occur very shortly. There were some things I need to have in my possession, and once those things are in I will go to our members and seek ratification of what was discussed on Friday.
'The minister provided the information that was promised. We are now discussing the way for us to reach an amicable settlement." Some 91 of the Grand Lucayan's 114 middle management staff and BHMA members have indicated they wish to leave the resort if the VSEP terms are right.
The issue has dragged on for more than seven months, becoming contentious at several stages, with the Grand Lucayan's Board and Minnis administration taking the position they had committed an extra $500,000 of taxpayer monies over and above what BHMA members are due under the law in a bid to settle, and were not prepared to go beyond a $3.1m-$3.2m offer.'
The two sides were some $2.4m apart on their valuations of the voluntary separation packages (VSEPs). The Government and Grand Lucayan Board say the union's comparisons with previous VSEPs are also inappropriate because those involved operating businesses in the process of being sold or restructured while the Grand Lucayan has yet to be disposed of.
The Government is also basing the VSEP offers on the Employment Act, which caps payouts at 12 years of service, but the BHMA and its 114 Grand Lucayan members are arguing that this applies only to redundancy/terminations - not voluntary departures.
The union's total $5.5m payout figure also includes the workers' retirement annuity, but the Grand Lucayan Board's position is that it needs to take this issue up with Hutchison Whampoa - not the Government.
Some observers will likely argue that the Government should have left the staff payouts to the Hong Kong conglomerate rather than take responsibility itself, as this could have avoided the present impasse.