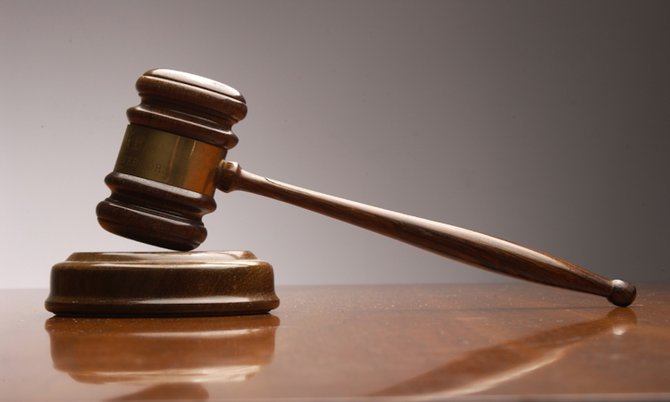 By NICO SCAVELLA
Tribune Staff Reporter
nscavella@tribunemedia.net
A man accused of perverting the course of justice in a murder trial admitted to police that it was his cousin who killed the deceased near Woods Alley two years ago for cash, then used some of the blood money to buy a car.
Carlderon Brown, 27, told police some two years ago that his cousin Jahmaro Edgecombe killed Kenyari Lightbourne on June 21, 2016, for some $5,000, then used $3,000 of that sum to buy a Nissan Primera.
Brown further claimed that Daran Neely, who allegedly put out the hit, found out he gave a statement to police incriminating him and, while in prison, subsequently initiated a series of events to have Brown withdraw himself as a witness in the matter.
The revelations were made during Brown's trial before Magistrate Samuel McKinney on two counts of perverting the course of justice in Lightbourne's murder trial at the Supreme Court.
On June 21, 2016, Lightbourne was shot multiple times while walking through his Woods Alley neighbourhood off Market Street. He died at the scene.
Neely and Edgecombe, the alleged gunman, were arraigned within months of each other in 2016 in connection with Lightbourne's death. A third individual, Sean Brown aka Fire, is charged with accessory after the fact.
A month prior to the date the trial was initially due to commence, Brown, a key witness, was charged with perverting the course of justice after he claimed his statements to police were given by force.
In a video on social media, Brown, of Spice Street, Pinewood Gardens - and whose identity was protected by an anonymity order at the time - claimed police beat him and forced him to give a false statement to implicate Edgecombe and Neely.
Police allege this occurred sometime between December 15, 2016, and July 19, 2017.
According to the July 8, 2016 statement he gave to Detective Corporal 2735 Raphael Miller, Brown claimed that sometime in June 2016 he was sitting at the rear of the yard under a mango tree smoking with Edgecombe when Neely and Rashad Laroda aka Rat stopped in front of his yard in a Honda vehicle.
Brown said when he saw them, he hailed them and Neely subsequently called him out to the road. Edgecombe, he said, walked out to the road with him. Brown said Neely then asked Edgecombe, "Bey what you good for, you know where Eyes, Spider and Yari does be?" In response, Brown said Edgecombe said "Yeah, I know where they does be."
Brown said when Neely asked if he thinks he can get to them, Edgecombe replied by saying "yeah". Brown then claimed Neely said he had $6,000 on Eyes' head and that he would pay $5,000 for each of them to be killed.
Brown said he heard when his cousin said "yeah that straight that straight", before Neely and Laroda pulled off. Brown said he was shocked, because while he knew Edgecombe liked guns, he didn't know he was into killing. Nonetheless, he said he didn't ask his cousin about it because he hoped he was joking.
About two or three days later, Brown said Edgecombe asked him to be let out of the house because he wanted to go by his girlfriend.
Brown said Edgecombe left early that morning and didn't return until around one that afternoon. Brown said when Edgecombe returned, sat down with him and told him he had just bought a silver Nissan Primera for $3,000.
Brown said when he asked his cousin where he got the money to buy a car, Edgecombe called Neely's name. Brown said Edgecombe then pulled a large amount of cash, full of $100 bills out of his pocket, then told him it was about $2,000 he had left.
Brown said his cousin told him, "Bey, I had to do what I had to do, I kill that bey Kenyari." Brown said when he asked Edgecombe why he did it, he replied: "Bey I broke and I need the money".
Brown said Edgecombe explained how he hid and waited through a short cut off Woods Alley, and when he saw Lightbourne walking towards the shortcut, he ran up to him and shot him in the head and the chest with his black and chrome .40 pistol, before running off and catching a bus out of the area.
In a later statement to police, Brown claimed that on December 13 of that year, he was at home when he received a phone call from Edgecombe whom he knew was in jail. He said Edgecombe asked him what he told the police, and because he wasn't sure what his cousin knew, said he told Edgecombe he didn't tell the police anything.
The following day, Brown said he received another phone call, this time from Neely whom he knew was also incarcerated. Brown said Neely told him "bey come to court Friday, Naldo ga come for you". Brown said he didn't reply, and neither did he have a chance to, because Neely hung up the phone.
Brown said later that afternoon, he got a third call from someone he knew as Renaldo Adderley, whom he said has a close relationship with Neely. Brown said Adderley told him he was coming for him the following day, and to be ready.
Brown said he was very scared and didn't know what to do, so he agreed and told Adderley to pick him up by the graveyard off Cowpen Road. After being picked up, Brown said Adderley took him to a Justice of the Peace and to the Office of the Attorney General in a bid to get Brown to change the statement he gave to police.
The following morning, Brown said Adderley called him again and told him he would pick him up to take him to Court. Brown said he didn't want to go, but figured they would not leave him alone until he did, and probably try to kill him if he didn't cooperate.
Brown said Adderley picked him up from the same spot on Cowpen Road and drove to the Supreme Court on Bank Lane. Brown said he was told Neely was in a certain court and that Adderley wanted him to go in to Court and tell the judge he no longer wished to be a witness.
Brown said he didn't want to but he was unsure of Adderley's intention. He said he went to the Court door and waited, but as he stood there he saw a police officer who was attached to the Central Detective Unit (CDU). Brown said he was "relieved" to see the officer and told him that he needed to speak with him, but not around the Court.
Brown said he subsequently asked the officer to take him to CDU, which the officer did. And it was at that facility that Brown revealed all that had happened.
Det Cpl Miller testified that as far as he knew, Brown was not in custody during the time the statements were recorded, and stressed he spoke to Brown as a witness, and not a suspect, on those occasions.
During cross-examination, however, Brown's attorney Geoffrey Farquharson suggested to Det Cpl Miller that Brown was beaten "within an inch of his life" to give the statements, and that he was only assigned to record the statement after Brown was beaten.
Mr Farquharson further question Det Cpl Miller, much to the Crown's disapproval, how the statement he recorded from Brown, and the particulars thereof, came to be known by people in jail, namely Edgecombe and Neely.
The case continues.