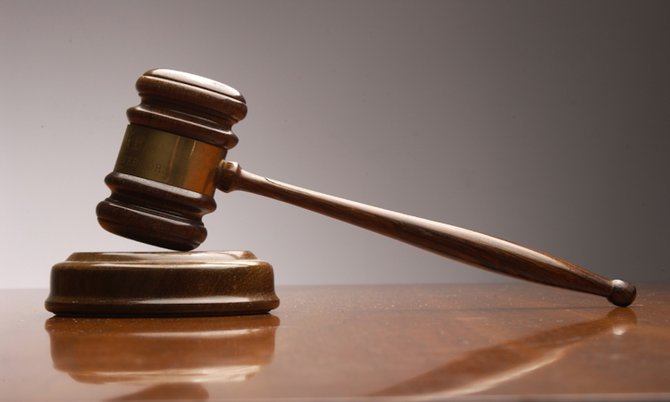 By NICO SCAVELLA
Tribune Staff Reporter
nscavella@tribunemedia.net
THE woman allegedly assaulted near a Paradise Island parking lot earlier this month yesterday said her attacker looked like a "psycho" before he ultimately threw her to the ground over an apparent parking dispute.
However, in response to suggestions from defence attorney Bjorn Ferguson, Karissa Evans admitted both she and Romeo Cartwright were acting like psychos during the incident near Paradise Island's Shopping Mall Plaza on September 1.
Cartwright, 44, pleaded not guilty to a single charge of assault earlier this month for allegedly attacking Ms Evans during an argument near the Paradise Island parking lot.
Multiple videos and photos of the incident went viral on social media shortly after the incident.
One 24-second clip features Ms Evans lying on the wet ground, with what appeared to be a stream of blood flowing from her head.
The camera then panned to a man dressed in black, whom the person recording the video alleged to be the woman's attacker.
Dispute
According to the evidence lead during trial before Magistrate Samuel McKinney, the entire dispute started from both sides believing the other to have impeded them from manoeuvering through the area.
Ms Evans said she was attempting to leave the area, while Cartwright claimed Ms Evans' blue Suzuki vehicle "hastily" impeded his progress as he turned into Shopping Mall Drive.
A standoff ensued between the two and neither would give any ground. After a while, as a result of the standoff, Ms Evans threw a beverage on to Cartwright's truck, specifically in the area of his windshield.
Ms Evans claimed she never left her vehicle when she threw the beverage, but Cartwright said she exited her vehicle, threw the beverage on his truck, cursed him out, then got back in her "small, blue car".
Afterwards, Ms Evans said she proceeded to leave, but only after noticing how Cartwright "looked like a psycho" as he "jumped out of his vehicle in anger" and made his way over to her car.
"After I threw the coffee at his truck, I saw his eyes," she said. "He came out the truck like he was a super clean-freak and like it was a major deal."
When Mr Ferguson suggested to her she was the "psycho" that day, Ms Evans responded: "Well I guess there's two psychos".
Cartwright, in his statement, claimed he became "enraged" after she threw the coffee at his windshield, causing him to get out of his truck and slap the back of her vehicle with his hand as she attempted to drive off.
He said then jumped on the back of his truck, picked up a tennis shoe and threw it in the direction of her car, which Ms Evans said ended up hitting her in the abdomen.
Afterwards, Ms Evans said she stopped the vehicle, got out of the car with "the intention of trying to approach him to talk to him to find out what's going on".
Ms Evans said she didn't remember how close she was to him, and further claimed she "had no intention to injure a man".
However, Cartwright claimed in his statement that after Ms Evans got out of her vehicle, words were exchanged between them, and she hit him in his mouth with her hand.
As a result, Cartwright said he became "enraged" and "threw her to the ground with force".
Afterwards, Cartwright's statement said people started gathering, at which point he saw a security officer.
He told the security to call the police, and when they arrived a short time later, he told them what had happened.
All the while, Cartwright said Ms Evans was lying on the ground.
Ms Evans, meanwhile, claimed she did not remember being pushed by Cartwright, but said he likely did "quite a number of work", claiming that as a result of the ordeal her neck was inflamed and she couldn't get out of bed.
However, she later agreed that she had to have fallen to the ground somehow because she suffered a concussion from the ordeal.
Ms Evans said the only thing she remembered was waking up in the ambulance en route to the hospital.
The matter was adjourned to October 2. Cartwright remains on $5,000 bail.