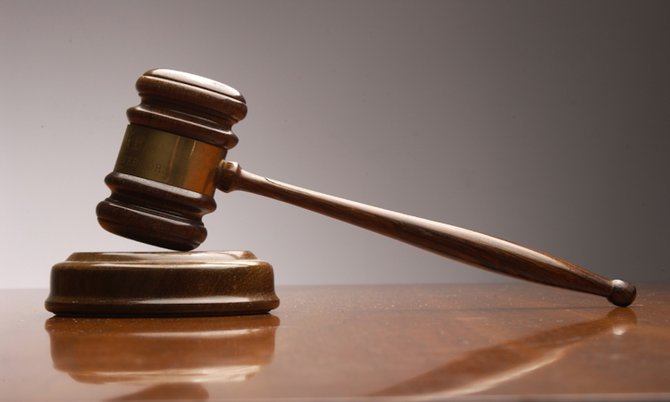 By NICO SCAVELLA
Tribune Staff Reporter
nscavella@tribunemedia.net
A MAN who cursed out a Supreme Court judge is to be retried for attempting to murder another man three years ago because the judge he berated did not allow him to change his lawyer during his trial, the Court of Appeal has ruled.
Acting Appellate President Jon Isaacs, and fellow Justices Stella Crane-Scott, and Sir Michael Barnett, said Prescott Knowles is to be retried "in the shortest time possible" concerning the June 5, 2015 attempted murder of Michael Fox Jr.
Knowles was convicted of Fox Jr's attempted murder on May 19, 2016, and was sentenced to 30 years imprisonment by Justice Cheryl Grant-Thompson.
According to the evidence, Fox Jr was in the front of a residence on Ida Street changing some parts on a car, along with others, when a silver coloured Honda Accord pulled up, and someone wearing sunglasses and armed with a firearm jumped out and began firing shots.
Fox Jr tried to run, but after two steps, felt something hit him in his back, causing him to fall to the ground. The gunman stood over him and continued to shoot. Afterwards, the gunman stopped shooting and got into the Honda Accord, which subsequently pulled off.
When the trial commenced on May 9, 2016, and while the virtual complainant was giving evidence from the witness stand, Knowles apparently lost control and, from the holding box, stood up and started challenging the veracity of the virtual complainant's claims that he shot him.
"So tell me something…you saying I shoot you?" Knowles asked Fox Jr from the box, according to a transcript. After both statements, Justice Grant-Thompson ordered him to sit back down.
"I ain't shoot this n," Knowles said. "Want jail me for something I ain't do big man."
When Justice Grant-Thompson ordered for Knowles to be taken out of the court, he again blurted out: "F mix up aye? Try get your people who shoot you. All of y'all freaking out in this court."
Justice Grant-Thompson ordered the man to be removed from the court, after which he said: "Talking f*. Don't mix me up."
Justice Grant-Thompson again ordered for the man to be taken out of the court, and when she did so a second time, he responded by saying: "F you bey, Ms Bethel, your big p*."
Justice Bethel subsequently stated: "I find you in contempt of court."
The trial subsequently proceeded in Knowles' absence, and Justice Grant-Thompson did not address Knowles directly on his outburst until the following day, at which time he apologised for his conduct.
Knowles also indicated at the time that he didn't feel as if he would have a fair trial, especially in view of his outburst and "different little things". He said he was going to ask his then-attorney, Calvin Seymour, to relieve himself from the case, because he had spoken with his family with an aim to retaining attorney Murrio Ducille.
However, Justice Grant-Thompson said she "would not allow Mr Seymour to be relieved," and that the attorney "would have to continue." She further stated that Knowles could have Mr Ducille join Mr Seymour, but that she "would not restart the trial for that individual."
However, the appellate judges said it was "not competent" for the judge to have required a "private" counsel to be "yoked to a court-appointed attorney" in circumstances where the accused person no longer requires or wants their services, and further noted that Knowles made no request for a new or restarted trial.
The appellate judges thus said it was "obvious" that the trial judge was "more concerned about the time that may have been wasted should new counsel be inserted in the trial than she was for the constitutional rights of the accused…to have counsel of his choice."
They said the judge's "failure to recognise the constitutional imperative resulted in whatever transpired thereafter as an unfair trial."
"We are of the view that this conviction cannot be sustained," the appellate judges said. "In the circumstances, the conviction is quashed and the sentence set aside. We order that there be a retrial and that that occur in the shortest time possible.
"The appellant is to be detained until such time as that retrial occurs unless granted bail by the court below."
Knowles was represented by Christina Galanos during his appeal.