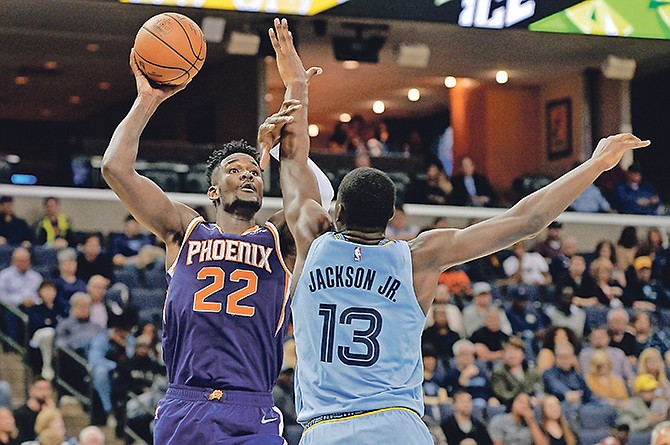 By RENALDO DORSETT
Tribune Sports Reporter
rdorsett@tribunemedia.net
WITH lead guard Devin Booker sidelined, Deandre Ayton stepped up and delivered the best offensive performance of his young NBA career thus far.
Ayton scored a career high 24 points in the Suns' 117-96 loss to the Memphis Grizzlies Saturday at the FedEx Forum in Memphis, Tennessee.
He shot 12-13 from the field, added eight rebounds, five assists in 33 minutes.
In the first half, he was a perfect 7-7 from the field.
"The stat line sounds good, but you know, we lost," Ayton said. "We really wanted to get a win. We gave them the game when we came out lackadaisical with the turnovers and stuff. They started getting a rhythm early and they started making a lot of shots in the first half, especially in the second quarter. This is the NBA, it's hard to play from behind.
"It's another learning experience, you just want to keep your foot on that gas, never stop. Defensively I think we are getting better but we weren't consistent. I felt like we were locked in from the jump but we just kind of lost it as a team."
Following last night's 117-110 loss on the road to the Oklahoma City Thunder, the Suns have lost five consecutive games after an opening night win.
Ayton finished with his fourth double double of the season - 16 points and 11 rebounds.
"We just can't roll over and lose like this. You'll lose sometimes but you have to still play. I'm trying to show that as an example and to stay consistent," Ayton said.
"I have great vets keeping me positive telling me we have to move on to the next one, to never be down on your teammates, encourage them, lift them up because we have a lot of games to go.
"There will be some ups and downs. When we win we have fun, but when we lose we have to keep it professional, get on each other, watch film and get back at it."
Ayton has scored at least 20 points and added at least nine rebounds in three of his last four games
On the season, the number one overall pick is averaging 17.5 points — shooting 62.8 per cent from the field — 10.3 rebounds, 3.8 assists and 1.0 blocks.