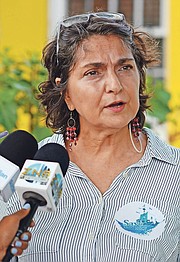 By RICARDO WELLS
Tribune Staff Reporter
rwells@tribunemedia.net
REEARTH President Sam Duncombe has condemned a recent Public Domain survey which found that more than 60 percent of Bahamians said they "very much" or "somewhat" support Disney Cruise Lines' proposal for Lighthouse Point, calling those results "magically skewed".
Addressing the findings yesterday, the activist alleged the poll was "deliberately" structured to get the answers Disney needs to better its case for the acquisition of the property.
This comes as Prime Minister Dr Hubert Minnis plans to hold a town meeting in Eleuthera tonight at the Greencastle Primary School about the island's economy. 
"You can get a survey to say or do anything if you try hard enough," she claimed. "They tried so hard, it's obvious this poll was set-up to get a particular result."
Mrs Duncombe, referring to online polls carried out by local media companies via their websites, said it was surprising that "trusted media outlets which Bahamians have depended on for years" had different outcomes than the recent survey.
She asserted: "The Tribune website was at 74 percent (against the development) when I read it; the Nassau Guardian and Eyewitness News was at 78 percent of Bahamians not in support."
A Tribune online poll asking if people are in favour of Disney's plans for the island had 1,144 votes up to press time, with 78 percent against the proposal.
She furthered: "The Magic Kingdom is here and they are pushing their hype machine into full gear. They want you to believe they have this massive backing and they don't.
"They are selling the point that they will create jobs and this massive spend, but in reality, there is no plan to see this promise of more jobs and access through. The majority of Bahamians are not being swayed."
Of the 994 households the market research firm surveyed across the country, 38 percent said they "very much" support the development, 28 percent said they "somewhat" support it, and 26 percent said they "very much do not" support the development. Nine percent said they "somewhat do not support."
The poll was commissioned by Disney, Public Domain President M'wale Rahming told The Tribune.
In the Public Domain survey, 21 percent of those who do not support the initiative said it was out of concern for possible environmental damage.
Fourteen percent said their opposition is due to the belief that "the government has already given too much land to foreign owners," while 12 percent said they are concerned about loss of local access to Lighthouse Point.
Most respondents said they were concerned about the claims raised by environmentalists about the dangers of a cruise port at the site.
These claims include the local economy not being stimulated, environmental impact, and a legacy of attempts to create large-scale commercial ventures that result in abandoned, unfinished projects.
After hearing these claims, 27 percent of respondents said they are "very likely" to support Disney's project, while 22 percent said they were "not likely at all".
However, most respondents also proved to be supportive of pro-Disney arguments.
These include the fact Disney has committed to providing Bahamians access to the entire development site every day, after the project is completed, and Disney's promise to return over 170 acres of land to the government.
After hearing these claims, 40 percent of respondents said they were "very likely" to support the development project in Eleuthera.
Responding yesterday, Mrs Duncombe said she is disturbed by Disney's push to create a development at Lighthouse Point.
She told The Tribune the "long-suffering identity" of South Eleuthera is being preyed on daily.
"I do understand that South Eleuthera has been ignored for years and years; but the reality is, with Disney, south Eleutherans have very little to gain and so much to lose.
"I am disturbed because they are being sold on something that will never come to fruition," she added.
"When Disney said they had no 'Plan B,' that was them trying to coerce Bahamians.
"They wanted to make us believe that Lighthouse Point was their one and only choice. But again, in reality, they were shopping around and ran away from everywhere else."
"This is a chance for Bahamians to stand up and demand our fair-share. Not jump at the first offer."
"We are better than that."
Lighthouse Point is a 700-acre peninsula located at the southern tip of Eleuthera. Disney's proposal is being opposed by environmental activists.
In a joint opinion piece released last month, Bahamas National Trust Executive Director Eric Carey and One Eleuthera Foundation CEO Shaun Ingraham argued that the country must stop acquiescing to the cruise sector.
One Eleuthera has been locked in a public campaign to block Disney's acquisition of the property.
Nonetheless, Disney has taken preparatory steps to acquire the historic site for the construction of multi-million-dollar cruise port, promising a $400m spend.