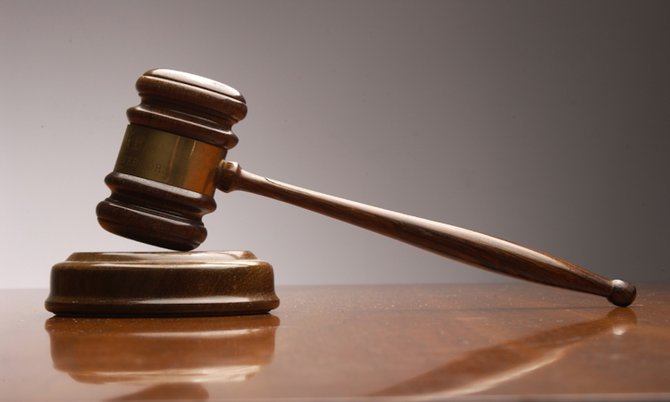 By NICO SCAVELLA
Tribune Staff Reporter
nscavella@tribunemedia.net
A FORMER Bank of the Bahamas teller has admitted to stealing over $50,000 from former Governor General A D Hanna over a six-month period, and must pay over $9,000 a year until the debt is settled.
Cameron Rolle Jr, as part of a plea agreement, was ordered to reimburse the $56,600 he stole from Mr Hanna between October 17, 2016 and April 16 of this year, with $8,358.63 of that sum to be paid up front.
Rolle Jr was ordered to make an initial lump sum payment of $2,000, with an additional $6,358.63 stored on his account at Bank of the Bahamas (BOB) to be forfeited to further satisfy the debt.
After that is done, Rolle Jr must pay $200 per week, which works out to $9,600 per year, until the balance of $48,241.37 is settled. Given the requirements, it would take Rolle approximately 241 weeks to settle the debt. The Tribune understands the $2,000 initial sum will be paid today and the more than $6,000 on his account was forfeited yesterday.
Rolle Jr, who is on probation for two years, was also ordered to produce a handwritten apology to Mr Hanna for his actions, and to exhibit good behaviour.
Defaulting on any of the payments would result in Rolle Jr being imprisoned for two years. Additionally, breaching his probation would result in an additional two years imprisonment.
Yesterday, Indira Deal, in-house counsel for BOB, indicated the bank's opposition to the plea agreement, stating that as the monies were stolen over a "short period of time," they should be repaid in its entirety up front.
The alternative, Mrs Deal said, was to have Rolle Jr pay a "significant" sum up front, and then work out an arrangement for the balance afterwards.
Mrs Deal also noted that the bank's reputation has been damaged as a result of the former teller's actions.
Senior Magistrate Derence Rolle-Davis noted her submissions, but said that as the plea agreement is between the defendant and the prosecution, and that the interests of the virtual complainant are represented by the Crown, it is not an issue in which he would get involved.
Mrs Deal said the $6,000 plus on Rolle Jr's account had already been applied to the debt, in pursuance of the bank's policy that where an employee owes the bank or has a liability, the institution is at liberty to seize funds from that person's account.
However, Magistrate Davis questioned how that could be, given that Rolle Jr is not convicted "until such time as his judgment." Unless, he said, the bank "presumes that it's above the law."
"You see the difficulty? You can't tell me that you have already taken the money, when I have not given any directions to take the money," he said.
When Mrs Deal indicated that she was merely informing him of BOB's policy, Magistrate Rolle-Davis responded by saying: "Well that can't be a policy; it would be a crime. So if you can advise the executive management that that should never happen, never happen unless directed by the court. A person is presumed innocent."
In April, Rolle Jr, of Golden Gates, was arraigned before Senior Magistrate Rolle Davis on 27 counts of stealing by reason of employment, which allege he stole some $49,600 from Mr Hanna over six months.
Five more counts of stealing by reason of employment were later levied against him.
During the one day of trial on the matter in June, it was revealed how Rolle Jr would fraudulently sign on behalf of a customer in order to validate cash withdrawal transactions.
Emmanuel Burrows, BOB's assistant manager of physical security, claimed Rolle would print off a cash withdrawal receipt for a certain amount without the presence of a customer, then sign for both him and that individual to conclude the process.
Then, Mr Burrows said Rolle would keep the carbon copy of the receipt, as well as the requested funds for himself, and place the bank's copy on file, to ensure that the institution's checks and balances were maintained.
And in at least one instance, Mr Burrows claimed Rolle would then close down his station, lock his computer, and leave the bank with the money in hand, wrapped in the carbon copy of the receipt.
Mr Burrows showed the court multiple surveillance clips from different dates, one of which purported to show Rolle Jr printing off a receipt for withdrawal without a customer in front of him-- in that instance Mr Burrows claimed Rolle Jr had put up a "next teller" sign prior to conducting the transaction.
Then, the video purported to show Rolle Jr applying the bank's stamp on the document in question, then signing in the stamp as he was supposed to do as a bank teller, and then signing again where the customer is supposed to sign at the bottom.
The footage was obtained from a camera situated in the ceiling directly above Rolle Jr's former station at the bank.
Mr Burrows said after performing the transaction, Rolle Jr would then wrap the carbon copy of the receipt around the money, and place it either in a drawer or somewhere on his desk. The other copy would be stashed for the bank's records.
Mr Burrows also suggested that in some instances, Rolle Jr would have the withdrawal receipt printed off ahead of time, and in between dealing with customers, would conduct the fraudulent transactions.