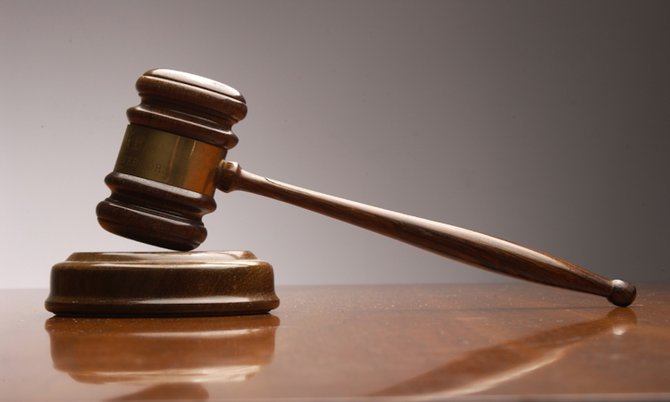 By NICO SCAVELLA
Tribune Staff Reporter
nscavella@tribunemedia.net
A Paradise Island-based security guard yesterday testified how he witnessed a male Atlantis employee slam a woman on her head two consecutive times over a parking dispute and said the man would have done so a third time had he not intervened.
Antonio Wilmore, of Ultimate Security Services, said he saw 44-year-old Romeo Cartwright pick Karissa Evans up by her waist and "lick" her down on her head twice on September 1 in the pick-up/drop-off area at the rear of the Paradise Island Shopping Plaza.
And when Cartwright was about to do it a third time, Wilmore claimed he jumped in and told the 44-year-old "that's enough, that's enough".
However, Cartwright, who took the stand in his defence, said he never hit Ms Evans, and that he only "pushed" her once, albeit forcefully.
He said it was "absolutely" necessary to have pushed her the way he did, primarily because she punched him in the mouth, and because of the "belligerence" and "aggression" she exhibited during their altercation.
Cartwright is on trial before Magistrate Samuel McKinney after pleading not guilty to a single charge of assault in September for allegedly attacking Ms Evans during an argument near a Paradise Island parking lot.
Multiple videos and photos of the incident went viral on social media shortly after the incident.
Taking the witness stand yesterday morning, Wilmore said around 3.30pm on the date in question, he noticed a back and forth between Cartwright and Ms Evans, which led to the former grabbing the woman by the waist and slamming her on the ground.
Mr Wilmore said at the time the first body slam occurred, he was about 60 feet away; however, he said he ran towards them after he saw it happen.
Mr Wilmore said when he got a little closer, he saw Cartwright pick the woman up a second time and slam her to the ground again. He said Cartwright tried to do it a third time, but he got in between the two and prevented it from happening.
Afterwards, he said Cartwright walked back to his truck.
Mr Wilmore said he saw blood coming from the right, rear side of the woman's head, prompting him to call the police and an ambulance. The security guard said once the officers arrived, they took over the scene.
According to Cartwright, who opted to take the witness stand and testify subsequent to the close of the Crown's case against him, said he was entering the drop off/pick-up area when Ms Evans pulled from where she was parked in front of his truck.
Cartwright said neither of them would give any ground. He said after a while, Ms Evans got out of her car, and because she had "a number of words to say" he rolled down his window to hear her.
Cartwright said moments later, Ms Evans threw what he discovered was coffee at his windshield. Cartwright said he then took off his uniform shirt, which had gotten wet from the coffee thrown by Ms Evans, and got of his truck to inspect the damage.
However, he said, as he got out of his vehicle, Ms Evans got back into hers in a bid to leave the area. He said he subsequently ran after Ms Evans' car while shouting at her, his rationale being that his windshield could have been damaged or the frame around it bent.
According to Cartwright, Ms Evans could have taken a right to leave the area, but instead took a left to come back in his direction. He said given her "initial belligerence" - her allegedly cursing at him and hitting his truck with a cup of coffee - he wasn't sure if she was going to ram him with her car, so he jumped on to the back of his truck for safety.
Cartwright said he subsequently found a tennis shoe from the back of his truck and threw it at her car--Ms Evans previously claimed the shoe ended up hitting her in the abdomen.
Cartwright said he threw the shoe because he knew it would not cause any damage, and with the hope she would stop so they could have discussions on having the situation with his truck registered as an accident, and that if there was any damage they could work on having it repaired.
"She stopped her car, she came out, angrily like the first time," he testified. "She walked straight up to me, and punched me in my mouth with her right hand."
When asked by his attorney Bjorn Ferguson what he did in response, Cartwright replied: "I reacted. I stepped into her, with the shifting of my weight, I pushed her. It was wet, she was wearing slippers; she fell very hard."
Cartwright said Ms Evans remained motionless after he pushed her to the ground. He said a security guard came running over, angry and yelling, telling him he was going to get locked up and that he would call the police. Cartwright said he admonished the security guard to do so.
Cartwright said at the time the physical altercation occurred, close to 100 people had gathered. He said he ended up having to answer various people who were shouting at him as a result of the altercation, and that he had to remind them they did not see what led to Ms Evans' predicament.
"…They only saw the lady laying on the ground," he said. "They didn't see her belligerence and her aggression towards me."
Cartwright said the police arrived shortly afterwards. He said he ended up sitting in the passenger seat of his truck because people started pulling out their cell phones and recording the scene.
Less than 10 minutes later, he said, a police officer drove his truck to the station with him inside. Once there, he said he gave a statement in relation to the matter, and was subsequently informed that he was being placed under arrest.
When asked by the police prosecutor if he felt it was necessary to have done what he did to who he conceded is a "small woman," Cartwright said: "Yes, absolutely."
The trial continues.