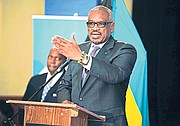 By RASHAD ROLLE
Tribune Staff Reporter
rrolle@tribunemedia.net
FORTY people in Centreville and Bain and Grants Town will be hired as environmental monitors for a 52-week programme to identify and help get rid of bulk waste, derelict vehicles and other environmental hazards, according to Rocky Nesbitt, the project manager of the Over-the-Hill rejuvenation initiative.
He announced this during a town hall meeting at the Grants Town Wesley Methodist Church last night where residents were informed how to access concessions under the Economic Empowerment Zone programme.
Mr Nesbitt said the workers, who must be between 18 and 45, will be hired expeditiously, as Prime Minister Dr Hubert Minnis wants them to receive their first pay cheque before Christmas. It's not clear how the list of applicants will be whittled down to 40.
The monitors will be assigned designated blocks in the historically impoverished communities that comprise the zone and will be supervised by senior environmental inspectors.
Cleaning up the communities has been a key feature of the programme so far.
Mr Nesbitt said since January the Over-the-Hill unit has had "four successful clean-up campaigns" in which "about 200 persons assisted from the targeted area, moving about 150 derelict cars and about 500 tons worth of waste in Bain and Grants Town and Centreville".
The most prominent component of the Over-the-Hill programme, nonetheless, has been tax concessions, which include business licence fee exemptions, real property tax exemptions, stamp and excise duty exemptions and customs duty exemptions on material used to build and renovate properties.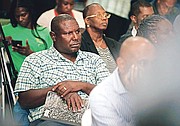 Financial secretary Marlon Johnson fleshed out details about the concessions regime, providing specifics on how long access to certain exemptions will last and what conditions must be satisfied to maintain them.
Customs duty exemptions on material used for construction and renovation of buildings in the zone will be valid for two years, he said, while eligibility to real property tax exemptions will require that a property is well maintained and in use. People not making improvements to their homes or businesses will not be qualified for real property tax exemptions. Mr Johnson said documents showing clear title to land is not necessary to reap the programme's benefits given the legacy issues surrounding land in the country and particularly in Over-the-Hill communities; it would be sufficient for residents to provide proof of residence on a property for 12 continuous years.
Furthermore, only businesses up to date with National Insurance Board contributions and business licences taxes are eligible for the benefits, though Mr Johnson said they could enter government payment plans.
The business licence tax waiver is valid for one year, he said.
Applications for the exemptions are available at the Ministry of Finance and Urban Renewal centres in the zone. When approved, the applications will result in a certificate of trade for businesses or a certificate of development for construction. The construction project applications must include a list of materials needed to complete the project. The list will be reviewed by a quantity surveyor "for reasonableness", according to Mr Johnson who said the surveyor will regularly visit construction sites and conduct a final review on the project's completion.
Mr Johnson said the Ministry of Finance is working on an automated system that would allow residents to benefit from customs duties exemptions even when they shop locally, saving them the hassle of buying their materials abroad.
During a question and answer period at the end of the town hall, residents expressed a range of frustrations with their state of being, with most identifying a lack of well-paying jobs as a key problem.