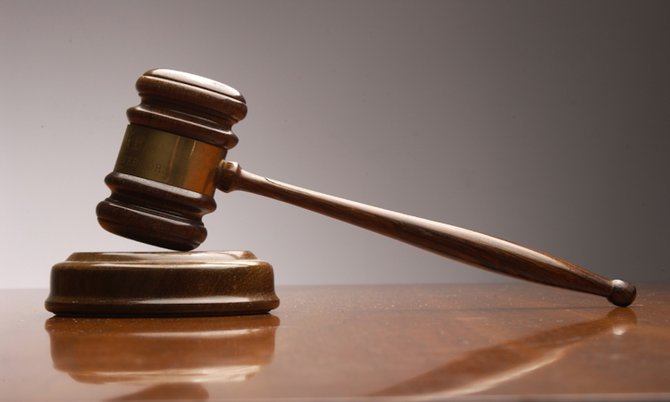 By Neil Hartnell
Tribune Business Editor
nhartnell@tribunemedia.net
Bahamian justice has been denied a fully-modernised Supreme Court registry because of a six-year legal dispute over an alleged multi-million dollar breach of contract.
Aaron 'Kiki' Knowles, the former FNM strategist, and his Benchmark Publishing Company have been unable to complete a multi-phase project to convert all the court's records into a searchable electronic database that would transform justice administration in The Bahamas.
Legal filings obtained by Tribune Business reveal that their rolling contract, which began in 2008 and involved the electronic scanning, logging and indexing of hundreds of thousands of pages, was allegedly first interrupted when it reached "phases six to eight" in early 2012.
Mr Knowles and Benchmark claim that $560,000 in due payments, divided into $112,000 monthly sums, were withheld from them over the five-month period between March-July 2012.
Politics then appears to have intervened in the shape of the 2012 general election and the Progressive Liberal Party's (PLP) victory. The Christie administration likely had little time for Mr Knowles, given his role as both FNM advocate and close association with former prime minister Hubert Ingraham, and Benchmark almost immediately had trouble fulfilling its contract.
They are alleging that the Supreme Court registry within two months of the Christie administration's victory breached their contract by refusing to hand over files for digitising and processing.
This persisted for the duration of the PLP's five-year term, with Mr Knowles and Benchmark alleging that the contract breach "frustrated" and prevented them securing a further $1.275m of work for "phase nine" of the project - an audit of the entire civil and criminal registry database to eliminate any manual human errors.
They claim they are also due reimbursement for some $74,500 in extra expenses incurred after the Attorney General's Office/Supreme Court further breached their contract by failing to provide sufficient space and resource for the work to be done on-site at the Supreme Court registry. As a result, Benchmark was forced to rent space elsewhere and pay associated bills.
Mr Knowles yesterday told Tribune Business that his now six-year wait for justice was "most egregious", as his company had been "denied" due compensation for work performed and the ability to secure further business in completing the project.

"We had completed from 1857 up to July 2012," he revealed of Benchmark's progress. "That was when they withheld payments. We had a period where we were working and they refused to pay us. The most egregious thing for us is our inability to get justice on this issue. That's being denied to us."
The action by Mr Knowles/Benchmark, first filed on November 13, 2012, has subsequently placed several parties in potentially "conflicted" positions. For the original attorney representing them in the case, Carl Bethel QC, now sits on the opposite side as the defendant following his appointment as Attorney General.
Mr Bethel has completely recused himself from the matter as a result of his previous representation of Mr Knowles and Benchmark since being appointed Attorney General, and there is no suggestion he has done anything wrong.
However, the Attorney General's Office under the former Christie administration also sought to persuade the Supreme Court that Mr Bethel should be disqualified from representing Mr Knowles/Benchmark because his two-and-a-half years in the Ingraham Cabinet "constitutes a conflict of interest".
The late chief justice, Stephen Isaacs, in an October 4, 2013, ruling dismissed its bid as he "failed to see from the evidence" how Mr Bethel had been privy to confidential information placing the Attorney General's Office at a disadvantage.
And the Supreme Court itself is conflicted, given that it is effectively Mr Knowles' de facto client and counterparty to the various contracts, although these documents were ultimately signed by the Ministry of Legal Affairs on its behalf.
Tribune Business understands that the Supreme Court, recognising how delicate the matter is, has urged both parties - Mr Knowles and the Government - to try and settle without resorting to full-blown litigation.
Elsworth Johnson, minister of state for legal affairs, declined to comment on the case yesterday. "The most I can say is that the matter is presently before the courts and I cannot make any public statement on it," he told Tribune Business.
This newspaper, though, understands that the Government machinery is now finally mobilising to respond to Mr Knowles' claim, and is exploring the possibility of taking the matter to mediation and alternative dispute resolution.
Mr Knowles, though, alluded to the "bigger picture" concern for The Bahamas - namely the delay to completing a project designed to bring judicial administration and record-keeping into the 21st century while preventing vital documents from being eaten by rodents.
"It puts the judicial system in a juxtaposition," he told Tribune Business. "They can be using some of the material now, not all of it, but a good amount to speed up what they're doing," Mr Knowles said. "To withhold this from the judiciary, and by extension from the Bahamian people, what can I say about that?
"The system, just like the Registrar General's Department, is very critical to industry, the country and business. When anyone wants to purchase land, they have to research whether there are any liens on it.
"This is holding up all searches, industries and people wanting to do business in the country. It's a difficult juxtaposition for the country to be in; not to have records digitised and accessible to it."
A complete electronic database of all Supreme Court records would make the administration of justice in The Bahamas faster, more efficient and accurate, while making documents more accessible to parties other than attorneys and their clients.
It would also result in spin-off benefits to The Bahamas' "ease of doing business", reducing time and costs while enhancing this country in the eyes of foreign direct investment (FDI), given that rapid access to the judicial system and swift rulings are among the qualities investors look for.
Such databases and electronic record-keeping will also be demanded if The Bahamas is to finally develop an international arbitration centre, and bring its judicial system into line with multiple competitors in financial centres throughout the world who have already gone digital.
The scale of the problem, and task faced by Mr Knowles/Benchmark, was outlined in the original 2005 tender document, which revealed that the sheer volume of paperwork was overwhelming a Supreme Court registry that had long exhausted available filing space.
As a result, key records were in danger of being lost and/or destroyed, with the ever-growing bureaucracy making files, cause lists and other documents increasingly difficult to locate.
"For hundreds of years the Registry in each of its divisions has been storing important documents in non-fire proof filing cabinets and boxes," the tender confirmed. "As a result of the increased volume of documents and the inadequacy of filing space it has become increasingly difficult to store and retrieve information in a timely manner.
"The inadequacy of proper filing space has also created environmental problems throughout the courts as rodents and dampness in storage areas have resulted in the destruction of important documents, records and files."
The first three phases of Mr Knowles' work required the electronic conversion of 45,000 "cause list" pages, contained in 300 books of 150 pages each, along with 500,000 pages of files stored in 200 boxes and on 50 shelves - some of which had to be stored at the Department of Archives due to lack of space.
Last, but not least, were an estimated 3.5m pages contained in 500 shelves and drawers, and for which there was no cabinet space. "Approximately 300 pieces of documents are filed in the Registry in its various divisions on a daily basis, and approximately 3,000 new files are created each year," the tender said.
"The Registry has been in its present location for more than 10 years and has long since outgrown the space. Additionally, attorneys are filing more and bulkier documents which, of course, creates more storage and access challenges. Lack of storage space also results in an acceptable level of loss or misplaced documents and files."