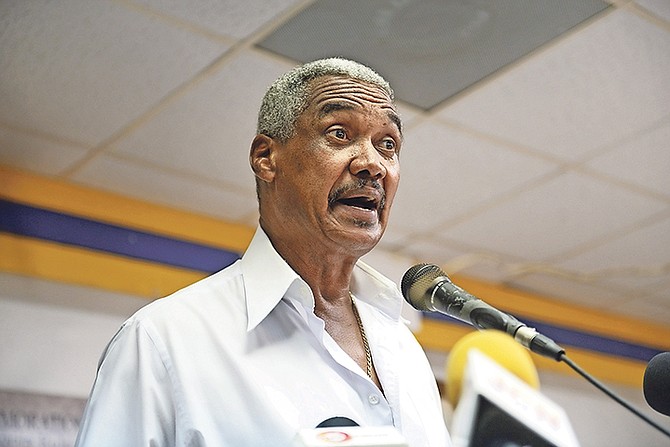 By KHRISNA RUSSELL
Deputy Chief Reporter
krussell@tribunemedia.net
FORMER Bahamas Electricity Corporation Chairman Leslie Miller yesterday urged executives at the Bahamas Power and Light to exercise leniency on those customers who have been disconnected or are experiencing difficulty paying bills.
Mr Miller insisted BPL should take a page from the book of the former Christie administration which believed it was better to keep people connected and collect something as opposed to disconnecting and receiving nothing.
According to him, the former government was able to reduce the number of those disconnected to around 2,000 or under because they understood many experienced hard times.
However, the number has again shot up to 6,000, according to Works Minister Desmond Bannister last week, who told The Nassau Guardian that on a regular basis it could be as low as 4,500.
As there is a temporary spike in the cost of electricity, Mr Miller called on BPL to "give people a break".
This comes after the government last week tabled an amendment to value added tax legislation to allow the VAT-free ceiling on electricity to be raised to $300.
"We just told Bahamians to come in and renegotiate their bills but our view was very simple, it is better for everybody to pay $200 a month than to have them taken off the grid and pay nothing," Mr Miller told The Tribune yesterday when he was contacted.
"It's minuscule what the regular household uses that it makes no sense to have them off. You have to turn them off so they know, listen you have a bill here that you have to pay. Then you call them in and you negotiate and give them a new package to pay and everybody would be happy to pay it because Christmas is on the way. That's what we did.
"We went in with the premise that first of all the corporation belonged to the Bahamian people. These are very difficult economic times, so you work with them.
"But you can't have people who are stringent and hard ass like a lot of people in BEC think they own the company. Their lights off so the hell with you this is what you will pay or you off. You have to be able to give and give the people a break. If most people are on the grid you making money anyhow because you generating more money but if they off you get nothing."
Mr Miller also shared the sentiment of Bahamas Institute of Chartered Accountants President Gowon Bowe that light bills are now comparable with paying a mortgage.
"If there are people who spike up to 60 percent and you have trouble paying the first bill how the hell they going to pay the second bill?
"It's like having a second mortgage. If I can't pay $800 a month mortgage and you put me up to $1,400 you know I can't pay it because your price have limited my ability to pay the bill. I just think we need to work them, show some leniency. Get your people downstairs who are always hard on the people to go easy and let everybody be on for Christmas."
Last week BPL Chairman Donovan Moxey revealed the corporation was considering a review of BPL's disconnection policy in view of the temporary hike in electricity costs.
Mr Miller, former Tall Pines MP, left BEC in 2015 before the government owned utility provider transitioned to BPL under a new management structure.