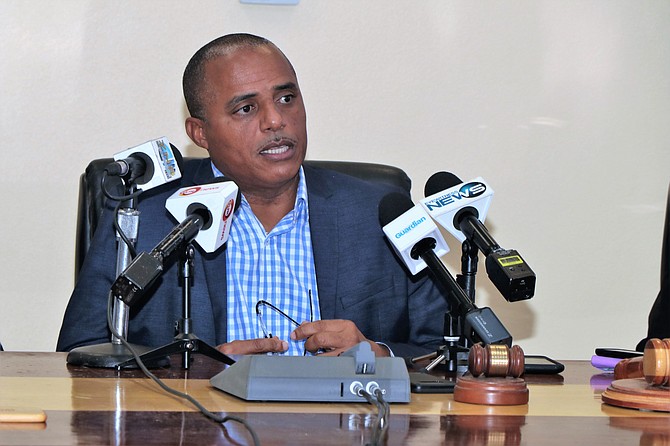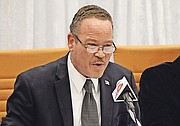 By AVA TURNQUEST
Tribune Chief Reporter
aturnquest@tribunemedia.net
NATIONAL Security Minister Marvin Dames slammed criticisms levelled by Attorney General Carl Bethel over the Defence Force's handling of a recent plane crash as "absolutely off-base".
Mr Dames told reporters outside the Churchill building that leaders should not speak without the facts as he continued his defence of the efforts of the security forces in the search for pilot Byron Ferguson and his plane.
The national security minister could not provide a timeline for the probe ordered by the prime minister into the accident response and investigation, but called on the public to wait on its assessment before casting aspersions.
Mr Dames also apologised for any comments that may have caused grief to the Ferguson family, but did not articulate whether it was for his own statements or on behalf of the agencies under him. 
Last week, he incorrectly said the pilot had no flight plan, prompting outrage from the Ferguson family and a petition for him to be fired.
"We have to be careful not to get caught up in the frenzy of attacking an entire agency in the absence of evidence," Mr Dames said, "whether it's my party or anybody else's party, okay? We as leaders ought to set the example and when we fail to do that, then anything follows."
He continued: "The vast majority of men and women in the Defence Force are hard-working people, Police Force are hard-working, and we have to take these things into account. I'm not saying we can't be critical, when the facts are there we need to face up to it live up to it and address it, okay? 
"When we don't have facts," Mr Dames added, "as leaders we have to be careful when we open our mouths, no matter on what side of the fence we sit. PLP, FNM, or DNA."
In the Senate last week, Mr Bethel suggested the November 8 crash may not have been "properly" investigated, and pledged to reach out to his colleagues to ensure that whatever "procedural missteps" occurred in this case and others would not happen again.
Mr Bethel's comments in the Senate were in line with concerns levelled by the Ferguson family, the Official Opposition, and the general public, but were in stark contrast to the pronouncements of his Cabinet colleague. 
Yesterday, Mr Dames repeatedly insisted the police and Defence Force officers were hard-working, and have followed standard search and rescue protocols since the initial report that the Piper Aztec plane had crashed in waters off Nirvana Beach.
"I have many thoughts on it," Mr Dames said. 
"I think (Mr Bethel) was absolutely off-base and I don't have anything else to say to that he was off-base. Every organisation has areas in which they need to improve on, the Defence Force is no different, the Police Force, every agency of government."
Mr Dames continued: "Now we will wait for the review and I think that is extremely important. We have to wait for the review and see what it shows because at the end of the day we all are in this for the same thing. 
"We're in it to bring some resolution, to give the family some peace, yes criticism will come and that's all a part of it. We have to look at it realistically, wherever we need to improve, we need to improve absolutely, all right, but as we criticise, we have to be cognisant that we are armed with the facts and that's all I'm saying."
Despite "communication issues" acknowledged by RBDF Commodore Tellis Bethel in the wake of the crash, Mr Dames said divers have continued their methodical search of the ocean floor. He warned all search efforts must be coordinated with the RBDF through the rescue agency BASRA, as it was still an investigation and the evidence would need to be properly catalogued.
As for his apology, Mr Dames said he empathised with the family as he did with all families who have experienced such loss.
"I feel for the family," he said, "from the time this incident started and I know that some things may have been said and this is a very sensitive issue all right, and I do apologise for some of the things that may have been said that may have caused some grief." 
He continued: "This is what it's all about, but our hearts are all in the right place, and not only for this family but for all families. We have to look at this across the board for all families who would have lost loved ones. It's a painful agony. There are some families who have yet to have loved ones returned."
Last Thursday, a week after the crash, a group of civilian divers discovered debris from  Mr Ferguson's plane in the waters off Nirvana Beach. Locating an estimated 60-70 pieces of debris, the team made its discovery 40 minutes into the search, 600ft away from the plane's original location, and 80 feet deep.
The next day at a press conference, Commodore Bethel vehemently defended his organisation's search and recovery efforts. He maintained that marines had made every effort for the previous nine days in which the search "pushed the envelope", but was careful not to compromise safety.