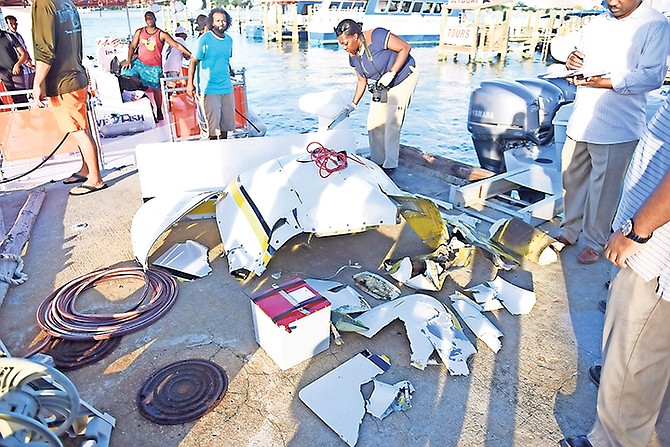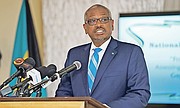 By RASHAD ROLLE
Tribune Staff Reporter
rrolle@tribunemedia.net
PRIME Minister Dr Hubert Minnis said last night that he has ordered a full review of protocols, procedures and agencies involved in air accident response and investigations in the country – "including any systemic or structural problems" –following the Byron Ferguson case that has transfixed the nation.
His statement came as Royal Bahamas Defence Force officers continued their search yesterday for Mr Ferguson and debris from his Piper Aztec plane, with officers recovering small parts of the aircraft over the weekend along with some cargo.
The incident and its aftermath has prompted wide discussion and has even had political ramifications, with nearly 6,000 people up to press time signing an online petition calling for the resignation of National Security Minister Marvin Dames.
Mr Dames had defended law enforcement's response to the event last week and incorrectly said the pilot had no flight plan.
Yesterday, Dr Minnis said the report he has ordered will be shared with the public and its findings will lead to changes if necessary.
He said he will not comment on the matter until he has received a full report from the Ministry of Tourism and Aviation, the Royal Bahamas Defence Force and other relevant authorities.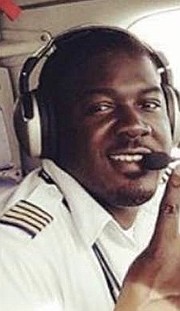 The prime minister's statement followed comments from Attorney General Carl Bethel who argued in the Senate last week that the response to the plane crash shows the RBDF is not sensitized to accident disaster recovery.
Facing withering criticism, some defence force officers have passionately emphasized their commonalities with other Bahamians.
In one such example, a post shared more than 400 times and liked more than 900 times on Facebook, Leathone Hanna, an RBDF diver, wrote: "I said I wasn't going to speak out but hey…I am a diver of the RBDF that went out days searching for Mr Ferguson in all kind of bad weather. I didn't do it because it's part of my duty but because I know what his family is going through. I feel it because this brings back so many painful memories of when my family, my friends and myself searched and dived up my own brother's body out of a canal.
"We as divers are making great sacrifices for our country," he continued.
"We leave our kids and loved ones at home knowing that we are about to place one foot in death's door. We bleed just as all Bahamians bleed. We depend on the same air as all Bahamians. We are humans too. So before bashing us know that there are marines that are making the ultimate sacrifice. It has to count for something."
Authorities' response to the plane crash has been subject to intense scrutiny in the last week, especially after divers associated with Head Knowles, a community support group, recovered substantial parts of the Piper Aztec plane on Thursday.
At a press conference on Friday, officers were pressed on why civilian divers recovered substantial parts of the plane and not them, even though they spotted the plane on the night of November 8th. Their response – that they were focused on finding life – drew scrutiny.
Keith Major Jr, the first Bahamian to obtain a Masters of Law degree in international aviation, said the lack of quick recovery of the aircraft's wreckage goes against international norms and expectations.
"…A key and consequential issue which arises out of the untimely retrieval of airplane wreckage is evidentiary in nature," he wrote in a statement posted on Facebook, "and is referred to as spoliation of evidence. [Spoilage] of evidence in the aviation context extends to the loss, destruction, material alteration of or the failure to preserve a writing, record or physical object. Courts when applying this doctrine have had regard to the negligent failure to preserve evidence, even though deemed as unintentional conduct."
This was not the first time civilians found major parts of a downed plane––it happened in January following a deadly plane crash off the coast of Andros. A key difference this time, however, has been the public cries of Byron Ferguson's family.
His brothers – a lawyer, a doctor and an accountant – articulated in an emotional November 12th press conference all the ways they believe authorities failed their brother, citing lack of lights on nearby Family Island airport runways and an initial search and rescue effort they characterised as superficial and short.
In the days since, the incident has come to crystalise what some Bahamians believe is a government system that cannot be trusted to deliver quality services.
"It is a known fact that every governmental sector, the community, and the society of the Bahamas have failed," wrote Captain Philip Armbrister in a statement that has been widely shared on Facebook.
"It has been verified, broadcasted and publicised daily in the news. This has affected the telephone company, water and sewage, teachers union, air traffic control, customs, immigration, doctors, pilots, and every law enforcement agency. As a result of this, the entire country is on strike, everyone is marching but there are no solutions to having anything resolved. In the past week due to an aircraft incident, we're unable to locate our brother, Captain Byron Ferguson who left Palm Beach airport, and shortly thereafter he encountered mechanical issues with his aircraft. After continuously calling for assistance the aircraft crashed landed approximately two miles away from Nirvana Beach just short of Nassau and upon arrival there were no emergency response team waiting. Yes, I said it, no help."
Divers are now concentrating their search in the general area east of where the tail of the plane was last spotted. The RBDF, working with civilian volunteers and the Royal Bahamas Police Force, has extended their search to the Andros and Berry Island areas, officials said.
Search efforts took place yesterday but not on Saturday because of bad weather, according to Lieutenant Commander Dereck Ferguson, the officer responsible for diving operations.
Asked how long their search will continue, Commander Shonedel Pinder, the officer in charge of the RBDF's air division, told the press: "We will continue in earnest until the information and evidence gathered has come to a point where there is nothing else that can be gathered and or there are suggestions and or directives indicating we ought to do otherwise.
"Given the level of scrutiny this case has and continues to get certainly our efforts are focused toward ensuring our efforts are comprehensive and we seek to aid in the closure of this investigation in an accurate, timely and deliberate fashion."
The plane's parts will be preserved for examination by the Air Accident Investigation Department. Among that department's focus will be whether the plane crash was survivable.