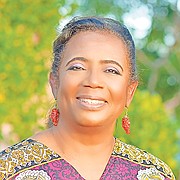 By Patricia Glinton-Meicholas
In its struggle to gain a secure foothold in today's global village, The Bahamas is ardently seeking models of success, particularly from the super states which control the lion's share of the world's wealth. As our near neighbour and long-time world superpower, the national gaze is forever turned towards the United States as the epitome of achievement. We adopt and follow slavishly its mores and practices, often without any in-depth analysis of our unique cultural, social and economic profile and of the necessary modification to integrate new ideas beneficially.
Nowhere is this more evident than in our state-funded education system, where 12 years of studies fail spectacularly in delivering, in appreciable numbers, graduates who can articulate successfully with and contribute significantly to world-class ideas, production, ease of doing business and international trade.
Aware that competitive ability and success in the 21st century would be far different animals from what obtained in the 100 preceding years, we intensified our focus on practices in the American classroom. There, recently, we discovered STEM (Science, Technology, Engineering and Mathematics) a bloated emperor, served by digital competence as handmaiden-in-chief.
Doubtless, STEM competencies are valuable and necessary elements of the 21st century progressive landscape and our country has recently begun a zealous cult for them, at least in theory and in voluble declarations of its devotees. Sadly, in fealty to the new education religion, the subject of literature has been shoved into an airless cupboard to languish undernourished and die unmourned, as useless elitism, yielding no scientifically auditable returns.
I'm told that educators are not mandated to teach literature at all in senior secondary schools. Apparently, every class has four periods of language arts, with top classes having an extra period to allow for an optional flirtation with literature. As might have been expected as, all the periods are now dedicated to language arts. In addition to the literary famine in classrooms, all too many homes are starved of books.
Basic literacy is not enough to build a progressive, peaceful society. While progress demands inventors, we are creating digital mechanics. Rather than thinkers and creatives, we are borrowing thought and creativity as defined and promoted by powerful and often harmful manipulators of social media. On the rise are individuals who lack essentials of competent leadership, particularly the ability to understand human interactions and solve complex social problems. More and more, individuals exhibit a lack of emotional intelligence and make violence their prime choice in resolving conflicts. Are we not creating citizens with values that countervail the demands of the 21st century and the satisfaction of our national needs?
In bringing us the wisdom of the ages, literature can help us perceive novel relationships and encourages leaps of the imagination. Literature, taught properly, cultivates refinement in communication, analytical ability, heightened perception, introspection and sensitivity to and appreciation for differences. Is it wise to spurn this developmental toolkit? Surely not. It supports a number of intelligences, skills and understandings, which are invaluable to the development of a beneficially contributing citizenry of the 21st century, where negotiation, rather than force, is essential to driving progress and preserving peace.
In its national curriculum, the New Zealand Ministry of Education targets five key competencies for its students—Thinking; Using language, symbols, and text; Managing self; Relating to others and Participating and contributing, defining these desired learner traits as "capabilities people have, and need to develop, to live and learn today and in the future." (http://nzcurriculum.tki.org.nz/Key-competencies)
New Zealand's learning goals closely accord with those of other educational bodies. The highly respected International Baccalaureate programme targets conditioning students to become: Inquirers, Knowledgeable, Thinkers, Communicators, Principled, Open-minded, Caring, Risk-takers, Balanced, Reflective.
The Global Digital Citizen Foundation speaks of the "Essential Fluencies of innovative learning" in the present century, noting that such fluencies "have nothing to do with hardware—they are about headware, and heartware!" (http://globaldigitalcitizen.org/21st-century-fluencies/)
All the foregoing curriculum choices speak to the "heartware" that good literature can nurture. STEM subjects and literature are not and should not be considered mutually exclusive. As complimentary partners in education, they can energize the faculties that feed beneficial dynamism in human beings and underwrite enviable and profitable personal and national development.
There is hope. In 2018, desiring to counter the downgrade of literature, Creative Nassau, a registered non-profit organisation, launched SeaWords Bahamas. Planned as a biennial event, SeaWords is dedicated to the elevation of literature and creative writing in Bahamian schools and homes, as well as to the promotion of the literary arts as potential contributors to the beneficial diversification of the Bahamian economy. We received sponsorship from a number of perceptive entities. This is encouraging and key to The Bahamas' survival in the present turbulent age. I invite the support of more Bahamians and lovers of literature worldwide.