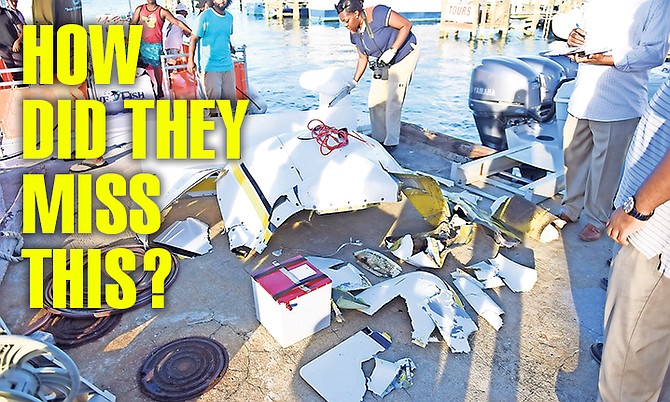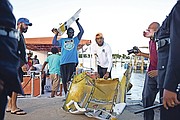 By MORGAN ADDERLEY

Tribune Staff Reporter

madderley@tribunemedia.net
A CIVILIAN effort to locate the plane of missing pilot Byron Ferguson proved fruitful after a team mobilised by Gina Knowles, co-founder of online support group HeadKnowles, discovered plane debris in the waters off Nirvana Beach yesterday.
Locating an estimated 60-70 pieces of debris, the team made its discovery 40 minutes into the search, 600ft away from the plane's original location, and 80 feet deep.
The team's find occurred exactly one week after Mr Ferguson and his plane crashed in the ocean on the night of November 8.
Yesterday, Mr Ferguson's brother, Dr Ashton Ferguson, thanked the volunteers for their efforts while describing law enforcement officials' search efforts as negligent and incompetent.
Volunteers were able to recover what they believe to be pieces of the plane's nose, tail, and battery, among dozens of smaller pieces. A document detailing the flight information, suspected to be the flight plan, was also recovered.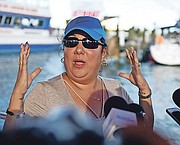 Afterwards, Mrs Knowles told reporters she felt for Mr Ferguson's family. After learning her boat's maintenance repairs had been completed Wednesday night, she mounted an online plea calling on experienced divers to assist in a private search effort.
"My husband (Andrew) is a lifetime fisherman, boating person," Mrs Knowles told reporters after the group's boat docked at the Harbour Patrol Unit. "Ocean, he knows it… in his mind, he kept saying, 'I know there's no way we can't find pieces of this plane. I don't understand how it's not being found.' And so we put out a shout out (and contacted) a couple of our friends."
Eighteen volunteers participated in yesterday's search effort, leaving at noon to head to the pin of the plane's last known location.

"And so, we said we're going to start from there…they had a plan, they got in buddies," Mrs Knowles continued. "It was six teams of twos. And it looked like it was in the movies with the marine SEALS.
"It was 40 minutes that the first person went, 'I see it! I see it!'"
When asked how far down they found the first piece of the plane, Mrs Knowles said: "About 80 feet. And it was 600 feet from the original pin…You could see the beach. I could swim to the beach. That's how close it is."
Angelo Robinson, a diver with four years of experience, was one of the first to spot the debris.
"I was actually on the surface snorkeling," Mr Robinson told reporters. "And once we spotted it, then we signaled for the boat to have the divers come in with tanks and then go down to get a closer look."
Mr Robinson said the team used "regular dive equipment" that would be used in "recreational" diving.

"Even though it was 70 feet of water you could see straight to the bottom," he added.
Mr Robinson said he suspects there is "definitely more" debris in the area, but added the divers weren't "properly equipped today to do any further investigation other than what (they) recovered."
Both Mrs Knowles and Mr Robinson maintained that it should have been possible for the Royal Bahamas Defence Force to have found the debris.

"I would have assumed that marines would be properly suited to any marine rescue or anything of that nature, so I figured they would have been," Mr Robinson said. "Apparently they were not."
When asked if it was safe to say that marines didn't do a sufficient job, Mr Robinson replied: "I agree. Because if we could've found what we found only a week later snorkeling at the surface, I feel as if it was some concerted effort from the Defence Force with divers, something more could've been done initially at the time of the accident."
"I think that if they did actually search, they would have found it," Mrs Knowles said. "If divers actually went in the water, I would like to know who it was. Because I want to know if they did indeed go in the water, if they just went in the water and sat down…because, I mean we have enough people on our forces to do the same thing we did.
"We had 12 guys! Twelve awesome guys. And they went and they did - it's amazing, they went and they filled their scuba tanks. And we all went out saying, 'we're going to find this plane!'"
After retrieving the plane's parts, the team was intercepted by police, with Mrs Knowles maintaining that officers initially dismissed their catamaran as a "party boat." However, after spotting the debris, the officers escorted the vessel to the Harbour Patrol Unit.

Mrs Knowles also told reporters that the team has another plan in place for further search efforts, though she declined to provide specifics. While she maintained that she has been in constant contact with the Ferguson family, she declined to speak for them.

"I cannot speak for them. I know that I would not be settled until I find Byron. That's how I am. And I explained to Anya (Mr Ferguson's wife), I will continue to put in my 100 percent full efforts. And anybody else who wants to help, please contact us."
Two of Mr Ferguson's brothers and his mother were present on the vessel during the interview.
When asked his response to the way law enforcement officials have handled the search thus far, Dr Ferguson told the Tribune: "Negligence, incompetence."
He thanked the volunteers for their efforts and the public for "the overwhelming support that is being shown for Byron."
"We are not giving up," he added.

Response to the news on social media ranged from support for the volunteers to sharp critiques of officials.
"Lord, cover me with a veil. Because if I ever need the support of my own government in the time of emergency, surely I would die," one user posted to Twitter.
Another posted: "I can't believe (the Defence Force) left the plane there. That speaks volumes to Bahamians and makes us wonder where are our taxes going. Not only that, but you wouldn't do all that you could to save a fellow Bahamian?"

Under a photo of the volunteers on Facebook, one user commented: "This is truly amazing! This just shows how strong we are as a people...coming together to support and make things happen."