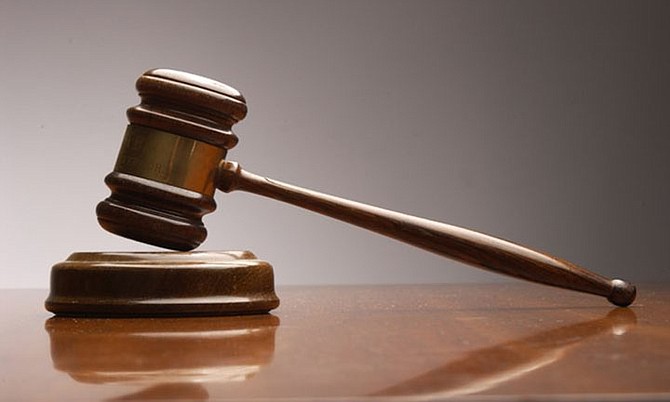 By NICO SCAVELLA 
Tribune Staff Reporter
nscavella@tribunemedia.net
THE Court of Appeal has quashed the conviction for a woman and her child's father previously sentenced to over a decade in prison each for killing a man in the course of a brawl at a bar on Carmichael Road six years ago.
The appellate court overturned both Alexia Barr's and DeAngelo Sands' 12 year sentences for manslaughter concerning the December 19, 2012, death of Akeem Labron Ramsey at the Man Made Bar.
Barr was previously accused of using a piece of wood to fatally strike Ramsey in the head during a brawl, allegedly after the deceased and another person had attacked Sands with that same piece of wood.
Sands, Barr's boyfriend at the time, was accused of acting in concert with her to cause Ramsey's death.
However, Court of Appeal Justices Stella Crane-Scott, and acting appellate Justices Sir Michael Barnett and Milton Evans acquitted the pair because the evidence did not clearly specify that it was Barr's blow that killed Ramsey, and because the evidence did not prove that Sands hit Ramsey at all, or agreed with Barr to injure him.
Additionally, the judges noted that while forensic pathologist Dr Caryn Sands' report listed Ramsey's death as being the result of blunt force trauma to the head, it did not specify what exactly was used to cause that fatal injury.
"It could have, according to her evidence, been a fist, a piece of wood, a bottle, the deceased falling to the ground or being pushed against a wall," the appellate judges said.
According to the evidence, Kizzy Brown, the Crown's main witness, said Ramsey was her godchild, and that she knew both Barr and Sands. She said she was at the bar when Ramsey approached her "in fright" and that he was bleeding from his head.
She said she left Ramsey to go and look for his uncle, Travis Gibson, but when she got back, Ramsey was nowhere to be found. She said she then went looking for him and found him towards the front of the bar.
She said as she was holding Ramsey on her shoulder, she saw Barr, whom she referred to as "Lexy" walk up to him and hit him in the head with a "2x4" piece of wood. Brown said when she asked Barr why she hit Ramsey, Barr said, "He just do something to my baby daddy."
When asked by the Crown how hard she thought Barr hit Ramsey, Brown replied: "I don't know."
Nonetheless, Ms Brown said the police consequently placed Barr in a squad car for her actions. Meanwhile, she said she went to look for Ramsey's mother.
When Ms Brown returned however, she saw a crowd fighting Ramsey who was on the ground on his back. She said she then made her way to where Ramsey was and shielded him from the onslaught of blows, resulting in her receiving blows as well. That continued until the police arrived, broke up the fight and sent Ramsey to the hospital.
However, Ms Brown never said she saw Sands hit Ramsey, and that Barr was inside the police car at the time the mob fight was taking place. Additionally, the appellate judges noted that Barr striking Ramsey was the only altercation she had with the deceased, which they said was significant given the evidence of another witness, Mr Gibson, which the Crown used to assert evidence of a joint enterprise.
When Mr Gibson testified, he said around 6.30pm on the date in question he was at the Man Made Bar with Ramsey, his nephew. He said Ramsey went missing for a few minutes but when he returned he looked angry. He and Ramsey then went to a conch stand where a number of men were standing.
Then, a man nicknamed "Hip Kiss" grabbed Ramsey, while another man named "Dario" struck him in the head with a beer bottle, the witness said. Mr Gibson said a fight followed, with a "couple" of individuals from a group of men standing nearby going at it with his nephew. And amongst that group was Sands, according to the witness.
After that fight, Mr Gibson said he and his nephew went to the latter's house, where Dario and some other persons pulled up in a vehicle; however, that car sped off after Ramsey went after Dario with a knife. Gibson, Ramsey, and another person named Troy Rolle followed the vehicle in their own car for a while, before abandoning that pursuit and returning to the Man Made Bar.
Mr Gibson said Ramsey and Mr Rolle had gone ahead of him, and when he joined them he saw a number of persons, Sands included, fighting his nephew.
Mr Gibson said he saw Ms Brown, his neighbour, standing over Ramsey, who was on the ground taking blows from a number of persons including Barr and Sands. Gibson said he saw Sands hit Ramsey in his face with a beer bottle, while Barr, who was brandishing a piece of wood, was arguing with Ms Brown, who was trying to prevent the former from hitting Ramsey.
Mr Gibson said he didn't see Barr hit Ramsey with the piece of wood because Ms Brown was "fighting her off". He said he then rushed to stop Sands from hitting Ramsey by using a stone; however, Mr Gibson was stabbed with a knife shortly afterwards and was taken to hospital.
Meanwhile, the judges said a "careful review" of Mr Rolle's evidence showed that he never said he saw Sands or Barr hit Ramsey; in fact, he never mentioned Barr and never mentioned Brown in his testimony.
Ultimately, the appellate judges said the evidence led in the case was not sufficient to convict either person of the charge of manslaughter.
Concerning Barr, the appellate judges said while there was "cogent" evidence that she hit Ramsey in the head with the piece of wood, and that the jury was entitled to accept as much, it could not accept that her blow killed him "as opposed to the blows being thrown by the other persons."
Additionally, the appellate judges said there was nothing in the trial judge's summation that assisted the jury in evaluating whether Ramsey's death was the result of the blow Barr delivered or the blows from the mob that attacked him.
Concerning Sands, the appellate judges said the Crown's evidence is "inconsistent" with a joint enterprise between him and Barr to injure Ramsey, and further "ambiguous" of any agreement between Sands and anyone else to injure the deceased.
The appellate judges further noted that while there was evidence from Mr Gibson that Sands hit Ramsey with a beer bottle, it didn't match up with Ms Brown's evidence, which suggested that Sands was not around when Barr hit Ramsey, as well as the statements of both Barr and Sands that the latter only knew of Barr's involvement in any altercation with Ramsey after it had occurred.
Furthermore, the appellate judges said a review of the trial judge's ruling on the no-case submission did not show that the trial judge ever considered those issues.
"In our view the evidence led in this case was insufficient to safely convict either Sands or Barr of manslaughter," the ruling said, further charging that the "insufficiency" of the evidence may have been due to the trial commencing more than three years after the incident in question.
"...The convictions and sentence against both appellants are quashed. For obvious reasons, we do not order a retrial."
Christina Galanos represented Barr, while Roberto Reckley represented Sands.
Cassie Bethel represented the Crown in the matter.