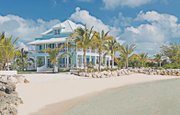 By NATARIO McKENZIE
Tribune Business Reporter
nmckenzie@tribunemedia.net
PALM Cay's chief executive yesterday said recent value-added tax (VAT) "assurances" by the Government had served as the "final impetus" to kick-start its latest $100m expansion.
Rob Batchelor, Palm Cay's chief executive, told Tribune Business that the southeastern New Providence community's One Marina residences had been delayed roughly six weeks until the Government reaffirmed the sector's "zero rating" and developers' continued ability to reclaim their VAT input costs.
"I was at a meeting with the deputy prime minister and other developers about five or six weeks ago," Mr Batchelor recalled, "where we collectively were assured that the construction industry would continue to be VAT zero-rated, and that there were a number of changes being put in place across the finance and tax ministries to help developers and ensure we can claim our VAT returns going forward, but also that we would have the support to reclaim VAT refunds from the past.
"We got those assurances. That was effectively the final impetus to allow me to get at the funding that I had already put in place. We delayed by about six weeks. We just needed that assurance. We got that assurance and we are confident now, and hence we have started the build-out."
Real estate developers had previously expressed concern that the 2018-2019 budget's tax policy changes made it impossible for them to recover VAT paid on their input (construction/development) costs.
This was based on the Government's decision to revert back to the old ten percent stamp duty structure for real estate transactions, and abandon the previous stamp duty/VAT split, which developers interpreted as making real estate sales "VAT exempt".
As a result, they had feared this would leave them unable to "net off" or offset the VAT paid on construction materials - and the likes of contractor, engineer and architect bills - against the "output" tax whenever a property is sold.
Palm Cay's One Marina residences, designed by Bahamian architect Winston Jones, will feature 84 two and three-bedroom residences. The two-bedroom units range in size from 1,780 to 1,940 square feet, and are being sold at a price point of $800,000 and up. Three-bedroom units are priced between $1.5m to $1.9m, and range in size from 2,751 to 4,228 square feet.
Mr Batchelor, meanwhile, said he had seen no impact from the Organisation for Economic Co-Operation and Development (OECD) last month listed this nation's economic permanent residency offering among 21 incentive regimes it says jeopardise "the integrity" of automatic tax information exchange".
Apart from attracting high net worth clients and their assets to this nation, economic permanent residency drives lucrative business for real estate developers, realtors and attorneys, and produces spin-offs affecting virtually all industries.
"No one hasn't bought because of concerns about blacklisting or anything like that. We do get questions about whether buying a $1m residence can help with residency, which it can, but that is not part of our sales pitch," he added.
Mr Batchelor said the One Marina project will create 50-75 construction jobs. "We have 84 condos spread across eight phases. We have sold seven of the first 10 units, and we haven't really gone to market yet. I expect the whole One Marine project to last between three and four years," he added. The first phase will involve an $8-$10m investment.
Around 107 residences and 72 lots have already been purchased at Palm Cay, with the developers investing $65m in infrastructure, construction and amenities. This year alone, some $2m has been invested in upgrading and refreshing Palm Cay's offerings, including a new members' fitness centre, a half-size Olympic swimming pool, extension to the dockside café, a beach bar and grill and enhancements to its poolside area.