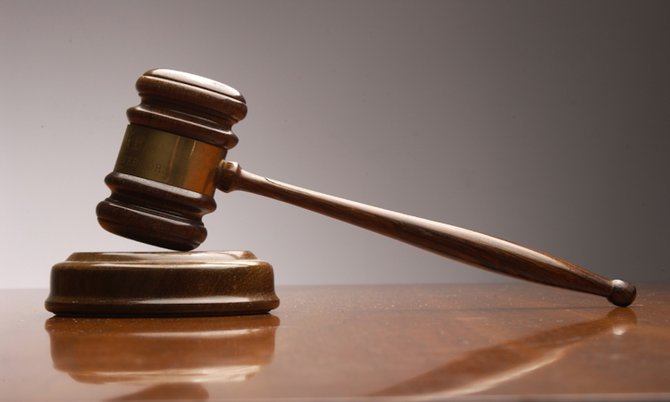 By NICO SCAVELLA
Tribune Staff Reporter
nscavella@tribunemedia.net
HAROLD Taylor is accused of stabbing a man to death and wounding his girlfriend at the abandoned City Lodge building in Okra Hill on Tuesday of last week.
The 34-year-old, of Shirley Street, was made to stand before Magistrate Kara Turnquest-Deveaux charged with one count each of murder and attempted murder stemming from the October 30 incident.
It is alleged that on the date in question, Taylor murdered Jason Young, and attempted to murder his girlfriend, Latoya Bain.
According to initial reports, police said they received information about a woman in distress shortly after 8am on the date in question and responded to the scene at Okra Hill, off Shirley Street. Upon arrival, officers found a woman with injuries, and acting on information, searched a bushy area where they found Young partially wrapped in a sheet with trauma to his body.
Police Chief Superintendent Solomon Cash said once responding officers spoke with the woman, she told them that both she and her boyfriend were attacked by a man at the property just hours earlier, around 4am.
The woman told police the altercation had resulted in both of them receiving injuries about the body, with those sustained by her boyfriend proving to be fatal.
CSP Cash said officers spoke with several other people at the scene, and following those conversations, were able to take a man into custody.
CSP Cash said that the man led police to the body. At last check, the woman was said to be in stable condition in hospital.
Taylor was not required to enter a plea to the charge and the case was adjourned to December 18 for service of a voluntary bill of indictment (VBI). Bail was denied and he was remanded to the Bahamas Department of Correctional Services (BDCS) in the interim.
Before being remanded, however, Taylor told the magistrate he had issues with being detained in the maximum security section of the Fox Hill facility, and requested that he be housed in the remand section instead.
Magistrate Turnquest-Deveaux told the accused that she would make a note of his concerns, but intimated that his placement in the facility is at the discretion of prison officials, and that they will place him where there is space to accommodate him.
Meanwhile, 40-year-old Carlos Brown was also charged before Magistrate Turnquest-Deveaux with the murder of Renaldo Bullard, whose body was found with injuries and partly covered with branches in a bushy area on Martin's Close off Cowpen Road.
Police allege the crime occurred sometime between October 25 and 28.
Brown was not required to enter a plea to the charge and was remanded to prison until December 19 for service of a Voluntary Bill of Indictment.
Taylor and Brown have the right to apply to the Supreme Court for bail.