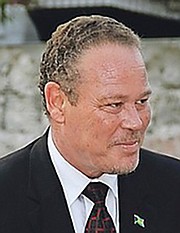 By RASHAD ROLLE
Tribune Staff Reporter
rrolle@tribunemedia.net
THE law establishing an independent Director of Public Prosecutions (DPP) came into force on May 18, Attorney General Carl Bethel said in the Senate yesterday.
However, he told The Tribune the government still has to "pass a further law to transfer a number of statutory powers vested in the Attorney General to the Director of Public Prosecutions".
"This will happen after the budget," he said. "Also, (the DPP) has still to receive his instrument of appointment from the Governor General. That is to be arranged for mid June."
"The days of attorneys general signing nolle prosequis, maybe not signing them personally, are over," he said in the Senate. "The days of what could have been seen as political supervision of the prosecutorial arm are over in the Bahamas. As of this day we have an independent, autonomous Director of Public Prosecutions fully responsible for all actions of the conduct of his office."
The Constitution (Amendment) Bill 2017 empowers the DPP to "institute and undertake criminal proceedings against any person before any court in respect of any offence against the law of the Bahamas; to take over and continue any such criminal proceedings that may have been instituted by any other person or authority; to discontinue, at any stage before judgment is delivered, any such criminal proceedings instituted or undertaken by himself or any other person or authority."
The law was not passed without its critics. The attorney general can still direct the DPP to make certain decisions on matters relating to three categories: public policy, national security and international obligations of the Bahamas. Critics say these categories are broad and vague, providing a loophole through which administrations can undermine the independence of the DPP.
To discourage this, the law requires that any instruction from an attorney general to a director be gazetted, although a rationale for the instruction is not explicitly required. National Security Minister Marvin Dames said last year: "The Bahamian people will immediately be informed through the media of the specific directive, such as terms and rationale given by attorney general (when directions are given to the DPP)."
The establishment of the independent office fulfills a promise the Free National Movement (FNM) made in the lead-up to the 2017 general election as part of its good governance reform agenda.