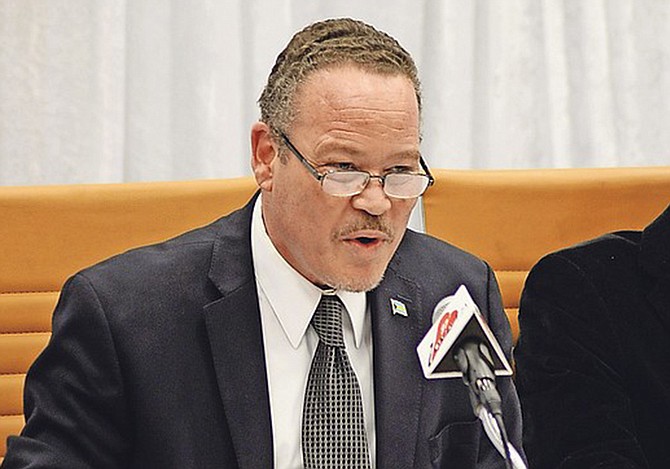 By RASHAD ROLLE
Tribune Staff Reporter
rrolle@tribunemedia.net
PUBLIC consultation on bills establishing term limits for prime ministers and fixed dates for election will begin before the end of the year, Attorney General Carl Bethel said yesterday.
He said the Law Reform Commission, now headed by former Court of Appeal President Anita Allen, will "finalise two draft constitutional bills" to address such matters. 
"Once completed we will commence public consultations before the end of this year, and the government will then decide if it is required to hold a referendum, when to pass the bills and when to hold any referendum which might become necessary," Mr Bethel said.
This is the closest the administration has come to outlining its referendum plans.
In the 2017 Speech from the Throne, the Free National Movement promised a constitutional referendum will be held to mandate that a prime minister could serve a maximum of two terms in office. The FNM also said a referendum would be held to establish an independent Electoral Commission and Constituencies Commission and a recall system for MPs; the latter would allow for the sacking of poorly performing parliamentarians, the FNM said.
In 2016, Prime Minister Dr Hubert Minnis, then leader of the Official Opposition, said he would host a referendum on amending the Constitution to remove the UK-based Privy Council as the highest court of appeal for murder convicts.
In 2014, he said he would push legislation limiting prime ministers to two terms in office.
"This has always been my position simply because everyone reaches a certain level when they would be maxed out, suffer from brain drain and become stagnant," he said previously. "If someone remains in office for let's say 20 years, they can only take you to a particular point. A maximum two terms in office would allow the generation of new ideas, new views and keep this country moving forward."
The country has had two constitutional referenda, which both failed. 
And in 2013, the Christie administration held a non-binding gambling referendum, dubbed an "opinion poll"; however most people who voted in that exercise rejected the questions.
The Christie administration spent $1.2m on the 2013 gaming referendum. It was also estimated the 2016 constitutional referendum cost the public purse around $1.57m.