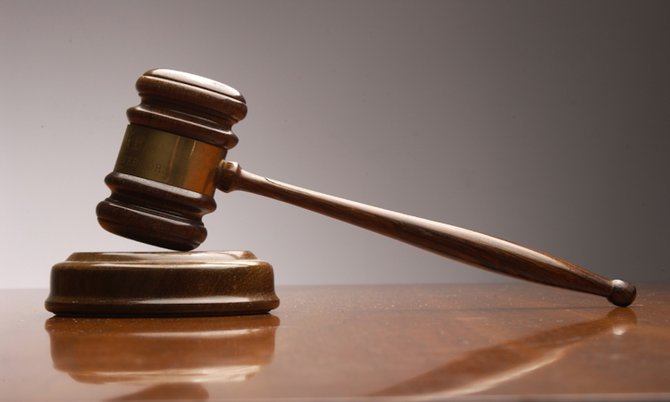 By AVA TURNQUEST
Tribune Chief Reporter
aturnquest@tribunemedia.net
A 2017 gun possession case involving Philmore Davis, the son of Progressive Liberal Party Leader Philip Davis, and three other men was adjourned for nearly three months yesterday after the prosecution requested more time to prepare.
The matter has been adjourned at least five times before Senior Magistrate Carolyn Vogt-Evans, who yesterday noted her court's record for resolving such matters was within six months.
Inspector Claudette McKenzie had previously represented the Crown in the trial of Philmore Davis, 33, of Colony Village; Matthew Davis; 22, of Westridge; Lavant Gibson, 27, of Sandyport; and Don Davis, 26 of Westridge.
Yesterday, prosecutor Sgt Bridgette Strapp told the court she was not in possession of exhibits because she was new to the case, and made an application for adjournment and the addition of two police witnesses.
The senior magistrate granted both applications.
Magistrate Vogt-Evans said: "The court notes while there have been a number of adjournments for prosecution, the court having been assigned a new prosecutor in this matter will allow Sgt Strapp an opportunity to familiarise herself with this matter."
She added: "However prosecution is advised to have their witnesses present on the next adjournment."
Lawyers for the accused Damian Gomez, QC, and Roger Minnis, yesterday argued against both applications and suggested the lengthy delays infringed on the right of their clients to a fair hearing within a reasonable time.
Mr Gomez represents Mr Gibson, and in his objection stated there was no excuse for the prosecution's unpreparedness and failure to provide the other side with a summary of case evidence.
"These are serious matters," Mr Gomez said. "This case is an embarrassment. . . which has continued for almost six months and we should proceed with prosecution.
"If they can't proceed it should take a different course, and if unsuccessful in my objection, I suggest this be the final adjournment."
Mr Gomez continued: "In the second application, I've not seen witness statements for either two witnesses. One would have thought sufficient time had elapsed for those statements to have been shared with counsel."
"It ought to be in prosecution knowledge," he said, "we have to see statements to prepare for cross-examination. We should have had it before trial began given evidence that has been heard so far.
"It is apparent that the prosecutor has not prepared for trial today and it is compounded by the lack of disclosure of witness statements…having regard to the right of the defendants to a fair hearing within a reasonable time."
According to Magistrate Vogt-Evans, the prosecution requested adjournments on December 1, 2017, January 22, February 2, March 9, and April 4.
On April 4, the court issued warrants for police witnesses who failed to appear in court; those warrants have since been cleared and there were two police witnesses present yesterday.
For his part, Mr Minnis said: "The new application for two police inspectors I would say is long overdue and tantamount to abuse of process. They are noted in the witness statements of Sgt Bain (investigating officer) and Sgt Pratt (forensic officer). They would have been (mentioned) in their reports.
"It is not as if these individuals came as a surprise to warrant inclusion. This was already acknowledged. Despite the application for adjournment the last time more than a month ago, we are still not in receipt of any statement or items they intend to introduce."
Mr Minnis continued: "We shouldn't carry this burden any longer, swing the pendulum both ways for fairness. They (the prosecution) seem to be making up as they go along. One of my clients travelled from North Carolina, its costly and time away from his job may jeopardise his employment."
The matter was adjourned to July 25, 2018.