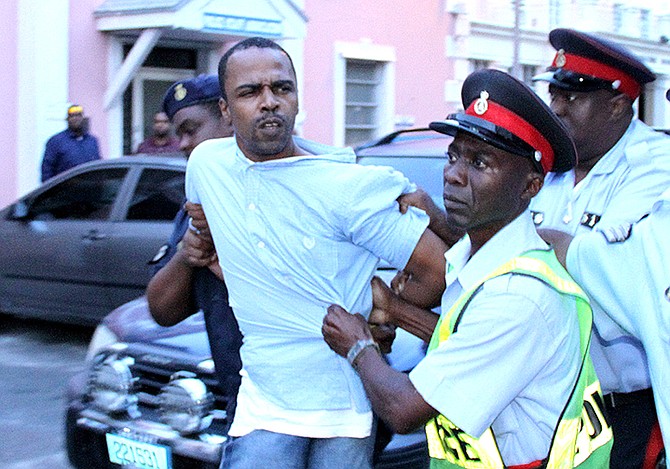 By AVA TURNQUEST
Tribune Chief Reporter
aturnquest@tribunemedia.net
THE FAMILY of slain Marco Archer yesterday strongly rejected the assertion there was any possibility for his killer's reform, insisting the 11-year-old's brutal death had lifted the veil on an irrefutable pattern of child predation.
Marco's older sister, Tancia Humes, said they hoped and prayed Kofhe Goodman would receive the death penalty but ultimately accept his 55-year prison term as sufficient to keep the child predator off the streets.
She said the family would fully support an appeal of the sentence by the Office of the Attorney General.
"We don't agree with what was said in reference to him," Ms Humes told The Tribune.
"It was a term they mentioned, they feel as though he could be rehabilitated, we totally don't agree with that.
"No," she continued, "I don't think so. If that was the case it should have happened from he was 14 years old, the man is now in his 40s and he has been doing this to kids around the age of my brother.
"He has been in and out of jail, he has been convicted . . .How could someone (like that) be rehabilitated. . . I can't see that (being) possible and all that should have been considered by the judge, and it should have been considered by the doctor who spoke.
"I read it in the paper where he (a doctor) said that he (Goodman) could be reformed, but this is not somebody who has done this once.
"This is now in the public's eye and we are aware of what he has been doing over the years because my brother is dead, because he killed him, other than that it wouldn't have been known.
"So I totally disagree with that and we believe that he should have gotten the death penalty but we also are satisfied with the 55 years, because that means he will not be seen on these streets, walking these streets anymore.
"We thank God for that," she added.
Supreme Court Justice Carolita Bethel sentenced Goodman to 55 years in prison on Monday for the 2011 killing, rejecting the Crown's request for a death sentence. Seven years he spent in custody will be deducted from the sentence.
The Crown argued that Goodman is a serial predator.
Justice Bethel cited testimony from consultant psychiatrist Dr John Dillet, and determined she could not conclusively say Goodman is incapable of being reformed. 
Goodman has said he will appeal the latest conviction. 
In 1993, he was convicted of unnatural carnal knowledge against Norris Adderley, a 10-year-old boy found dead.
Goodman was initially charged with murder in that case but that charge was dropped. He confessed to the sexual charge, saying someone else killed the boy.
He served three years in prison after his admission.
In 1996, he was sentenced to 18 years in prison for attempted murder and causing bodily harm to another 10-year-old boy.
This is the second time Goodman has been convicted and sentenced for killing Marco Archer.
His previous conviction and death sentence were overturned by the Court of Appeal in 2016 due to pre-trial publicity, the behaviour of Goodman's former lawyer and a jury irregularity.
Marco's sister said the drawn out legal case took a toll on the family.
"The sentencing should have happened months ago, unfortunately I guess that's our court system," Ms Humes said. "We planned and hoped and prayed for the death penalty. I guess we're satisfied with the 55 years.
"If the AG's Office decides that they want to appeal the sentencing," she added, "we're with them 100 per cent."
Marco's death gripped the nation, and sparked amendments to the Sexual Offences Act and the Child Protection Act, which were supposed to create a sexual offenders register, and a MARCO Alert for missing children, respectively.
The sexual offenders register would place all persons who are convicted of sexual offences on the proposed list.
The Child Protection Amendment Act 2014 came into operation on August 26, 2015. The government implemented the MARCO Alert system in July 2016; however, a sexual offender's register has not been introduced to date.