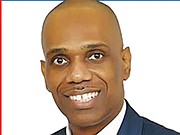 By RASHAD ROLLE
Tribune Staff Reporter
rrolle@tribunemedia.net
PINERIDGE MP Frederick McAlpine is concerned the benefits of the government's Over-the-Hill tax exemption and rejuvenation plan will go to the wrong people.
"I think it's a good initiative but my concern is, will this be for Over-the-Hill communities or will it be for those who have the financial means to take advantage of the benefits before poor people do?" he asked. "How will we prevent people coming into the community to invest who are already doing well? How can we ensure the small man gets the breaks he needs?"
Concerns like these have persisted ever since Prime Minister Dr Hubert Minnis announced his vision several years ago.
Officials hope the project boosts local Over-the-Hill businesses while also enticing new ones into the community.
"We're moving in the right direction but we need a little more information about how we're going to deal with this and how this will work," Mr McAlpine, a Free National Movement MP, said yesterday. Nonetheless, the programme's organisers have been robust informing the public about the initiative, hosting its most recent town hall event Wednesday night.
James Smith, former Central Bank governor, called the programme's plans "ambitious, well intended and tricky" yesterday.
Acknowledging statistics from Financial Secretary Marlon Johnson that 70 per cent of businesses Over-the-Hill operate outside the formal economy, he said: "To access the benefits you have to at least be registered and have a business licence and in the majority of the cases, these people are not. Even before you can give the benefits to those most deserving, you have to first get them compliant. I don't know how long that will take."
Mr Smith expressed concern that rent prices will skyrocket because of tax exemptions. Roughly half the people living in the Centreville and Bain and Grants Town constituencies live on rental properties.
"If there is a building that is eligible for duty free material for renovation purposes and I'm an absentee landlord and get duty free materials to improve the building, I might not pass on that benefit to you who are there now; I'm going to rent it to people who could pay higher rent," he said. "You'd end up displacing the people you intended to support."
Dr Nicola Virgil Rolle, director of the Economic Development and Planning Department in the Office of the Prime Minister, has said the government is looking to build affordable housing units in the communities to prevent this. Construction, she said, should be mobilised in three years.
Mr Smith said a system of rent control could be applied.
"If I'm the absentee landlord and I use duty free materials, my increase in rent prices should take into consideration the money I saved when paying for the materials," he said.
Mr Smith said a better way of helping impoverished communities might have been to directly give a subsidy to residents in need rather than offer blanket tax exemptions to people and qualified businesses in a zone.
"Give them an explicit subsidy," he said. "It's like the position I've always taken on the value added tax. When you say you want to take the tax off items like (diapers), you're telling me wealthy people don't have babies and yet they probably buy more Pampers than the guy you are trying to help. It's better to leave the tax because otherwise you are creating loopholes people will take advantage of. Moreover, when you say duty free or elimination of a tax, you're presupposing that I pay taxes even though many low-income homes do not. Instead, you could go into households, identify those in need and give money as part of social services allocation system in a way that's similar to food stamps. That's more effective and efficient and it gets directly to a person who needs it.
"We all have this soft spot almost instinctively for the downtrodden but it's a very difficult thing to get this right sometimes," he said. "We're all Bahamians. So many people have so much more than others. Some people try hard to get on their feet. Nevertheless, I think the state has a responsibility to close the income gap and deliver basic amenities to all people who call the Bahamas a home. I've always supported programmes that cater to those who are at risk."
During Wednesday night's town-hall, Dr Minnis stressed the initiative is more than a tax exemption programme and involves a holistic approach to addressing the communities' problems. Critics, however, have questioned whether the anticipated annual $5 million budget for the project is enough to accomplish its grand plans in the foreseeable future.
Mr Smith does not share this concern.
"I wouldn't criticise something because it starts off small," he said. "There always has to be a balance in terms of where the government allocates resources and in this case, you still have the rest of the country to think about. Furthermore, starting off small allows you to course correct more easily than you would do if you rush into it."
According to a White Paper on the plan, the tax breaks would last for five years with the option of renewal.