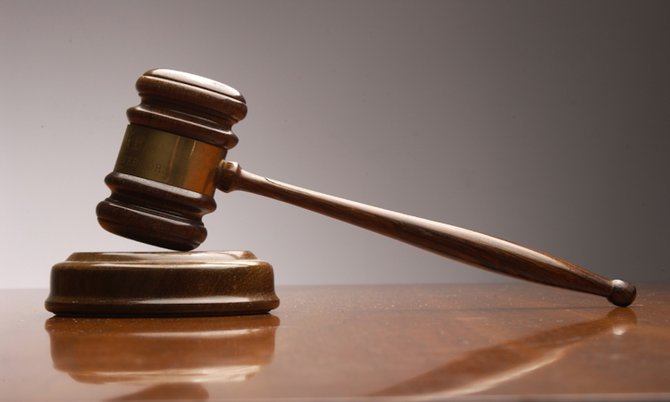 By NICO SCAVELLA
Tribune Staff Reporter
nscavella@tribunemedia.net
A 46-year-old man sentenced to a year in prison on Friday for drug possession made a passionate plea to the deputy chief magistrate and the Crown to have his wife of less than 90 days acquitted of the crime.
Shorn Munroe, of Venice Bay, was found in possession of some 20 pounds of marijuana, valued at around $20,000 at their residence on March 15.
He begged Deputy Chief Magistrate Subusola Swain to let his wife, Nickya Demeritte, go free as he adamantly insisted on taking "full responsibility" by his guilty plea.
Prior to her husband's pleas, Demeritte, 36, had pleaded not guilty to the single count of possession of dangerous drugs with intent to supply with which they were both charged, T heir attorney, Bernard Ferguson, had also tried to get the prosecutor, Assistant Superintendent Clifford Daxon, to withdraw the charge against her.
However, Dep. Chief Magistrate Swain informed Munroe, and consequently his wife, that only the prosecution could withdraw the charges against either of them. When the requests were directed at ASP Daxon, the senior officer ultimately said he would need more time to come to a more informed decision, thus meaning she would be remanded until then.
The two were arraigned in connection with the recovery of a quantity of marijuana from a residence off Bacardi Road.
According to the summary of the facts read by ASP Daxon, sometime around 6:30am on the day in question, a team of officers, acting on intelligence and armed with a search warrant, proceeded to a green trimmed white two-storey complex located off Venice Bay Boulevard.
Upon arrival officers secured the perimeter of the complex and knocked on door #1. They verbally identified themselves as police officers. At that time, officers heard a shuffling sound coming from inside the complex. Then, officers situated at the rear of the building, saw Munroe looking out of a door on the rear balcony.
Officers used flashlights and observed Munroe open the balcony door and throw a dark coloured travel bag over the fence into a bushy area. Shorn subsequently came to the front door and opened it.
After officers presented the search warrant to both Shorn and his wife, and identified themselves, a search was conducted of the residence. Officers subsequently found a brown, homemade cigarette which was found to contain a quantity of suspected marijuana. Both Shorn and Demeritte were arrested and cautioned in connection with that find.
Oiffcers then conducted a search of a bathroom and found in plain view on the countertop a clear Ziploc package with a quantity of suspected marijuana. The two were further cautioned on that find.
Officers then took both defendants to the bushy area at the rear of the residence where they had seen Munroe throw the travel bag and conducted a search of that area. The officers consequently found a blue Travel Star bag with a baggage claim tag from Copa Airlines with the name Shorn Munroe on it.
It was examined and found to contain one tan-taped package and a white garbage bag with 22 clear vacuum sealed packages with suspected marijuana inside. The couple was further cautioned in connection with that third find.
While under caution, however, Munroe said: "Man officer, you all done got me. Please don't lock my wife up she ain't had nothing to do with this. I won't waste you all time. I will plead guilty for this marijuana."
Both Munroe and Demeritte were taken to the Carmichael Road Police Station and booked in. Then, while at the Drug Enforcement Unit (DEU), Munroe admitted all knowledge, custody and control of the drugs in question. His wife, however, denied ownership.
Officers also recorded a statement under caution from Munroe where he admitted to being in possession of the drugs.
The two were later charged formally in connection with the find.
On Friday, Mr Ferguson said in his plea in mitigation that his client did not waste the court's time by pleading guilty to possessing the drugs in question, which Mr Ferguson submitted was borne out of Munroe's addiction to marijuana.
Mr Ferguson further submitted that if the court considered being lenient, his client would be prepared to kick his habit for good. Thus, he asked that the deputy chief magistrate not impose a custodial sentence, but a fine instead.
When Mr Ferguson sought to make a plea in mitigation for the wife, both the prosecutor and the deputy chief magistrate reminded him that Demeritte had pleaded not guilty, thus negating the need for him to do so.
When questioned by Dep. Chief Magistrate Swain if he had any children, Munroe said he has eight children by five mothers, some of whom are in the United States. He also said he is a contractor by profession, while his wife works at Sandilands Rehabilitation Centre.
Munroe then insisted that he does not sell drugs, and has no need to as he owns a "flourishing business", and that he works and supports his wife and all of his children. However, he admitted that he does have a smoking problem.
He claimed he was commissioned to hold the bag of drugs by a guy for a period of time, after which he said he was to receive two pounds of the marijuana for his personal consumption. According to him, the bag wasn't even in his possession for 24 good hours.
He expressed how sorry he was for his actions, but maintained that he wanted to take full responsibility for the incident, and that he did not want his wife to lose her government job as a result of his actions.
However, Dep. Chief Magistrate Swain still imposed what she said is a very lenient sentence: one year in prison and a $15,000 fine. Should he default on the payment, he will serve an additional year in prison.
Munroe seemed not to take issue with the sentence, but still maintained that he did not want his wife to lose her government job as a result of his actions.
However, the deputy chief magistrate responded by saying: "Well you should have considered that when you took possession of the drugs." And adding that his actions put everyone that resided at the residence in jeopardy, she added: "If your mother had been there she'd have been charged too".
"You (people) do these things and then you're remorseful later," the deputy chief magistrate said.
ASP Daxon indicated to the court that he should be able to come to a decision on Demeritte by Monday, meaning she would have to be remanded to the Bahamas Department of Correctional Services in the interim.
However, Munroe continued to lament the prosecutor's stance on the matter, saying it was "hurtful" and trying to fathom how the prosecutor could have a "heart so cold".
However, Dep. Chief Magistrate Swain told Munroe that ASP Daxon was merely doing his job, and that it wasn't fair of him to cast aspersions.
The two were then escorted out of the courtroom.