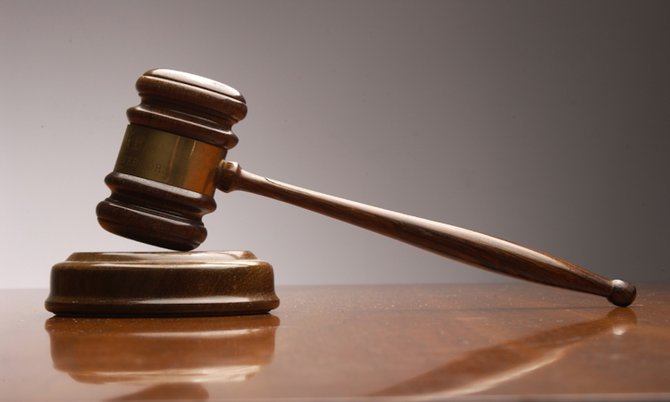 By NICO SCAVELLA
Tribune Staff Reporter
nscavella@tribunemedia.net
A CONVICT'S legal bid to contest his life sentence for murdering a police officer on a Family Island two decades ago has been dismissed because he tried to appeal his sentence too many times before the appellate court, whose judges this week said amounted to an abuse of process.
Robert Greene appeared before Court of Appeal Justices Stella Crane-Scott, Roy Jones and Milton Evans concerning a notice of appeal he filed in 2017 concerning his intent to challenge his sentence for murdering Police Constable Perry McKellan Munroe in Andros on October 16, 1997.
However, Justice Stella Crane-Scott noted that Greene has a number of files before the court, and that he has previously sought to appeal his sentence for the crime in question.
Justice Crane-Scott said on one occasion in 2009, then-appellate President Dame Joan Sawyer dismissed Greene's purported appeal after ruling she could not entertain another one of his applications, and suggested at the time he take the matter up with the London-based Privy Council.
Notwithstanding that directive, Justice Crane-Scott noted yesterday Greene filed "yet another notice" on February 9, 2017 concerning his sentence, which she said is tantamount to an abuse of process as the mater had previously been dealt with by the appellate court.
Greene, in pleading his case, said he had been writing to the Privy Council and/or various lawyers in London for some eight years in a bid to have his appeal heard, but to no avail.
He said he eventually went before Supreme Court Justice Cheryl Grant-Thompson in a bid to file a constitutional motion concerning his sentence. However, that judge said she had no jurisdiction to entertain the matter.
The appellate judges yesterday also addressed the futility of Greene going before the lower Supreme Court despite the Court of Appeal already stating on more than one occasion it would not deal with the matter.
Despite continued submissions from Greene, Justice Crane-Scott told the man there was nothing the appellate court could do concerning the appeal of his life sentence, and told him he needs to find the proper way to reach the Privy Council and do so.
Justice Evans then intervened by suggesting that Greene submit a letter to the Bahamas Bar Association, whose president Khalil Parker was in the court room yesterday, to see if the association can offer any legal advice and/or assistance.
Greene said he would do so, and the appellate judges consequently dismissed his February 2017 notice of appeal.
According to court documents, at the time of Munroe's killing Greene was in his early 20s, and living in a house in Nassau along with older his cousin Ronald Simmons, who was also accused of the crime.
On October 16, 1997, they flew together from Nassau to Mangrove Cay, Andros where their uncle Kelly Greene owned a restaurant named the Fisherman's Club at Little Harbour. Kelly Greene was away at the time in Nassau.
Upon arrival in Mangrove Cay, Greene and Simmons were recognised by several people who knew them, including one of only two police officers on the island at the time. Greene was seen collecting a large black bag measuring three or four feet from the airport baggage cart. Both men then walked off in the direction of Little Harbour.
Around 7.45pm that night, the lights in the Fisherman's Club were seen to be on and, as Mr Greene was known to be off the island, the police were alerted. Constable Munroe, Constable Rolle and a number of civilians went to the club. Constable Munroe went to the front, while the other constable went to the rear of the building.
Constable Munroe told whoever was inside to come out as they were surrounded. However, three shots were then fired from a 12-bore Maverick pump action shotgun, two of which struck Constable Munroe in the head and killed him. The shotgun was licenced to Simmons. No other gun was fired that night.
Greene, who was wearing white gloves, was apprehended at the club by Constable Rolle but ran off when the shots were fired and the officer went to look for Constable Munroe.
A short time later Greene was seen in the Pinder's Bay area by another prosecution witness he knew, Floyd Rolle. Greene said he had lost his mobile phone and Floyd Rolle said he would help him look for it. As they walked together Greene said he "hope that Munroe isn't dead, you know," and when asked what he meant, replied, "me and my partner gone to rob Kelly and Munroe get shot."
They continued along the path until another person, in dark clothing with a mask over his face and white gloves, appeared. Greene called out to him "Spar, hands up." Floyd Rolle saw this person put something down and move towards them. Floyd Rolle was frightened so he ran away.
Later that night a small boat went missing from its mooring at Little Harbour; it was found two days later at South Beach canal in Nassau, not far from Simmons' and Greene's home. Also found after the killing was a black duffle-type bag near the beach at Little Harbour. On October 17, 1997, in bushes near the house of the two convicts, Simmons' Maverick shotgun was found with its barrel missing.
By then however, the two had already fled the Bahamas, flying via Miami to Omaha, Nebraska where they stayed for over three years.
According to an international report on the matter dated February 27, 2001, the two reportedly entered the United States via Miami as visitors, overstayed their visas and took on false identities. An extradition warrant was reportedly issued for the pair in New York state in 1998.
Since the men assumed false identities, authorities were unable to find them until Greene was arrested for an assault in Rising City, Nebraska. He had been living under the name of Antwan Bobby Dames and claimed he was a citizen of Jamaica. The Platte County Sheriff's Department notified the Immigration and Naturalisation Service (INS) and investigators determined his identity.
The information officials subsequently obtained from Greene eventually led them to Simmons, who was arrested outside his apartment in Kearney, Nebraska, which is approximately two hours away from Rising City. Simmons had been living under the name Daniel Musa Cox and had been previously convicted in Texas in November 1999 for marijuana trafficking charges.
Greene was reportedly held at the Madison County Jail in Madison, Nebraska, while Simmons was held at the Pottawattamie County Jail in Bluffs, Iowa.
Finally, on March 27, 2001, the two cousins were deported from Nebraska and, accompanied on the flight by US law enforcement officers and a senior Bahamian police officer, they arrived in Nassau. Once there, at about 3pm, they were arrested by local police, cautioned and told of their rights to obtain legal advice.
On April 5, 2002, Greene and his cousin Simmons were convicted of Munroe's murder and of housebreaking and were sentenced to death. On April 13, 2004, the Court of Appeal dismissed their appeals against conviction; they had not appealed against sentence.
However, they subsequently appealed to the Privy Council by special leave granted to Simmons on November 17, 2004 and Greene on December 12, 2005 against their convictions and against the mandatory death sentence.
Their appeal was granted, and the Privy Council ordered that their convictions and sentences be quashed and the case remitted to the Supreme Court for consideration of the appropriate sentences.
Greene was later re-sentenced to life in prison.