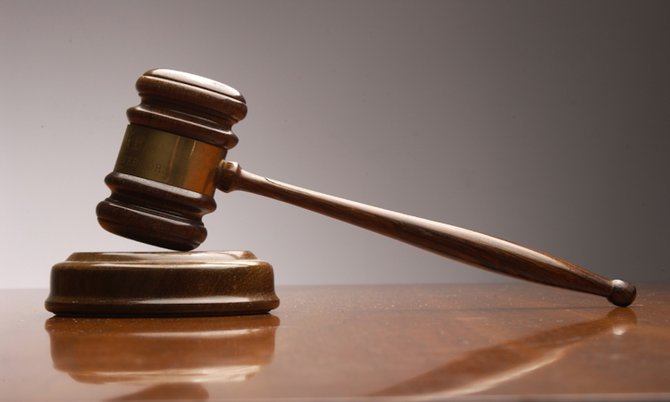 By NICO SCAVELLA
Tribune Staff Reporter
nscavella@tribunemedia.net
A SCUBA diving instructor with just five months left to serve in prison on firearms related offences is challenging a previous firearms related conviction, though he currently faces the risk of serving an additional year in prison if that appeal is unsuccessful or if he decides not to go through with his appeal.
Diego Hepburn appeared before before appellate President Sir Hartman Longley, fellow Justice Jon Isaacs and acting appellate Justice Sir Michael Barnett yesterday seeking to challenge his 2014 conviction for possession of an unlicenced firearm, for which he was sentenced to 12 months in prison.
He was subsequently granted bail in 2014 pending his appeal of that conviction to the Court of Appeal, which was never heard.
At the start of yesterday's hearing, however, the appellate judges told Hepburn should his appeal fail, he would have to serve the full year he was sentenced to in 2014, thus negating the prospect of him being a free man on August 11, his expected release date from serving a two year sentence he was givein in August 12, 2016 concerning similar charges.
Hepburn then expressed his reluctance to proceed with his appeal in light of that revelation. However, the appellate justices then said if he abandons his appeal now, the 2014 sentence will take effect from that time, and will essentially have the same effect as if his appeal was dismissed.
Sir Michael, in particular, noted had his appeal been heard in a timely fashion, the delay of which was no fault of Hepburn's, the present issue might have not arisen. Additionally, the former chief justice noted Hepburn's bail pending appeal for the 2014 matter was "a meaningless bail", since he is currently incarcerated on the 2016 conviction.
Hepburn's attorney Ian Cargill, submitted that in in light of the injustice that has occurred to his client, in that he has waited four years for his appeal to be heard through no fault of his own, there would be no injustice in having his 12-month sentence reduced to where he could be released on August 11.
Mr Cargill sought to appeal only the conviction, because if he formally appealed the sentence, the Crown would cross appeal on the grounds that the 2014 sentence was too lenient, something the appellate judges noted.
However, Crown prosecutor Kristan Stubbs responded by stating the 12 month sentence should not be varied, and that it was a lenient sentence given the evidence that was adduced during the trial. She further stated that based on his submissions, Mr Cargill was making an appeal against Hepburn's 2014 sentence, and if so, he would have to follow the proper process to give the Crown the opportunity to respond.
Justice Isaacs in particular concurred with Ms Stubbs' view, as he noted the court is currently dealing with an appeal against conviction, and not one against sentence, and that there are no applications before the court concerning the latter.
Ms Stubbs further stated that regardless of whenever Hepburn's appeal should have or could have been heard, he still would have had to face the possibility of serving the 12 months in prison. She also suggested that Hepburn's situation was not unique, as some matters on appeal take years before concluding.
However, Mr Cargill maintained there would be no injustice in his client being released in August.
The matter was subsequently adjourned to March 29.
Hepburn, of Old Cedar Way, Yellow Elder Gardens, was arrested in August 17, 2013 along with three other people after police found a 9mm pistol in the car he was riding in.
According to the evidence, police went to Imperial's restaurant on Carmichael Road around 2.20am after getting a tip that someone in a silver Hyundai Accent had a gun.
Officers subsequently met up with the car and ordered the occupants to get out of the vehicle. However, officers said they became suspicious when the passenger in the backseat left fidgeting.
Officers found nothing illegal on the passengers when they searched them. However, they found a loaded gun hidden under the back seat.
Hepburn denied the charge during trial. However, he acknowledged that a gun was found, but said he did not know where it came from.