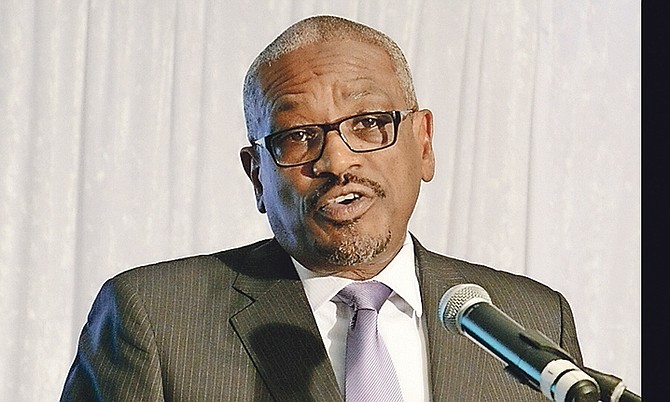 By TANEKA THOMPSON
Tribune News Editor
tmthompson@tribunemedia.net
PRIME Minister Dr Hubert Minnis again accused the Christie administration of being corrupt, telling the House of Assembly last night he has heard that some foreign investors have been hesitant to do business here for fear of being asked for a "so-called incentive".
Dr Minnis also hinted that scandalous information about the previous administration will be revealed next week when an anticipated report into the Water and Sewerage Corporation will be tabled.
His comments came as he wrapped up debate in the House of Assembly on the Proceeds of Crime Bill and the Financial Transactions Reporting Bill, laws meant to clamp down on corruption and crime.
He said the government's aim was to reduce domestic corruption as well as hinder any international groups who seek to use The Bahamas for nefarious means.
"Let me start by strongly rejecting the false equivalence that there is no difference between the FNM and the PLP –- there are clear differences, Mr Speaker, which some who should know better are conveniently forgetting," Dr Minnis said.
He said the corruption of the past five years was a "national disgrace" that should never be allowed again.
"I have listened to stories and reports of investors staying from the Bahamas because they feared of being asked for a so-called incentive to do business in the Bahamas," he told the House of Assembly.
Yesterday, Progressive Liberal Party Leader Philip Davis and Englerston MP Glenys Hanna Martin rebutted Dr Minnis' claims, suggesting it was inaccurate to paint the former administration with the broad brush of corruption.
"Official corruption retards and hinders national development," Dr Minnis also said yesterday. "Such corruption hinders our progress as a country. Investments by domestic and foreign investors will be decided by merit under this administration. We are already attracting new investment and interest because we are distinctly different from the former administration.
"Lest we quickly forget, the former administration gave millions of dollars of untendered contracts, including road works and other projects in Andros. On the watch of the former minister of works and the current leader of the opposition, a number of individuals were granted for construction contracts at BAMSI despite not meeting certain requirements."
Mr Davis then rose to respond to this, saying there is "nothing inherently wrong" in awarding a contract without going to tender, once best practices were followed.
"The member for Killarney is now suggesting that I would have done something that is not in keeping, under my watch," Mr Davis said. "I wish for him to identify, because there's nothing wrong per say in awarding a contract without going to tender. They have done it and are doing it today. They just did it."
Dr Minnis also questioned if there was corrupt intent behind the Christie administration entering into a "lifetime" contract with a worker with a clause that states three years' notice was needed before the agreement could be terminated. The Bridge Authority contract, previously reported on by The Tribune, had no fixed end date. He said he hoped the case is taken to court.
"You give three years notice for a contract, that's normal?" Dr Minnis asked.
In response, Mr Davis said nothing Dr Minnis raised pointed to corruption.
"The member for Killarney spoke about a lifetime contract clearly there is nothing he read that supports that assertion," Mr Davis said. "It does have a termination clause which speaks to the fact it's not a lifetime. It is, I accept that a termination period of three years may not be a normal term period, but one has to understand the circumstances under that was agreed. With victor's justice being exerted by the government and on hindsight, I now can opine it was probably a good thing to have the three-year term clause, (because) the person in question would have been terminated summarily as have been so many. . ."
Mr Davis said he has also learned he is named in the WSC forensic report, but no investigator has spoken to him about the matter, something he called "unfair."