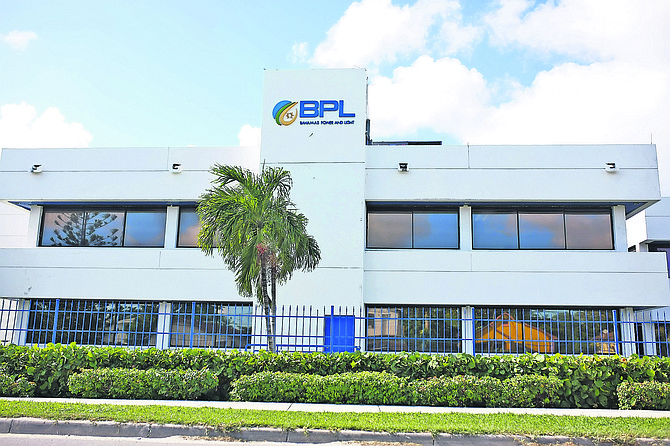 By RASHAD ROLLE
Tribune Staff Reporter
rrolle@tribunemedia.net
BAHAMAS Power & Light has more than enough generation capacity to ensure Bahamians have a summer free of load shedding, but officials cannot guarantee the utility provider's aging equipment will hold up all the way through the demanding season.
During a press conference yesterday, BPL CEO Whitney Heastie told reporters the company is doing its best with a non-ideal situation.
"We have aging equipment," he said. "I think everybody knows Shell North America has been awarded the consortium lead for the gas to power and we're working really diligently until the new generation, which is a part of that gas to power equation, gets on the ground and we're doing everything with the assets we have to make sure we carry them through the peak load of the summer."
BPL's business plan last year called for the retirement of some of its units, noting that unit control systems at the Clifton Pier and Blue Hills plants are becoming obsolete with spare parts harder to find. Budgetary constraints have prevented improvements to various units over the years. Shell is expected to construct a liquefied natural gas (LNG) power plant at Clifton by 2021 with the ability to produce up to 270mw of power.
Mr Heastie said efforts have nonetheless been made to shore up BPL's generation capacity to handle the summer load.
"There'll be no load shedding this summer given that fact that we have sufficient generation on the ground," he said. "We have 450 megawatts (mw) of generation on the ground. Peak is the highest sustained load over a 15 minute period. The peak last year was about 257mw so we got more than 200mw of additional generation that we have on ground that we should be able to easily carry through. All the assets are not where they should be but we should have sufficient assets to carry us through this summer and we are getting better with it."
Lightning caused an island-wide power outage on Monday. Mr Heastie said it took about four hours to restore power throughout New Providence, a length he finds "unacceptable." Some isolated areas of New Providence were still said to be without power on Tuesday morning.
In the wake of the black-out, Bahamas Electrical Workers Union President Paul Maynard said the lack of a protection system that can quickly address electrical faults, combined with antiquated equipment, has rendered the utility provider unable to fend off system failures in a modern way.
Yesterday, Mr Heastie could not say how much is necessary to repair BPL's protection system, saying the matter must be studied.
"There are systems designed to protect against lightning strikes," he said. "The network or the grid is designed really to isolate faults depending on where the fault occurs and the magnitude of the fault. Because this fault was directly inside the power plant it had a magnitude that was very severe. If something was to happen further away from the plant, the plant has a faster time to react. The closer it is to the plant, the response of the protection systems has to be a whole lot faster."
A foreign expert on system instability is expected to be in New Providence next week to begin assessing BPL's issues.