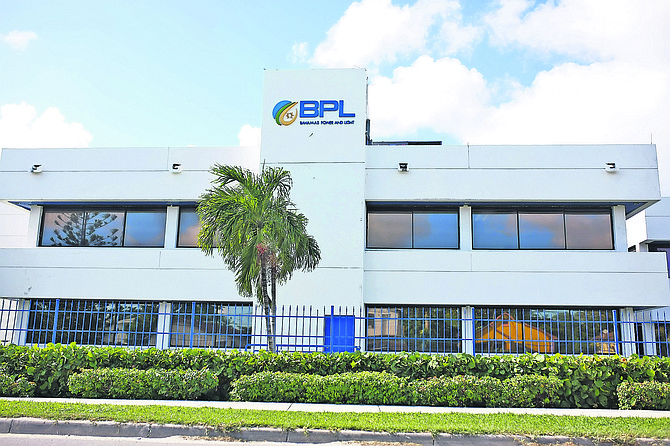 By RICARDO WELLS
Tribune Staff Reporter
rwells@tribunemedia.net
THE design of a protection system needs to be foremost in any plans being pursued by Bahamas Power & Light executives, according to Bahamas Electrical Workers Union President Paul Maynard.
Speaking with The Tribune a day after an island-wide power outage, Mr Maynard said the lack of a protection system that can quickly address electrical faults, combined with antiquated equipment, has rendered the utility provider unable to fend off system failures in a modern way.
This comes as a foreign engineer who specialises in system instability is expected to be on the island next week to assess BPL's problems.
In a statement yesterday, BPL said electrical services in New Providence and Paradise Island were affected during a period of inclement weather on Monday.
BPL noted that while investigations into the cause of the event were still continuing, it believes the cable connections supplying a primary transformer at the Clifton Pier power station failed, initiating the outage at 6.50 pm.
The statement continued: "The proximity of this problem to the power station and instability in the network as a result of lightning strikes on other transmission lines in western New Providence ultimately led to a total system collapse and resulting in an island wide outage."
Meanwhile, detailing the circumstances that led to Monday's blackout, Mr Maynard likened BPL's current system to an "old man trying to guard a jump shot," insisting that any lightning strike, once it made contact, worked its way down the connector, affecting the breaker system before completely shutting down the generator.
"He's so old, by the time he moves to block the shot, you've already made your move to get a better shot off," Mr Maynard said. "That's what we have here, before the system can determine that it has been hit, the (lighting) strike has already shut it down."
He continued: "What needs to happen before anything else, there needs to be a protection system designed for what it is we have, or what it is we are trying to do here. I know it is going to be expensive, but that has to be the first step in the plan.
"This has been going on for years and years and years. The last time we dealt with the system protection was 1991 - we need to get on this now and design something specifically for what we are doing."
Last month, BPL Chairwoman Darnell Osborne indicated a foreign expert would be contracted to gauge the company's electrical service system for potential instabilities.
Referring to the move yesterday, Mr Maynard said the expert must make the establishment of protection system a "high priority."
"I heard that a consultant is coming next week, he must be able to see and say what needs to be done with a protection system. That is important and it needs to be top of the list," he said.
"So, I'll wait and see what he comes with, and then speak from there," he added.
When contacted yesterday, Mrs Osborne confirmed that plans are in place to have an expert in the country at some point next week.
When asked how high of a priority is a protection system, Mrs Osborne responded: "Very high."
She also said the expert has already started to review various systems at the company from a document standpoint, with his arrival next week signaling the start of physical inspections.
"That's to just begin the work of reviewing, he had started to review some items from abroad, but (needs) to get on the ground and really dig into the system's protection," she said.
BPL's decision to bring in a foreign expert was shifted to an immediate focus following another massive system failure last month, which BPL said was also blamed on "inclement weather."
At the time, Mrs Osbourne said the timeline for this analysis and its cost will be contingent on where the investigation takes the specialist.
On Monday night, Mrs Osbourne said lightning caused the latest blackout.
She told The Tribune: "We had a little fire, the system shut down. With the lightning strike and weather issues, these are things out of our control."