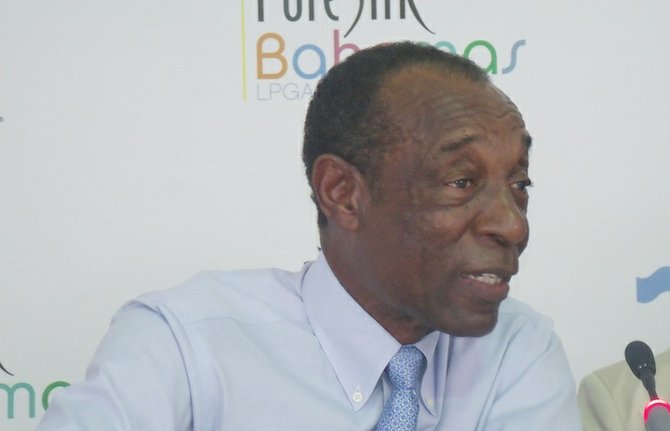 By KHRISNA RUSSELL
Deputy Chief Reporter
krussell@tribunemedia.net
CRAIG Flowers says he has gone against the grain in opting not to lay off employees because it is not known if his company – FML Group of Companies - will suffer loss due to increased government taxes, which includes a five percent stamp tax on patrons.
Mr Flowers rejected as "fruitless" government pronouncements and even those of fellow web shop bosses yesterday, telling The Tribune it is ultimately the gamer who will determine whether the industry continues to grow or if it will retract.
Until patrons give their response, Mr Flowers said he refuses to inflict fear and uncertainty in the hearts and minds of employees.
Operators have seemingly used staff cuts to push back against the government's impending new sliding tax scale system, which comes into force in just one week.
So far three web shop operators have taken this position.
The Asure Win web shop last week said it would close 11 sites and terminate about 50 workers by the end of this month. The increase taxes forced it to make fundamental business decisions concerning the future sustainability of operations, the company said in a statement.
Island Luck has further warned 350 of its employees could be sent to the unemployment line.
Paradise Games has also foreshadowed the same action, although it has not intimated the number of cuts it is considering.
However, in a memo to his staff, Mr Flowers told his workers he was committed to remaining open to secure their jobs.
"I have the largest responsibility because I have been in the business longer than everyone else and I have great staff and employees, some 15 and even 18 years with my company," Mr Flowers told The Tribune yesterday. He was asked to speak about the memo dated June 20, which is now making the rounds on social media.
"They are a part of my family so I am not prepared to make any statements that will put them in fear of their jobs at this time. I have a first responsibility in the line of order. It is to my staff and then to my customers. I am not prepared to put them in an odd position in reference to fear."
He continued: "I have to wait until I see what impact it's going to have on the industry.
"None of us, including the government, has any knowledge as to how the patrons will respond to this. All of the talk that we have been hearing thus far has been either from the web shop operators or from the government. We have yet to hear from the customers.
"Those are the people that will determine size and the impact of this industry and until we give them some time to show us what is going to be their response, all of these numbers, all of these projections and all of these decisions that are being made are fruitless. They have zero impact."
The imposition of the five per cent stamp tax on deposits and winnings on July 1 will be the first time in the industry's history patrons will be footing some level of taxation for their decision to gamble in web shops.
"I want to be very optimistic about the patrons continuing to play these games, but that is going to be left for us to see what will July bring us as far as the support from our patrons. At that point, I would be prepared to speak with my employees. But without that I can't go on what the government says.
"The government does not have any control over the industry in terms of growth or any reduction in the industry is concerned. The patrons make those decisions."
Mr Flowers said his company has not been a party to discussions between the government and the Bahamas Gaming House Operators Association because he is not a part of the BGOA.
He said this was the case because of "personal differences."
"We have our own personal differences with some of the decisions that was being made by the association. FML still supports the association in its efforts and in a lot of things, but we don't agree with all the policies. Some of them are personal to myself and I so choose to walk a different road, but certainly with the utmost respect for the association because they do have a mandate to look after the entire industry."
On Friday, Deputy Prime Minister K Peter Turnquest told The Nassau Guardian the government is not to blame for 350 job cuts to come at Island Luck. He said it is unfair and a bit of a stretch to say the layoffs would occur because of the increased taxes.
Labour Minister Dion Foulkes has also said the cuts were "unfortunate," when he spoke of the job losses to come at Asure Win, adding there are several factors contributing to the closure of gaming houses aside from a tax increase.
He has also called for web shop owners to take a moment and examine how the government's new sliding tax scale will affect them, instead of "anticipating" that it will be detrimental.
The new sliding tax scale is set to take effect on July 1.
Under the new measures, web shops will pay a 20 percent tax on up to $20 million of their revenue, a 25 percent tax on between $20 million and $40 million of their revenue, a 30 percent tax on between $40 million and $60 million of their revenue, a 35 percent tax on between $60 million and $80 million of their revenue, a 40 percent tax on between $80 million and $100 million of their revenue and 50 percent on revenue above $100 million.
Tourism and Aviation Minister Dionisio D'Aguilar has said some web shops were on the verge of downsizing even before the planned tax increase was announced.