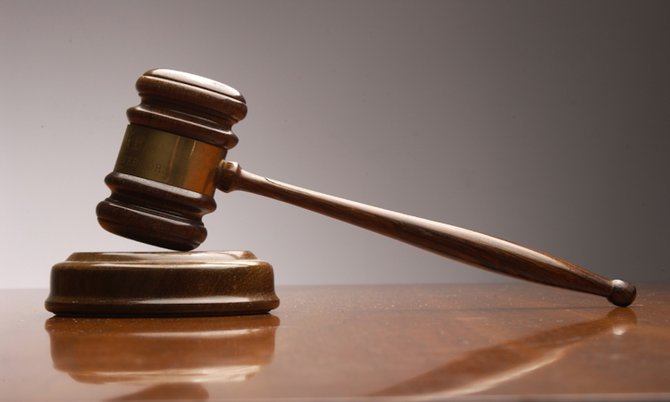 By NICO SCAVELLA
Tribune Staff Reporter
nscavella@tribunemedia.net
A Supreme Court jury has acquitted a man previously accused of abetting the murder of veteran trade unionist John Pinder's youngest son, and abetting the attempted murder of one of his friends almost two years ago.
The 15-member jury found Jamean Johnson not guilty, 9-3, of abetting unknown persons in murdering John Pinder Jr, and not guilty by that same number of abetting unknown persons in attempting to kill Kerrigan McCoy.
The jury's decision on Friday marked the end of Mr Johnson's trial before Justice Bernard Turner over Pinder Jr's death on August 26, 2016.
On the date in question, Pinder Jr, also known as "Fats", was shot and killed by unknown assailants in his Hillside Park home while playing video games with his older brother and several other male friends.
Pinder Jr was shot several times and pronounced dead at the scene. McCoy was also shot. He was rushed to hospital by ambulance and treated for his injuries.
Pinder Jr's mother said when she heard the shots, which she initially thought it came from "fire crackers". Then she noticed her oldest son and the other boys running from the room that was shot up and towards her.
However, she noticed that her youngest son was not among them.
She said she then went to the room where they were all playing video games moments earlier, only to find her youngest child had been shot and "lying in a pool of blood."
The Crown's key witness, Marco Delano Miller, said he witnessed a car pull near the Pinders' residence on the night of the murder.
According to Mr Miller, he lives about two houses down from the Pinder residence.
Mr Miller said two men got out of the vehicle – one from the front passenger seat and the other from the back-passenger seat behind the driver, who remained in the vehicle. The two men, who had hoodies over their heads, went to the empty lot on the side of Mr Pinder's yard and went over the gate.
Mr Miller said when he saw that, he got up and turned off his porch light.
Shortly after that, Mr Miller said a man known in the area as "Rasta" came to him because the latter owed him $23.
Mr Miller said he was consequently able to observe the left side of the driver's face, saying he recognised the driver as "Debo" – which is Mr Johnson's nickname.
Mr Miller said shortly after Rasta gave him the $23, he asked the man if he saw anybody entering the Pinders' yard. Shortly after that, Mr Miller said he heard about four or five gunshots coming from the yard.
After that, Mr Miller said he told Rasta to stay with him for a little while, which the other man agreed to. However, Mr Miller said Rasta eventually left and went home, and he in turn went inside his house.
After that, Mr Miller said the corner was filled with police cars. As a result, he said he waited until the majority of them left before he went and spoke with Mr Pinder and told him what he saw and knew.
However, Mr Miller did not report the incident to the police on the night of the incident question, according to the evidence. Nor did he call or go to the police to report the matter the following morning.
Instead, Mr Miller said, days later on the 30th, he was questioned by police, who came to his door making inquiries about the murder. He was taken to the Central Detective Unit (CDU) for that purpose, and did not go willingly.
Around 3.55pm on September 1, Mr Miller said he identified Johnson in an identification parade at CDU.
While there, he said he was also shown a number of vehicles, and identified Mr Johnson's red Explorer as the vehicle in question.
Mr Miller, in giving his evidence, said he felt like he was being arrested, but said police didn't handcuff him. However, he said he was placed in a cell.
When questioned by defence attorney David Cash, Mr Miller said officers did not allow him to leave their custody until he gave a statement saying Mr Johnson was the driver of the vehicle he said he saw. He said it wasn't until he identified Johnson during the identification parade that they let him go.
Mr Miller also said he felt under pressure during the time he was being interrogated, and felt like the police wanted him for the murder. However, Miller, in response to a question by Mr Cash, said all of that "pressure" relieved itself after he gave police the information concerning Johnson.
However, it was revealed during trial that Mr Miller had two physical altercations with the older brother of the deceased about one month before he was killed.
Evidence showed how Mr Miller had two fights with Javon Pinder prior to Pinder Jr's death, the first of which saw Mr Miller threaten to kill Javon Pinder, who in turn pursued and shot at him.
When Javon Pinder took the stand, said while he was "cool" with Mr Miller at one point in time, they aren't so friendly any more.
The deterioration of their friendship, Javon Pinder suggested, came after the two fights he had with the witness, the first of which saw Mr Miller allegedly throw rocks in his direction - one of which almost hit his mother. This resulted in Javon Pinder pursuing Mr Miller in Mr Johnson's jeep — with Mr Johnson being the driver, and shooting at him.
Conversely, Javon Pinder testified that Mr Johnson is his friend and has been for eight to ten years, and would thus have no reason to harm him or his family.
Additionally, Lashon Bastian, one of Pinder Jr's friends, testified how Mr Miller and Pinder Jr "didn't have any kind of friendship," with the dynamic being more of a "bully scene."
Additionally, Bastian said Mr Miller and Javon Pinder, also known as "Bobo", were not friends, as "they could never see eye to eye." And that assessment of their friendship, Mr Bastian said, was based on the altercations the two had prior to his friend's death.
On the other hand, Mr Bastian said Mr Johnson, Pinder Jr, and Javon Pinder were close friends, and had an almost "every day routine" where they would hang out Monday through Sunday. He thus dismissed the suggestion that Johnson would wish harm on either of the Pinder brothers.
And it was those bits of evidence, coupled with Mr Miller's admissions in court that he "didn't really like" Mr Johnson, that prompted Mr Cash to submit to the jury that Mr Miller had more of a grudge to bear against Pinder Jr or his older brother as opposed to his client.