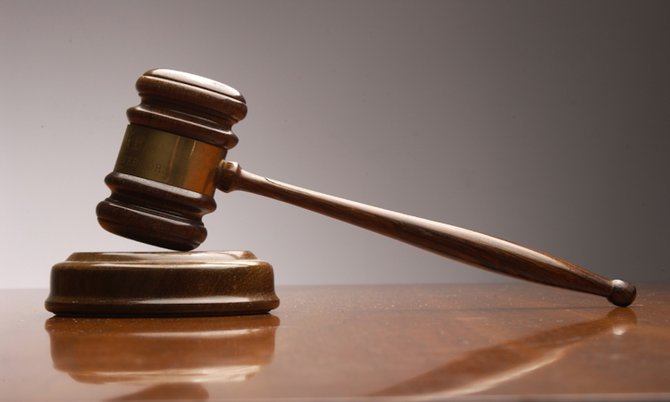 By NICO SCAVELLA
Tribune Staff Reporter
nscavella@tribunemedia.net
THE former Bank of The Bahamas teller accused of stealing over $50,000 from former Governor General AD Hanna would fraudulently sign on behalf of a customer in order to validate cash withdrawal transactions, a bank employee alleged yesterday.Emmanuel Burrows, BOB's assistant manager of physical security, claimed Cameron Rolle Jr would print off a cash withdrawal receipt for a certain amount without the presence of a customer, then sign for both him and that individual to conclude the process.
Then, Mr Burrows said Rolle Jr would keep the carbon copy of the receipt, as well as the requested funds for himself, and place the bank's copy on file, to ensure that the institution's checks and balances were maintained.
And in at least one instance, Mr Burrows claimed Rolle Jr would then close down his station, lock his computer, and leave the bank with the money in hand, wrapped in the carbon copy of the receipt.
Mr Burrows showed the court multiple surveillance clips from different dates, one of which purported to show Rolle Jr printing off a receipt for withdrawal without a customer in front of him—in fact, in that instance Mr Burrows claimed Rolle Jr had put up a "next teller" sign prior to conducting the transaction.
Then, the video purported to show Rolle Jr applying the bank's stamp on the document in question, then signing in the stamp as he was supposed to do as a bank teller, and then signing again where the customer is supposed to sign at the bottom.
The footage was obtained from a camera situated in the ceiling directly above Rolle Jr's former station at the bank.
Mr Burrows said after performing the transaction, Rolle Jr would then wrap the carbon copy of the receipt around the money, and place it either in a drawer or somewhere on his desk. The other copy would be stashed for the bank's records.
Mr Burrows also suggested that in some instances, Rolle Jr would have the withdrawal receipt printed off ahead of time, and in between dealing with customers, would conduct the fraudulent transactions.
However, it has not been established if the alleged receipt he signed in the video was connected to Mr Hanna's account, if he in fact forged Mr Hanna's signature, or whether the withdrawal receipt and the associated transaction was fraudulent at all.
Another video purported to show Rolle Jr moving a cash dispenser, which Mr Burrows said only certain personnel are allowed to handle, and placing unknown items on top of it before placing it back in its original position. Another video purports to show Rolle Jr returning to that cash dispenser to retrieve those same items.
However, it has not been established in court exactly what his purpose for tampering with the cash dispenser was, and exactly what those items were that he placed on top of the machine.
According to Mr Burrows, him being formally involved in the matter came as a result of instructions he would have received from his boss, Anastasia Russell. He said based on the information she gave him, he used his laptop to access the surveillance equipment in all of the bank's branches and downloaded some footage from the Village Road branch for certain days.
Based on that footage from the Village Road branch, Mr Burrows said he saw certain transactions that had taken place that appeared to be "suspicious".
Once a report was sent to the police, they requested the footage, so Mr Burrows prepared a DVD for them. He said the footage was also viewed by Ms Russell.
Prior to his evidence, Mr Hanna's daughter, Englerston MP Glenys Hanna Martin testified how she received information from the bank as well as police concerning the present matter.
As a result, Mrs Hanna Martin attended the Central Detective Unit with her father, where she found out that there were certain transactions on Mr Hanna's bank account at BOB's Village Road branch of which he was not aware.
Mrs Hanna Martin said police also showed her a series of cash withdrawal statements that contained signatures that did not comport with her father's signature.
Those cash withdrawal statements date back to October 2017 and up to April 16 of this year, and involve amounts of up to $2,500.
Mrs Hanna Martin said the total amount of authorised cash withdrawals she was shown by police was in excess of $50,000.
Mrs Hanna Martin said she took a one-day trip to Florida with her father on Bahamasair. The flight left early that morning and they returned sometime after 7pm, she said.
That flight was evidenced by a stamp on her father's diplomatic passport dated March 2, 2018.
However, Mrs Hanna Martin said she was shown a cash withdrawal statement totaling $2,000 for that same date. She also stated that her father is the only signatory on his account.
Mrs Hanna Martin, based on a question put to her by the prosecutor, said she is "very familiar" with her father's banking procedures at BOB.
According to her, she said her father normally goes to the bank with his aide to conduct financial business. As part of a "special arrangement" she has with BOB, the bank sometimes contacts her when her father arrives to ensure they're on the same page concerning his financial affairs.
This accommodation on the bank's part, Mrs Hanna Martin suggested, is largely due to her father's age. Mr Hanna is 90 years old.
According to Mr Burrows, when Mr Hanna arrives at the bank, he is escorted into the office of Vanessa Seymour, assistant manager of operations, as opposed to standing on the line. If the assistant manager isn't available, he would sit in some chairs nearby and wait until she was available.
A bank teller would conduct Mr Hanna's financial transaction, stamp the receipt, and then send both the money and the receipt to Ms Seymour, whose office Mr Hanna would be in at that point.
Mr Burrows showed surveillance footage to substantiate his claims, which purported to show Mr Hanna and his aide entering and leaving the bank location, as well as the teller who conducted Mr Hanna's transaction.
When cross-examined by Rolle Jr's attorney Ramona Farquharson-Seymour, Mrs Hanna Martin admitted that she rarely accompanies her father when he goes to the bank. And neither was she in the bank with him during the dates listed on the withdrawal statements in question.
When Mrs Farquharson-Seymour suggested that the reason the bank calls Mrs Hanna Martin is to provide a safeguard against Mr Hanna jeopardising his own financial transactions due to his age and or consequent forgetfulness, Mrs Hanna Martin said her father doesn't doubt his banking, and maintained that his signature is "unfailing".
The matter was adjourned to October 9-15.
Rolle Jr, of Golden Gates, was arraigned before Senior Magistrate Derence Rolle Davis on 27 counts of stealing by reason of employment, which allege he stole some $49,600 from Mr Hanna between October 17, 2017 and April 16 of this year.
Rolle Jr was also charged with one count each of laundering the proceeds of criminal conduct and acquisition of the proceeds of criminal conduct, each concerning the $49,600 he allegedly stole between the dates in question.
Five more counts of stealing by reason of employment have since been levied against Rolle Jr, and he also faces an additional count of laundering the proceeds of criminal conduct and one more count of acquisition of the proceeds of criminal conduct. The total number of charges he is faced with is now 34.
Rolle Jr has pleaded not guilty to all of the charges.