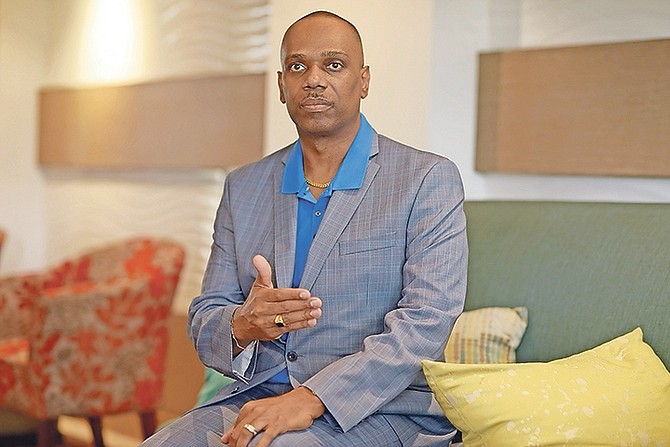 By KHRISNA RUSSELL
Deputy Chief Reporter
krussell@tribunemedia.net
DESPITE being fired from government posts by Prime Minister Dr Hubert Minnis yesterday for voting against the government's planned value added tax increase, Golden Isles MP Vaughn Miller and Pineridge MP Frederick McAlpine said they remain supporters of the Free National Movement.
They were fired with former Parliamentary Secretary in the Ministry of Tourism and Aviation Travis Robinson over their position taken on the VAT vote in parliament. 
While he affirmed his respect for Dr Minnis despite his decision to swing the axe, Mr McAlpine suggested the nation's leader would be voted out of office in the 2022 election. He also said the firings would not help the FNM's falling poll numbers. 
"You can fire me but I've been living long enough to know that I have seen people fire people and the people who fire the people, I've watched the people fire them," Mr McAlpine warned in an interview with reporters yesterday.
Mr Robinson declined comment yesterday when he was contacted. Centreville MP Reece Chipman also voted against the VAT increase to 12 percent. However he was virtually unaffected yesterday, having been fired as Antiquities, Monuments and Museums Corporation chairman nearly three months ago.
The Cabinet Office officially announced the revocation of Mr Miller's and Mr Robinson's appointments as parliamentary secretaries due to a breach of the Manual of Cabinet and Ministry Procedure. Under Part II, Section III, Item 21 of the manual, parliamentary secretaries, like Cabinet ministers, are bound as a condition of their continuance in office to support governments decisions in public.
The same provision does not pertain to Mr McAlpine, the Cabinet notice suggests. However the notice said the governor general, in accordance with the advice of the prime minister also revoked his appointment as chairman of the Hotel Corporation.
When he spoke of his termination, the Pineridge MP said he had no regrets, adding if the vote was taken again he would do it the same way.
"He (the prime minister) gave me the letter and he didn't say much, no more than that I was being terminated for going against the government's position on VAT," he said following a brief meeting with Dr Minnis which took place at the Cabinet Office at around 3pm yesterday.
"I was very quiet and listened to the little he said. He was saying he didn't know why I did what I did and I said, 'God bless you, sir.'
"If the vote has to be done again I would do it all over again the same way."
He also told reporters if the prime minister had compromised on increasing VAT to 10 percent, he would have been open to that idea.
Before the meeting Mr McAlpine told reporters he believed the prime minister was under pressure, but he still had a right to act as he saw fit.
"Only thing I would say is even though we are in the Westminster system, the nation itself is democratic. This is not Communist Cuba or Communist Russia, this is a democratic society and people's minds are open. People are not the same as they used to be. You can't give them or tell them anything politically and think that they'll swallow it. This is a different generation."
He said he was not disappointed about his own situation, but for his colleagues who held more substantive positions.
Nonetheless, he maintained he was still FNM unless officials decided to throw him out of the party.
"I'm still right now as I know it a member of the Free National Movement and so are my colleagues. We are who we are it depends on what they decide to do. But of course, we all serve at the pleasure of the prime minister so he can do what he wants to do when he wants to do, whenever he wants to do it because he is the prime minster."
He also said: "I think he might be under a lot of pressure to do what he is doing. You have persons in the Cabinet who gonna say 'you have to show chief and you've got to flex your muscles. You can't let these fellas get away with this' and then you have the other side of the coin where you are hoping that he would consider so you terminate us. That's fine but you also recognise that people were not happy with the decision of the government on VAT.
"So, the reality is when it comes to the party and the leadership, its poll numbers are going down and so doing this does not help. This does not help to elevate his poll numbers or the party's poll numbers."
Asked if he would seek re-election on the FNM's ticket, Mr McAlpine said it was too early to give a definite answer, but he said, "Frederick McAlpine will seek re-election."
For his part, Mr Miller said he voted against the VAT increase because he believed the people should have been consulted.
Despite being fired over his decision to go against the party position, Mr Miller, who was axed as parliamentary secretary in the Ministry of Social Services, said he saw no reason why the party would not offer him a nomination in the next general election.
He said his meeting yesterday with Dr Minnis was amicable. At the time, he said he thanked the prime minister and told him he not only loved but respected him. However, the Golden Isles MP said he could not go against his convictions to vote in accordance with the plight of Bahamians.
His firing came as no surprise, so he had no regrets, he told this newspaper.
Mr Miller said: "I'm still a Free National Movement member."
"I couldn't live with myself otherwise. I have convictions and I have a conscience and I have a God that I will have to answer to," he also said. "I couldn't vote for putting this on the backs of the poor and the middle class and small and medium sized businesses. To me it was just unconscionable. That's just my opinion.
"I say that in light of this: I think we have too many options to choose from. Firstly, I thought we should have gone to the public. The public should have played a bigger role in this. We should have heard their possible ideas."
Mr Robinson was tight-lipped on the way forward when he was contacted yesterday.
However, shortly after voting against the VAT amendment Monday night, the Bain and Grants Town MP posted a quote to his Facebook account from former US President John F Kennedy.
The quote read: "Each time a man stands up for an ideal, or acts to improve the lot of others, or strikes out against injustice, he sends forth a tiny ripple of hope, and crossing each other from a million different centres of energy and daring those ripples build a current which can sweep down the mightiest walls of oppression and resistance.
"Few men are willing to brave the disapproval of their peers, the censure of their colleagues, the wrath of their society. Moral courage is a rarer commodity than bravery in battle or great intelligence. Yet it is the one essential, vital quality for those who seek to change a world that yields most painfully to change."