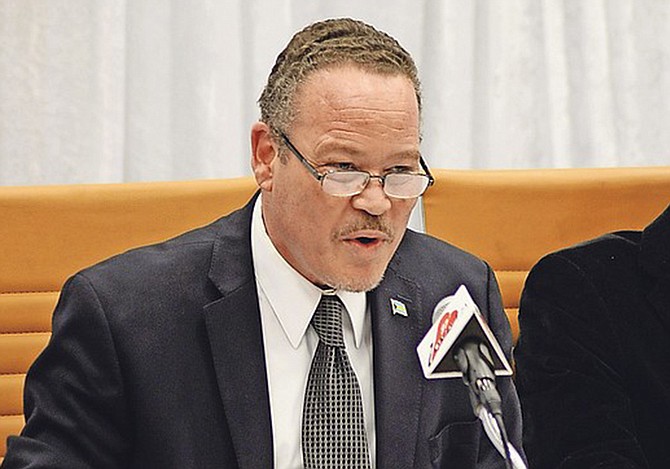 By RASHAD ROLLE
Tribune Staff Reporter
rrolle@tribunemedia.net
ATTORNEY General Carl Bethel has warned senators and elected officials who have been appointed to government posts that they must vote for the 2018-2019 budget in its entirety or resign their positions.
His comments, made on Friday during the Senate debate on the Interception of Communications Bill, came as several Free National Movement parliamentarians have announced their opposition to the 60 percent increase in value added tax.
"Let me be pellucidly clear," Mr Bethel said, "if this was a budget bill, then conscience or not every government senator would be expected to vote for it and for every bill making up the packet of budget measures. I hear some members of the other place (House of Assembly) seeking freedom to do as they wish in respect of certain controversial parts of the current budget being debated there.
"I would take this early opportunity to openly remind senators that every budget measure voted upon is a vote of confidence in the government. It is not open to any member appointed as part of the government team to vote against a budget measure."
"If your conscience or your base is giving you problems, you may, of course, speak freely, but the whip is on. If you cannot support every measure in the budget by voting for it, you may as well tender your resignation at the same time that you vote with the opposition."
Although his comments were clearly directed at Free National Movement senators, Mr Bethel later told The Tribune they apply generally to people who have been appointed to government posts.
Golden Isles MP Vaughn Miller, Bain and Grants Town MP Travis Robinson, Centreville MP Reece Chipman and Pineridge MP Frederick McAlpine have all suggested they will vote against the VAT increase.
Of these, only Mr Chipman, fired by Prime Minister Dr Hubert Minnis as chairman of the Antiquities Monuments and Museum Corporation (AMMC) in March, does not have a government post. Mr Robinson is the parliamentary secretary for the Ministry of Tourism, Mr Miller is the parliamentary secretary for the Ministry of Social Services and Mr McAlpine is chairman of the Hotel Corporation.
The Manuel of Cabinet and Ministry Procedure makes it clear that parliamentary secretaries in particular are expected to give their "full support in public" to any course of action a government takes.
Mr Bethel told The Tribune yesterday: "According to every parliamentary authority and principle, a budget vote is automatically a vote of confidence in the government.
"Governments in the Westminster system fall when they can't pass a budget. In America, President Obama could go for more than five years without Congress passing a budget. Not under our system. The Canadian Prime Minister Joe Clarke lost a budget vote within weeks of being sworn in. He had to call immediate elections which he then lost to Trudeau, hence the reality is that the whip is always on for a budget vote. So important is the passage of a 'money bill' that under the Constitution Article 60, if the Senate does not pass a money bill within one month after passage in the House, without amendment, they simply send the House Bill to the Governor General for assent prior to enactment."
Mr Bethel's comments place immediate pressure on officials who cite the concerns of their constituents as reason to oppose VAT's increase but who might be reluctant to relinquish the perks of their posts.
Mr Robinson said last week the people of his constituency are concerned about their "livelihood, well-being and purchasing power" after a VAT hike.
"Should the VAT increase do pass, 12 percent of almost every purchase is not going to be easy," he said. "I am directed by the people of Bain and Grants Town not to support in its entirety, the 2018-2019 budget communication bill."
Mr Miller said last week: "Golden Isles cannot support this increase in VAT from 7.5 percent to 12 percent. It is too aggressive, it is too much, it is too soon."
For his part, Mr McAlpine said the VAT increase is "void of transparency and compassion" and is "highly disrespectful to Bahamians."